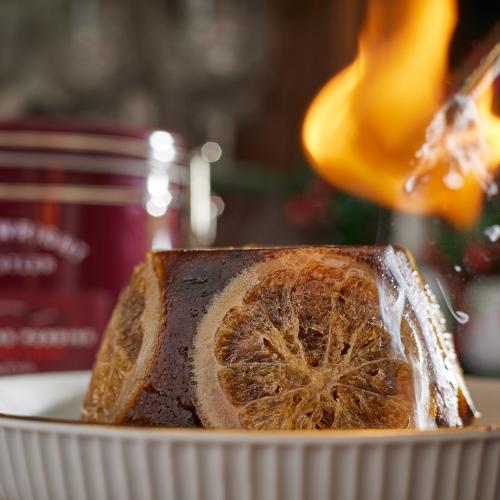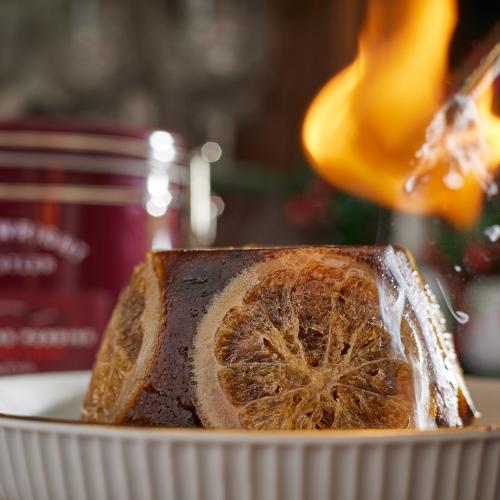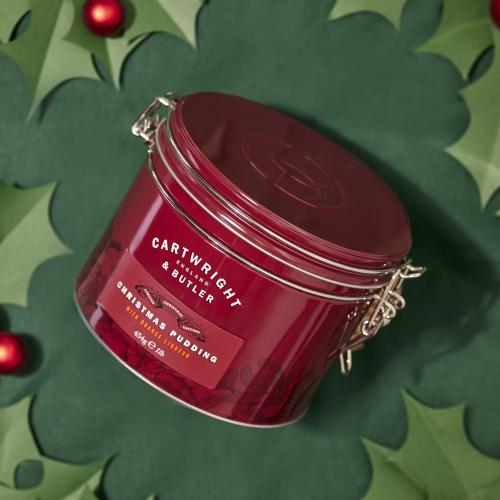 Christmas Pudding with Orange Liquer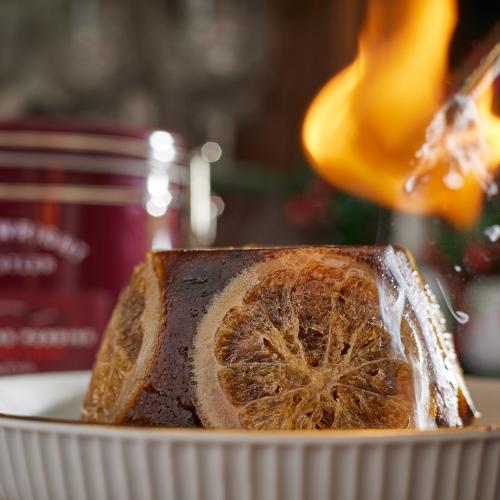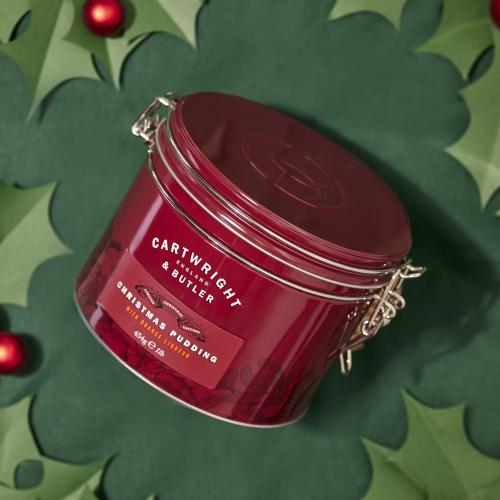 ---
Product Details
Product Code:

5268

Dimensions:

16.50 x 15.00 x 11.00 cm
Allergens

Gluten
Ingredients:
Vine Fruits (22%) (Sultanas, Currants, Raisins), Dried Orange Slice (13%) (Orange,
Glucose - Fructose Syrup, Sucrose), WHEAT Flour (Calcium, Iron, Niacin,
Thiamine), Vegetable Suet (Vegetable Fat Blend (Palm Oil), Rice Flour), Brown
Sugar, Orange Liquer (6%), Breadcrumbs (WHEAT Flour (Calcium, Iron, Niacin,
Thiamine), Water, Salt, Yeast), Mixed Peel (Orange Peel, Glucose-Fructose Syrup,
Sugar, Lemon Peel, Acidity Regulator: Citric Acid), Black Treacle (Cane Molasses,
Invert Sugar Syrup),Golden Syrup, Lemon Juice Concentrate, Orange Juice from
Concentrate , Prunes (2%)(Prunes, Sunflower Oil, Preservative: Potassium Sorbate),
Orange Peel, Salt, Mixed Spices.
CONTAIN ALCOHOL
Storage instructions:
Store in a cool dry place. Best before see base
Cooking instructions: Preparation guideline: Remove all outer packaging and loosen lid. To Microwave:
cook on a full power for 3 minutes (800 watt) if different refer to manufacturer's
handbook. To steam boil: place in a steamer or a saucepan filled to half depth of the pudding with water. Cook for 1.5 hours. Do not boil dry. Serving: Caution: Sauce will
be hot. Once cooked, invert basin onto plate and allow to stand for 3 seconds.
| Nutritional information | Typical figures per 100 grams |
| --- | --- |
| Energy kJ | 1,393 |
| Energy kcal | 331 |
| Fat (g) | 6.10 |
| - of which is saturated (g) | 65.50 |
| Carbohydrate (g) | 47.70 |
| - of which sugar (g) | 47.70 |
| Dietary fibre (g) | 1.40 |
| Protein (g) | 3.10 |
| Salt (g) | 0.46 |
Product Code:

5268

Dimensions:

16.50 x 15.00 x 11.00 cm

Gluten
---
It's said that you tamper with a classic at your own risk. But this is well worth it. We took a traditional rich Christmas pudding and added candied lemon and orange peel, a generous slug or two of orange liqueur and then covered the outside in whole slices of candied orange. A new classic that comes presented in one of our signature clip top tins, just what you need to complete the perfect Christmas hamper (yes, even a bespoke one!).
---
This product is found in:
Can we tempt you with something else?