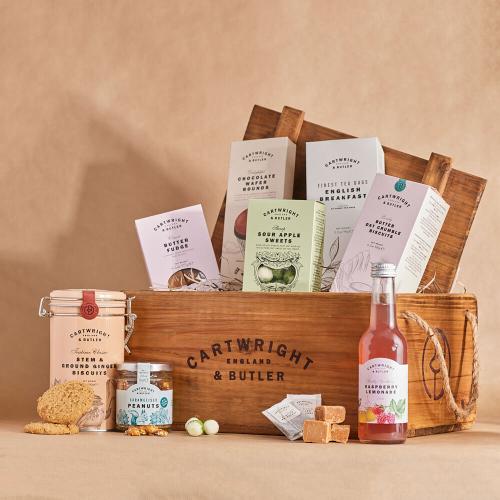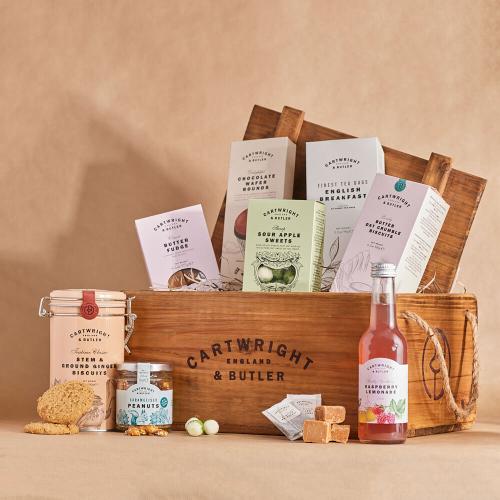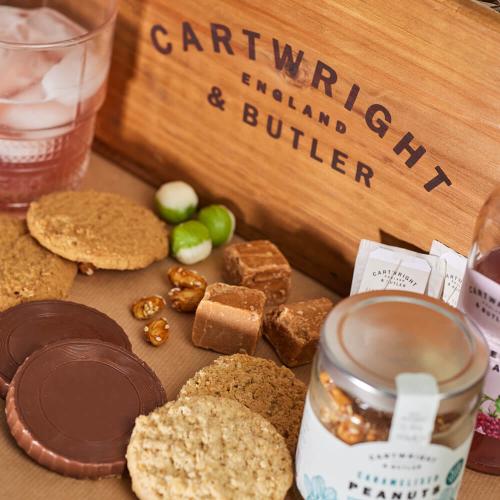 20% OFF USE CODE FESTIVE20
The Bishopdale Hamper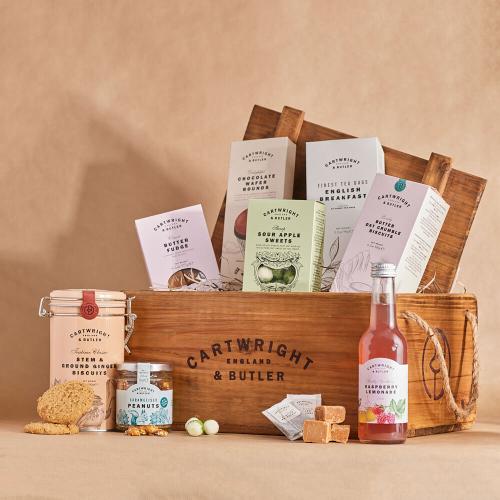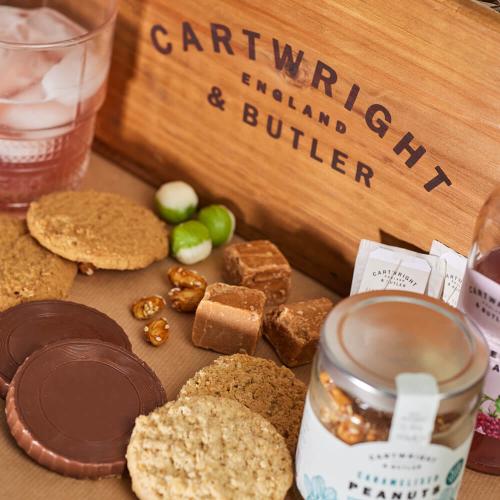 ---
Product Details
Product Code:

3125

Dimensions:

37.00 x 27.00 x 18.00 cm
Ingredients:
C&B Sour Apple Sweets in carton -
Sugar, Glucose Syrup (Sulphites), Citric Acid, Sodium Bicarbonate, Flavourings, Colour: Curcumin (E100), Chlorophyllin (E141).
For Allergens, see ingredients in bold. May contain traces of milk.
C&B Caramelised Sesame Peanuts in jar - Peanuts (61%), Sugar,Sesame Seeds (9%), Honey, Salt
C&B Butter Oat Crumble Biscuits in Carton 180g -
Rolled Oats (48%), Salted Butter (32%) (Milk), Sugar.
May also contain nuts, peanuts eggs, mustard, sesame, and soya.
C&B Stem & Ground Ginger Biscuits in Tin 200g - Salted Butter (28%) (Milk, Salt), Sugar, Flour (Wheat Flour, Calcium, Iron, Niacin,Thiamin), Rolled Oats, Stem Ginger (7%) (Ginger, Sugar), Ground Ginger (2%), Raising Agents: (Sodium Bicarbonate, Diphosphate, Rice Flour), Mixed Spice (Coriander, Cinnamon, Ginger, Nutmeg,Fennel, Cloves, Cardamom).
C&B Tea in Carton English Breakfast (30x3g) - 100% Black Tea.
C&B Butter Fudge in carton
Sugar, Sweetened Condensed Milk, Glucose Syrup, Butter (Milk) (10%), Golden Syrup, Humectant: Glycerine.
For Allergens, see ingredients in bold. May Contain Traces of nuts and peanuts.
C&B Raspberry Lemonade 250ml - Carbonated water, sugar, lemon juice (4%), raspberry juice (2%), blackcurrant juice (from concentrate), natural flavourings
C&B Chocolate Wafer Rounds - Milk Chocolate 63% [Sugar, Cocoa Butter, Whole Milk Powder, Cocoa Mass, Whey Powder (Milk), Anhydrous Milk Fat, Emulsifier: Lecithin, E476, Flavouring], Palm Fat*, Sugar, Wheat Flour, Potato Starch, Skimmed Milk Powder, Peanut Paste (0.9%), Rapeseed Oil, Low Fat Cocoa Powder (0.3%), Egg Yolk Powder, Emulsifier: Lecithin,Salt, Flavouring, Raising Agents: Ammonium Carbonates, Sodium Carbonates, Maltodextrin.
Milk Chocolate Contains: Cocoa Solids 32% Minimum.
*From An RSPO Certified Sustainable Source.
| Nutritional information | Typical figures per 100 grams |
| --- | --- |
Product Code:

3125

Dimensions:

37.00 x 27.00 x 18.00 cm
Get 20% OFF when you spend over £75 on selected Hampers. Use code FESTIVE20 at the checkout
---
---
Set up the perfect tea party with The Bishopdale Crate, a selection of delicious sweet treats, biscuits and tea that make for a sublime tea party.
Discover the assortment of sweet treats The Bishopdale Crate has to offer, continue your tea party with delicious milk chocolate wafer rounds, circular wafer biscuit coated in a layer of smooth milk chocolate, as well as proper Butter Oat Crumbles & Stem Ginger Biscuits made with real butter and real ginger. Sip on refreshing Raspberry Preserve, presented in a recyclable glass bottle, and finish off your tea party with delicious hard-boiled Sour Apple Sweets, presented in a clip top mason jar.
The Bishopdale Crate is presented in a rustic real wooden crate and comes with glass mason jars which offer a wide range of reusability, one of our favourite ideas is hanging the crate up to the wall using the rope handles to create a shelf, and placing the mason jars on the shelf with tea lights inside to create a warm glow.
Includes
C&B Sour Apple Sweets in carton
C&B Caramelised Sesame Peanuts in jar
C&B Butter Oat Crumble Biscuits in Carton 180g
C&B Stem & Ground Ginger Biscuits in Tin 200g
C&B Tea in Carton English Breakfast (30x3g)
C&B Butter Fudge in carton
C&B Raspberry Lemonade 250ml
C&B Chocolate Wafer Rounds
---
This product is found in: