What a way to say Merry Christmas!
Some of our most loved hampers & gifts, perefct for your team or special client.
Corporate Gifting at its finest
Our Corporate gifting service is designed to make client and employee gifting quick and easy. Many of our luxury products can be fully personalised to include your brand, creating a truly memorable branded luxury gift for your recipient.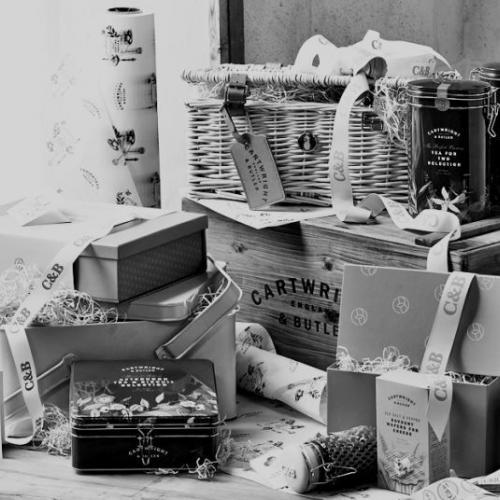 Get in touch
We're on hand to help establish the corporate gifts perfect for your company - whether that be a one-off occasion or individual milestone, a company-wide celebration or seasonal offering. Whatever your requirement, whether you know exactly what you're looking for or wish to find out, we can help!
Contact Us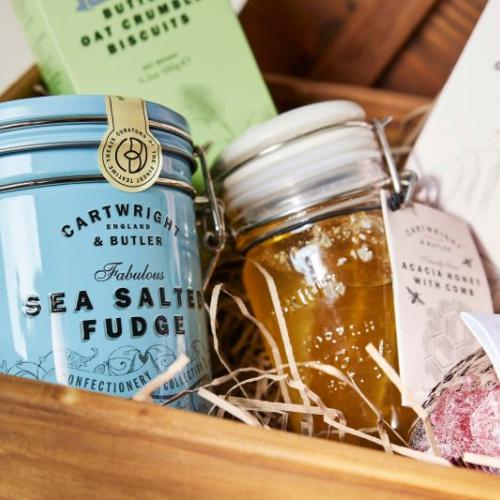 Choose From...
Choose your gift. Whether it's an off the shelf hamper, bespoke gift box with personalisation or a smaller gift perfect for a desk drop. Place your order with us and we'll create your gift.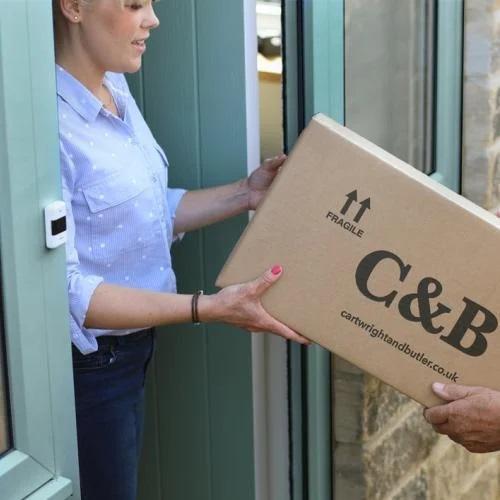 Delivered to their door
We can take the hassle out of delivery. Arrange bulk delivery to one address or individual delivery direct to recipients door.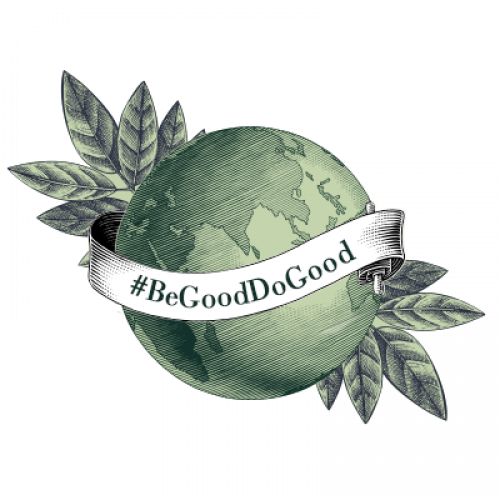 Our Sustainability Story
We know how important sustainability is to our partners and we're working hard to become more sustainable. Not only is our outer packaging visually appealing and fully recyclable, but its contents are also reusable in many ways. We've teamed up with Too Good To Go to ensure our food waste is minimised and we're a positive friendly workforce through our work with Ecologi. Always striving #BeGoodDoGood



Our Christmas hampers went down very well with all our staff, the wicker basket,wine, and cheese were all extremely popular! C&B were flexible and delivered efficiently, I would definitely recommend their products and services to other businesses
EVENTS MANAGER, HOWDEN JOINERY GROUP PLC

''We have worked with C&B over the last few years on various luxury gifts including customer welcome gifts and more recently Mother's Day hampers. We have found both service and product to be excellent and when designing our sleeves care is taken to ensure our personalised requirements are met and they meet our brand standards. ''
Alexandra Stoican, Food & Beverage Manager, London Marriott Hotel County Hall

The feedback from our employee appreciation Easter Hampers has been fantastic, with lots of positive feedback about the quality of the products and the variety. I have also heard that many gifts didn't last too long as the items were too delicious! We very much see C&B as one of our reliable partners
Ella Warwick, Employee Experience Coordinator, Circle Health Group

Corporate gifts to suit everyone's tastes & budgets
We work with businesses to create meaningful corporate gifts. Corporate gifts that build relationships, engage clients, and create memorable moments.
From a token thank-you to grand gestures, we curate the perfect solutions for you, no matter your budget.
Corporate gift hampers
A choice of stylish and personalised finishing touches to our keepsake tins, gift boxes and corporate gift hampers help ensure memorable gifting long after the delicious content has been enjoyed.
So whether it's a corporate chocolate gift, biscuit hamper or something with a little more alcohol, we've got you covered. Plus, as a special thanks for choosing Cartwright & Butler, we offer discounts for corporate orders.
Corporate thank you gifts
Whether your team's partial to artisan chocolates and a cup of proper leaf tea, or you have a colleague who likes to think of themselves as a wine connoisseur with a taste for the finer things in life, we can create some corporate thank you gifts by their personal indulgence to bring some unexpected joy into their day.
You could opt for a corporate hamper from our range of ready-made gift baskets bursting with our most popular products like the Rosedale – a vintage wooden crate packed with sweet and savoury treats from artisan producers.
Or, if you want to really up the luxury, pick a gift hamper that speaks to your recipients' desires – whether that's a chocolate hamper or a beer hamper. Whatever the occasion or budget, there's a corporate thank you gift in the range for you.
Thank you hampers for employees
Bursting with the very best flavours and treats that make even a Tuesday tea break something to celebrate, our hampers make the perfect gift whatever the occasion, whether it's a corporate thank you gift, to celebrate a great year-end or to make kick-off events extra memorable for your employees, colleagues, clients, and suppliers. 
Bulk thank you gifts
You can order a handful of gift hampers for corporate gifts or place bulk orders to treat all your employees to Christmas hampers to end the year on a high. Need to place high volume orders? We can arrange as many corporate hampers as you need.
So no matter the size of your business, whether there's only a few of you or a few thousand, Cartwright and Butler provide high quality bulk thank you gifts that are guaranteed to make your employees, colleagues and clients day.
Personalised corporate gifts
Our personalised corporate gifts arrive beautifully wrapped with tailored gift messages to make sure they know who's thinking of them – so if you want to add that extra wow factor to your present, opt for one of our personalised hampers.
Our personalised business gifts
Distributing personalised business gifts to your customers, colleagues and employees is a great way to improve company morale, whilst also bettering the way in which the business is perceived both internally and externally.
At Cartwright and Butler, we can create bespoke personalised business gifts with printed ribbons and engraved plaques to reflect your brand – so whatever kind of gift you would like, our personalised business gifts are guaranteed to perfectly capture the essence of your organisation.  
Luxury corporate gifts to impress
When you're struggling for gift ideas, let us do the hard work, creating luxury corporate gifts packed with tempting treats like melt-in-the-mouth fudge, fruit-packed preserves and hand-picked wines that can't fail to impress.
Not sure which luxury corporate gift to pick?
If you're not sure which type of luxury corporate gift to pick and your business needs gifts sorting fast, then don't worry, we have a wide range of options to choose from.
Such as our luxury biscuit selection and hot beverages collection, featuring tongue-tingling whole leaf English Breakfast tea and perfectly baked all-butter shortbread all packed into each luxury corporate gift.
Corporate Christmas gifts
If you're looking for delicious corporate Christmas gifts for your dedicated employees or hoping to butter up some potential clients around the holidays, then an indulgent corporate Christmas gift from Cartwright and Butler is the best route to go down.
Corporate Christmas hampers
Packed with festive delights like Christmas pudding, spiced orange & cranberry shortbread, and cranberry & orange mini mince pies, our Christmas hampers are ideal for letting your colleagues know how much you appreciate their hard work throughout the year.
You could also opt to purchase one of our larger hampers, like the Festive Showstopper Collection, which you can share with your entire team around the festive period, with enough left over for everyone to take a little something home to their friends and loved ones at the end of the day.
Corporate retirement hampers
It's always a sad day when one of your team decides they would like to move on to pastures new, but a lovely way to celebrate all their dedication and hard work throughout the years is to all chip in to get them a delicious celebratory retirement gift hampers.
These retirement hampers are packed to the brim with tasty treats and delectable delights that are sure to make them miss you all the more when they pop the cork!
Thank you gifts for employees
So whether they're entering retirement or simply moving on, Cartwright and Butler provide bespoke thank you gifts for employees moving on to the next chapter in their lives.
Choose between one of our classy afternoon tea hampers, including luxurious champagne and a selection of sweet treats or go all out with one of our gorgeous wicker hampers, complete with a choice of beverages including fruity red wine and dazzling champagne, and so many lovingly packed nibbles that'll make their last week one to remember.
Purchase sustainable corporate gift boxes from our range
When you're stuck for gift ideas or need a luxury gift for minimum fuss, corporate gift boxes from Cartwright & Butler are the perfect choice.  Order online or get in touch with our account managers to find the perfect gift hamper for the people who matter to you and arrange delivery direct to their door.
When you need corporate gift boxes that represent you and your brand, it's important to make the right decision. Because choosing a gift they'll remember is genuinely good for business.
Sustainable corporate gifts
At Cartwright and Butler, we understand the importance of sustainability, and so do the partners that we work alongside. That's why we're always working incredibly hard to become a more sustainable organisation.
This effort is reflected in our sustainable corporate gifts – not only is our outer packaging more visually appealing and recyclable, their items are also reusable.
So if sustainability is important to your business, Cartwright and Butler are an extremely moral organisation that pledge to be good and do good.
So what are you waiting for? Treat your colleagues, employees and clients with some bespoke and sustainable corporate gift boxes from Cartwright and Butler.