Afternoon Tea Ideas
How to create the perfect afternoon tea at home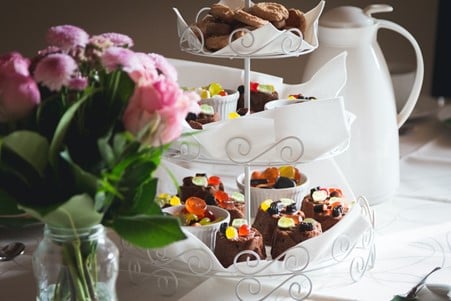 Tucking into the luxuries that afternoon tea provides at any eatery is a truly enjoyable experience for all. But you may be thinking about creating your own opulent version of this tasty, traditional meal choice.
If you've contemplated crafting afternoon tea at home, rather than venturing to a hotel or café, but you'd require some helpful afternoon tea ideas to kickstart your plans, our suggestions are sure to help. Your plans should be considered meticulously if you're choosing to gorge on afternoon tea at home. From the goodies you eat and which silverware you use to the cake stand each idyllic item sits on, there is a lot to consider.
Deciding what you'd like to opt for and which afternoon tea sandwiches you'll plate up can seem a little daunting if you don't know how. But don't worry; we have a host of afternoon tea ideas to share with you. Read on to uncover how you can produce a marvellous afternoon experience tea at home and take everyone's breath away!
Choose your marvellous menu options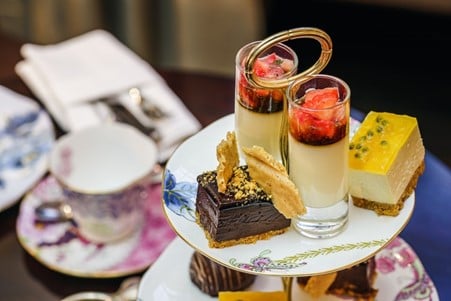 No matter what, the menu is the most important part of your afternoon tea offering. First thing's first, to make your own afternoon tea, you'll need to consider which lucky guests are coming to share your tasty set-up. Remember, their dietary requirements must be considered, too.
Of course, all tastes need to be catered for. Perhaps you have some vegetarians attending, a guest who simply despises seafood, or someone with a dairy allergy. If this is the case, pick a range of options to suit everyone's needs, to ensure no one is left feeling hungry (or disheartened).
All these requirements need to be assessed before you assemble your splendid spread. However, if you're simply making afternoon tea for you and your partner (or a good friend), what you serve will likely need less attention. After all, you'll know exactly what fine foods to include on a "menu" shared with those closest to you.
Afternoon tea sandwiches: Serve them first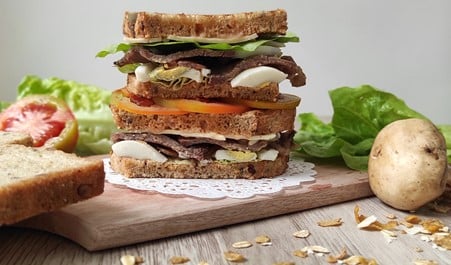 Of course, you'll require an assortment of tasty treats, and the first to be gobbled up will be the fabulous finger sandwiches you lay out. So, remember to introduce your guests to these first.
You may be quite happy going down the traditional route with your afternoon tea sandwiches, in which case, you should consider the following options:
Cheese and chutney

Cucumber and cream cheese

Egg mayonnaise

Ham and mustard

Smoked salmon and cream cheese.
However, you could go above and beyond and opt for afternoon tea with a twist. Think about juicy tomato-topped bruschetta, herby falafel and hummus wraps, savoury ham and cheddar croissants or premium cheese and biscuits.
Since you're hosting, the choice is all yours, so be as experimental as you'd like with your options available and try something new. Just envision everything you've ever wanted from afternoon tea in a café or restaurant and bring it to your dinner table!
Select your sweet treats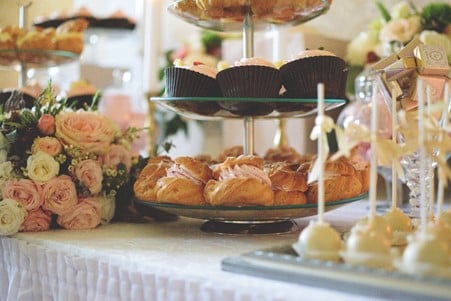 As well as yummy finger sandwiches to indulge in, delectable, sweet goodies will need to be on the menu to provide a traditional (and delicious) experience. You can buy these from a supermarket or local café. Although, you could also go one step further by baking them yourself! Simply research online for some afternoon tea recipes and lap up the compliments from your guests as they tuck into your beautiful bakes!
To ensure you provide a taste sensation you and your guests will never forget, ensure these items are sitting on your cake stand:
Buttery scones with clotted cream and jam

Cakes of all flavours, think lemon drizzle, chocolate fudge and salted caramel

Flavoursome flapjacks

Gooey brownies

Crumbly shortbread.
Gather the equipment together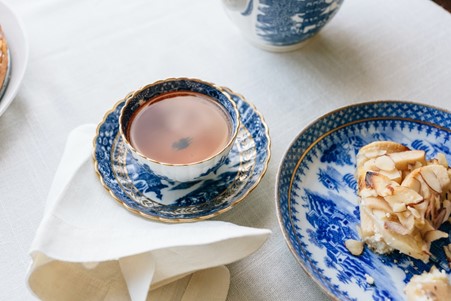 As well as the fine things you'll be eating, you'll need to purchase or gather up the appropriate tableware to sit your sumptuous selection of foods on! But what does this entail?
Make your own afternoon tea: What equipment will I need?
As well as rich and scrumptious premium foods to enjoy, you'll need the following to create wonderful afternoon tea at home:
A two or three-tier cake stand to showcase your goodies

China teacups and saucers to serve your tea in

China teapots to brew the finest tea in

A cake server

China plates to eat from

Champagne flutes to sip from

A chic tablecloth: think cream, silk or floral

Tablespoons, teaspoons, knives and cutlery sets to serve and eat with

Decorative napkins.
Of course, these can be bought from the supermarket or borrowed from friends and family. So, whatever afternoon tea ideas at home you have, you can fulfil easily, and with added style.

Purchase amazing afternoon tea hampers
For a seamless afternoon tea experience, you can choose a pre-prepared bundle for an easy (yet divine) dining option. In fact, our Tea and Cake hampers are specially designed to provide easy and amazing afternoon tea adventures.
Our range makes creating afternoon tea at home a doddle. You'll get to indulge in an array of amazing items, that will take your taste buds on a flavourful adventure. These luxury hampers take the hassle out of shopping around for different items because pretty much everything you need is included. What could be better than that?
And remember to check out our blog for further insights on everything food related!