Christmas Gift Guide by Month
Can you hear that sound? It's the sound of all parents or gift givers trying to find somewhere to hide their Christmas gifts, so that any interested or nosy recipients won't be able to find them.  Making room in the back of the wardrobe, moving cupboards just a fraction to hide something behind or, if you're feeling particularly crafty, using the hidden floor space in your car (some cars really are that clever!)
Getting Christmas Wrapped up
This is all due in part because the super organised amongst us like to get Christmas wrapped up in good time, so they can relax with their feet up mid November, with a glass of sherry and start on those mince pies.  Or they like to spread the cost of Christmas, rather than have a financial hangover, as well as an alcoholic one in January.  Both good reasons, and why wouldn't you? Fortunately over at C&B we're incredibly lucky that our delicious food and drink goodies are not only extremely indulgently tasty, but also long lasting. So if you were planning to start your Christmas shopping early, then we can highly recommend a perusal of our range of goodies.
Buy Now, Pay in 4 with Clearpay.
Not forgetting, we've recently launched Clearpay, which allows you to spread the cost of your purchases over 4 easy bite-size chunks, interest free!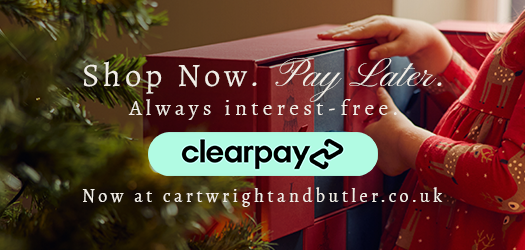 Here's our Ideas for Christmas Present giving, by month.
October
Name me one husband or partner out here who wouldn't LOVE to receive this little box of delights?  With a selection of quality craft beers paired with a host of chocolate treats, this is one to get ordered and hidden in the back of the wardrobe before he even suspects it!  Sneaky!
The C&B Chocolate & Beer Hamper 
£70 or 4 interest free instalments with Clearpay of £17.50
Buy the Chocolate & Beer Hamper here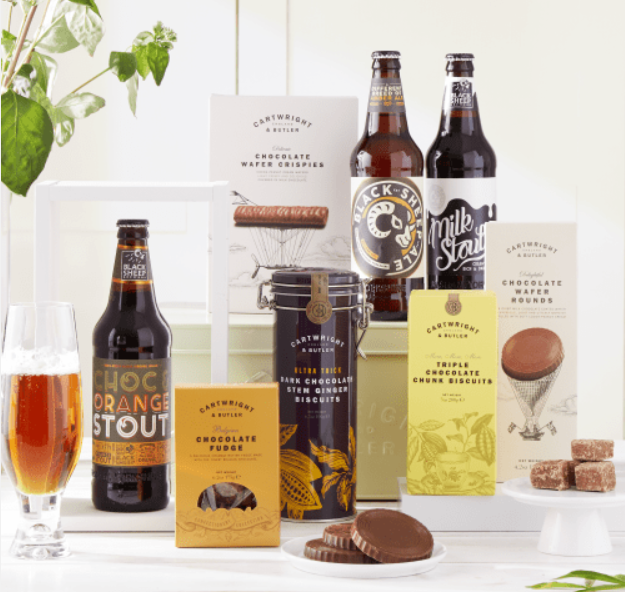 The C&B Whisky Hamper
We ALL know someone who's partial to a nip of whisky don't we?  Whether it's Dad, Aunty, or the plumber who always gets you out of a jam, you really can't go wrong with a hamper filled with their favourite whisky alongside a selection of sweet and savoury luxury nibbles.
£110 (or 4 payments of £27.50 on Clearpay)
Buy the C&B Whisky Hamper here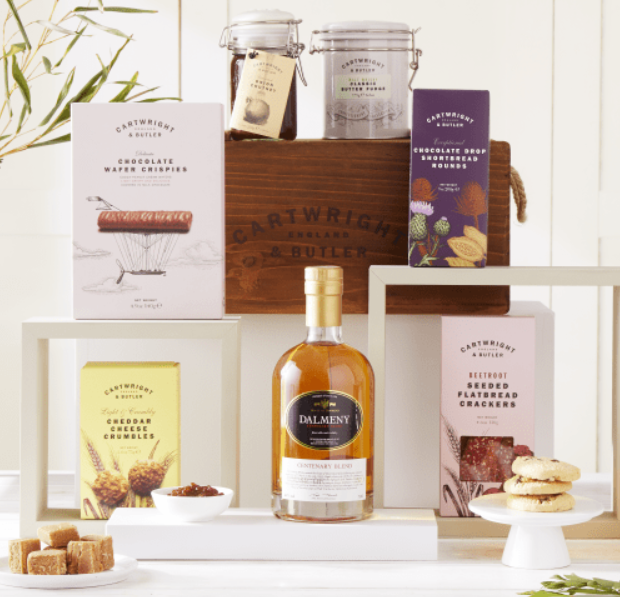 Choose Your Christmas Delivery Date
Let us take the hassle out of delivering those all important Christmas presents to loved ones you can't be with on the day.  With our buy now and select your delivery date service now available, you can ensure your gift is delivered when you choose it. 
But hurry, delivery dates are limited and first come, first served, so make sure you book your Christmas delivery slot!
November
Gift planning is now in full swing!  Time to check in with your Christmas Gift To-Do list and see who you've still got to buy for. 
Gifts for the person who has everything
We all have one of these, but you can rest assured that at C&B we have the perfect solution!  Why not Build Your Own Hamper gift.  You can guarantee they've never received a fully handpicked bespoke gift hamper before.  Sorted!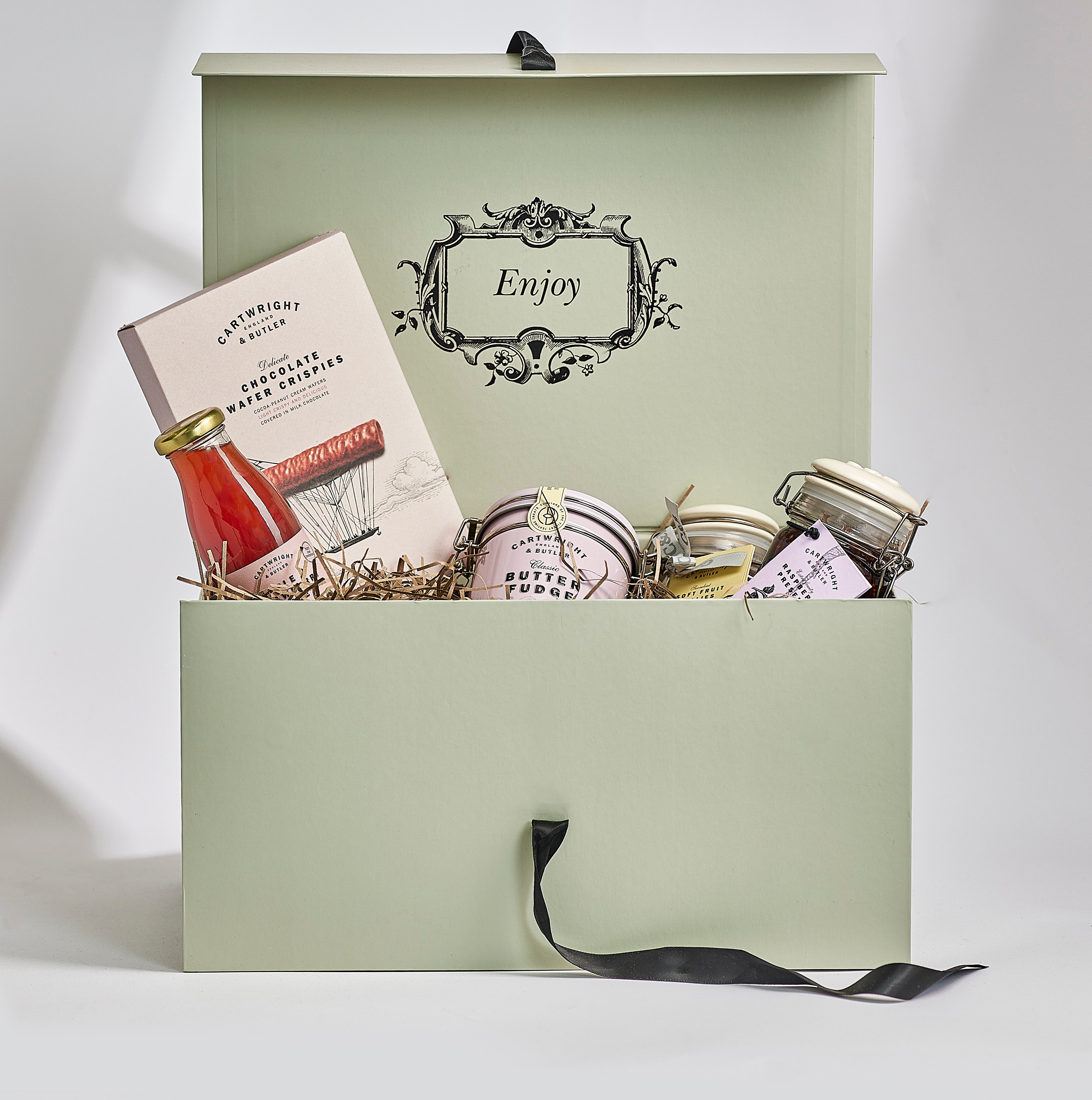 Whether your recipient has a sweet tooth, savoury tooth, a bit of everything or a taste for Gin, you can browse our full range of delicious indulgent delights and make your very own gift creation.  You can even add a personalised gift sleeve with a photo and message of your choice with our personalised hamper service.
Visit our Build Your Own Hamper builder here >> 
https://www.cartwrightandbutler.co.uk/build-your-own-hamper 
Advent Calendars
Tick-tock is the sound of your Christmas clock counting down, and whilst you're there, don't forget to stock up on your family advent calendars!
Fortunately for you this year we've an incredible range of advent calendars for the whole family. From our delightful chocolate advent calendar based on the original Cartwright & Butler shop front - right through to a thoroughly indulgent advent calendar filled with treats, in collaboration with Laithwaites for the wine connoisseur amongst us!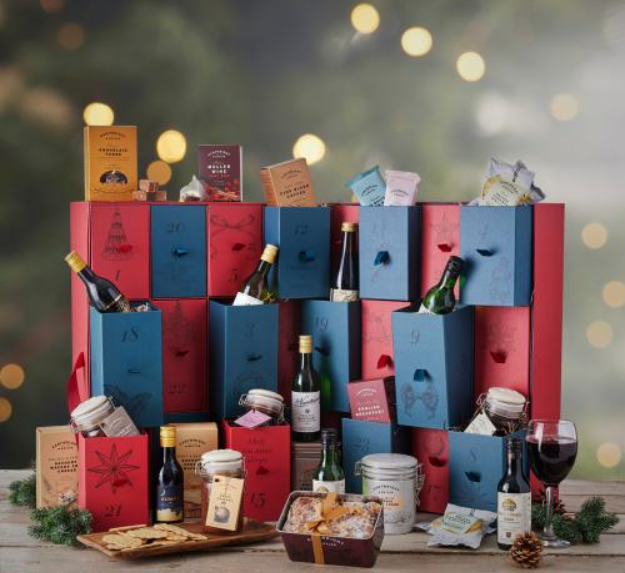 The Cartwright & Butler Advent Calendar in collaboration with Laithwaites
£250 (or 4 payments of £62.50 with Clearpay)
December
Where have you been?  Don't worry if you're leaving your last few gifts to the last minute.  Fortunately we've a whole selection of perfect gifts from full out showstoppers through to delightful little stocking fillers.
Stocking fillers
Who can resist a luxury hot chocolate, particularly now that the colder months have really set in.  Get stocked up on stocking fillers with our perfectly sized and priced hot chocolate stirrer set, with a selection of salted caramel, marshmallow and milk chocolate choices to choose from.
A trio of hot chocolate stirrers 
£6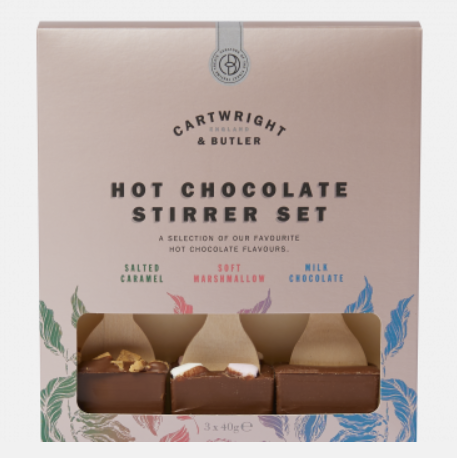 Sticking with all things in threes, how about a trio of festive fudge to feast upon?  Perfectly sized for a stocking filler, or just one for you to treat yourself after a successful Christmas shopping mission.
For just £15 you can feast upon our trio of festive deliciousness, or be good and save for your intended recipients (if you can)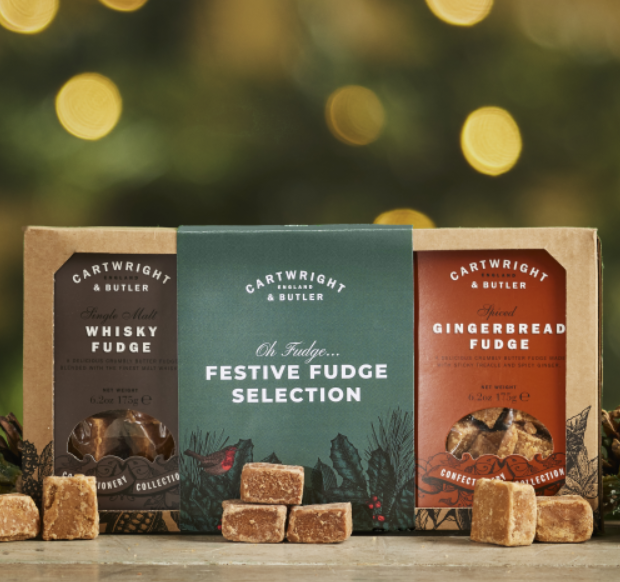 Stop the Show with Christmas Showstoppers
Perhaps you've just heard back and you're going to need a bigger table this year - it's your turn to host and everyone has confirmed they're joining!  Firstly, compliments for the chef, they've obviously heard how magnificent your culinary skills are.  Secondly, we've got it covered, why not check out one of our showstopper hampers to ensure your guests are never without a festive treat.
The C&B Ultimate Family Get Together Hamper 
£960 (or 4 easy Clearpay instalments of £240)

We hope you've enjoyed our whistlestop tour of Christmas, but if you've a little time to spare and fancy a browse, why not hop over to our Christmas Hampers section and see the full selection of delicious and indulgent treats, for yourself or a lucky recipient.  Happy Christmas Shopping!