The gift of giving: What are the most generous cities in the UK?
No matter what our tastes and preferences are, we all love receiving a gift. Whether it's a birthday treat, a Valentine's Day present or a gift "just because", being sent a surprise in the post is a great feeling, and one that's hard to match.
Although, sending a gift can be a different story entirely. Because some of you love treating your nearest and dearest regularly, whereas others just gift when they need to for a special occasion. And your levels of generosity can vary depending on your location, which led us to investigate…
But which cities truly are the most generous, and which ones are lagging behind when it comes to gifting? We uncover all you need to know, here.
Revealed: London is the most generous city in the UK
With lots going on in the last year, and more presents being sent to your doorstep than ever (because you couldn't quite meet up in person), we wanted to know which city in the UK took the crown for being most generous.
Drum roll, please…
It's official: London is the most generous spot in the UK. That's right, those residing in the Big Smoke were more likely to surprise their favourites with a present to leave them smiling like a Cheshire cat.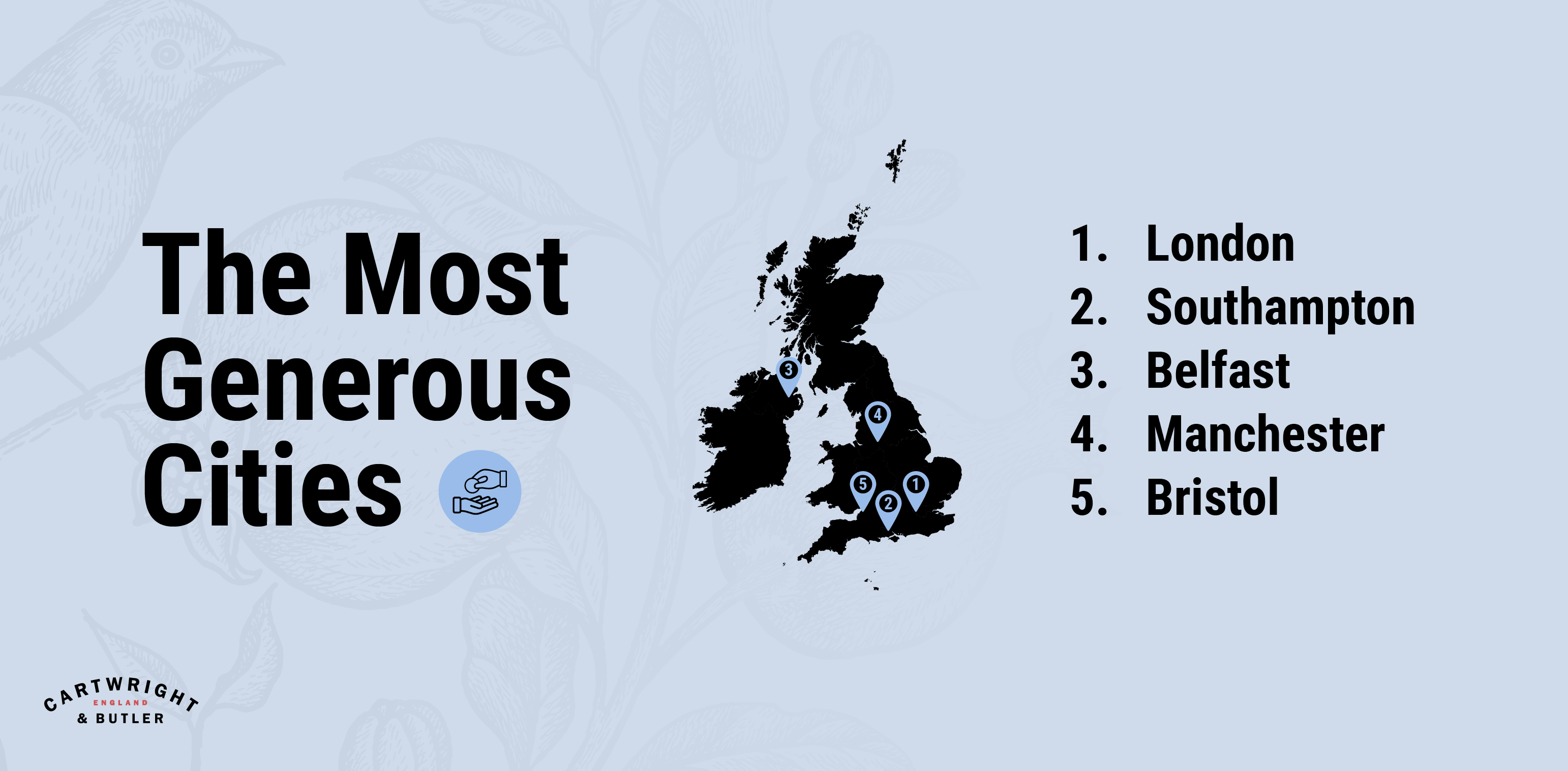 To uncover the top spot, we asked people if they had sent gifts to their closest companions in the past year, in a bid to cheer them up. We really wanted to know how much people spent on special occasions like birthdays, Christmas, Valentine's Day, work and as a sneaky surprise.
And because of the recent changes in how we exchange gifts, it's pretty interesting to learn that in London, people were much more likely to buy gifts, and spend more now than they would pre-pandemic.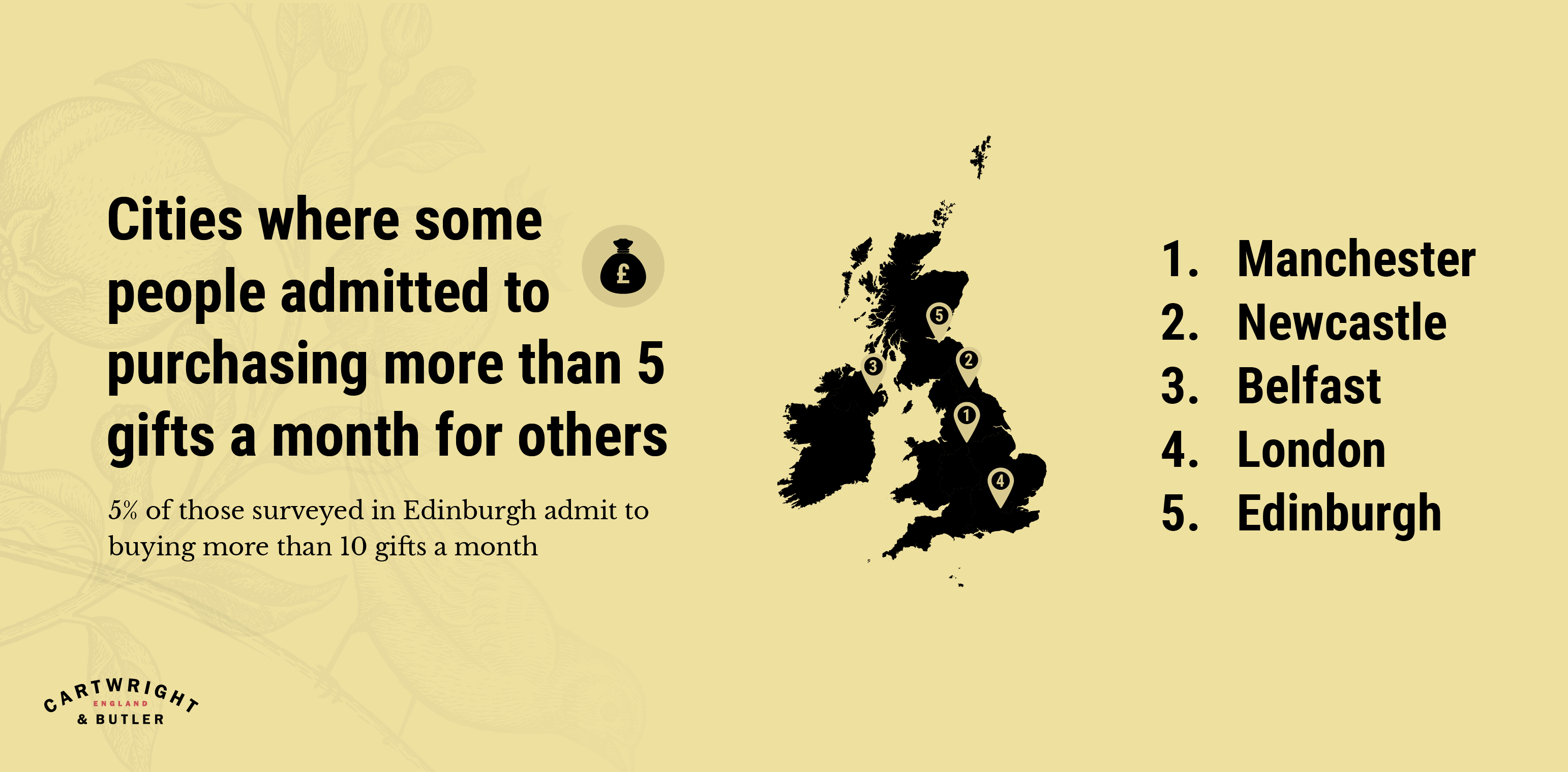 The other generous cities to watch out for…
Not far from London is Southampton, which came in second place for being the most generous city in the UK. Not only that, but the people here (90.9%) are kind enough to have surprised someone they love with a present over the past month, which is pretty remarkable. People living here are clearly the gift that keeps on giving!
In third came Northern Ireland's capital: Belfast, followed by Manchester and Bristol, which were the final two most generous spots. The top five most generous cities are certainly special, but we soon realised they appear on very different points of the map, aside from the top two (London and Southampton).
But shockingly, the Scots are less generous than we'd expect, with Edinburgh taking the title as least generous, with Norwich, Cardiff, Sheffield and Nottingham not falling far behind. And it seems that Edinburgh is the place where people are least likely to surprise their friends and family with a gift.
Londoners are the kindest colleagues
London may be the most generous city overall, but that's not all the residents should be proud about. Londoners are also the kindest colleagues, choosing to spend around £37.67 on a gift for their beloved teammates - which was higher than any other city.
Although, those working in Southampton aren't too far behind, claiming they spend an average of £35.31 on a gift for their pals, which is only £2.36 less than London. Clearly then, cities in the south are happier to shell out for higher-priced presents for their work besties. But perhaps this is because salaries are higher in this part of the UK, so they can afford to spend more on their favourite people?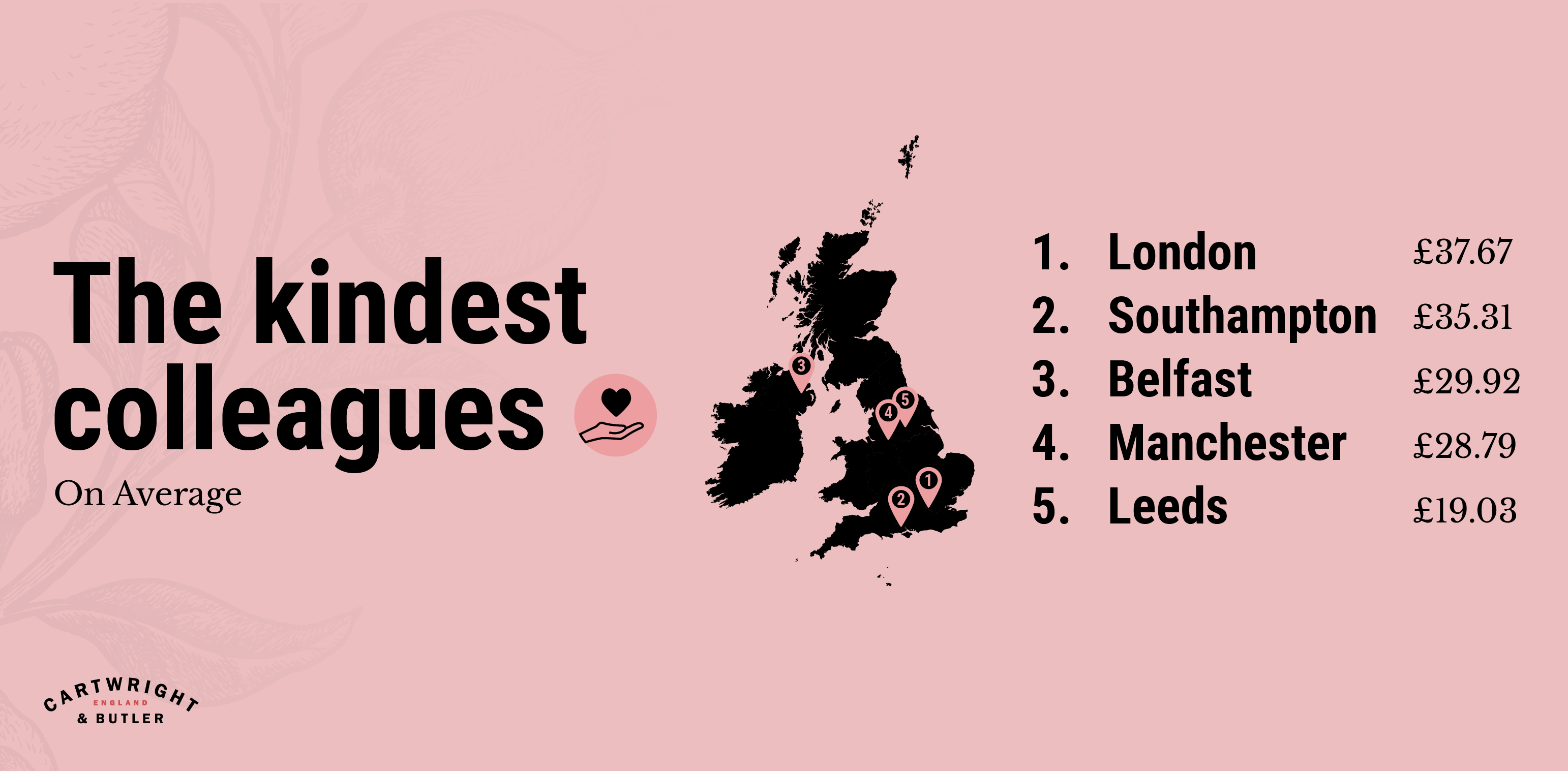 People in Belfast spend the most on Christmas gifts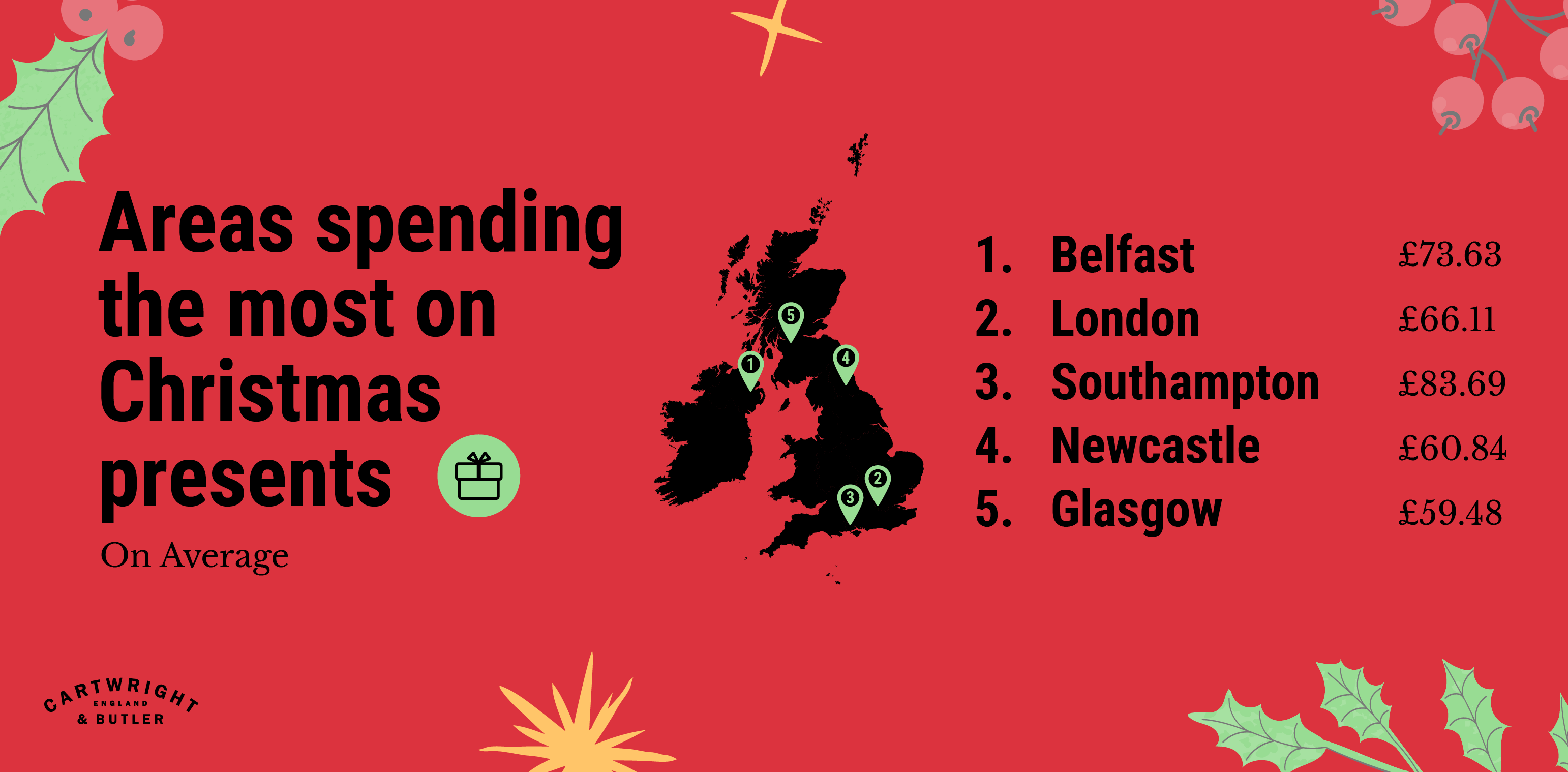 Christmas is "the most wonderful time of the year" because this religious celebration brings people together. Plus, you just love seeing people giddy with gratitude as they unwrap a present they've been longing for since January… But which city really pushes the boat out when it comes to Christmas gifting?
Well, despite London coming in first place for generosity by city, it turns out that the people of Belfast spend the most (£73.63) on Christmas gifts for their loved ones during the festive period. Clearly then, each city prioritises different things when it comes to buying presents.
Speaking of Christmas, if you're hoping to pop an original gift under your tree this year, check out our remarkable range of Christmas hampers. Or for more inspiration on consumer behaviour, recipes and lifestyle, visit our blog.