How to throw the ultimate adult Halloween party
Nothing says Halloween like donning the goriest, spookiest costume possible, getting a bucketful of treats, and then partying till you're dead on your feet. With all the tricks, treats, and spooks, it's one of the best holidays as a kid. But who says they have to have all the fun?
There's no reason you and your friends shouldn't be able to capture the true spirit of Halloween. We've scoured the oldest crypts and castles for the must-have tips and tricks to help you host the most hauntingly hypnotic Halloween party ever!
Picking your Halloween party theme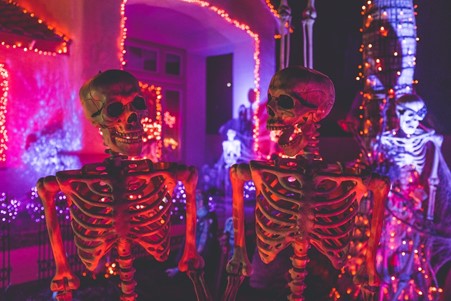 The most important part of any Halloween party, you need to choose an appropriate Halloween theme. This will influence your invitations, decorations, games, and most importantly, everyone's costumes.
There are plenty of themes to choose from. Nothing says eerie like classic gothic horror. Alternatively, you could opt for something more modern, such as a horror movie-inspired setting, encouraging guests to come as their favourite horror movie villains. You might even decide you want to do a Halloween murder mystery party, in which case, the theme will be decided by the game you choose.
Of course, there's nothing wrong with having a more casual theme. Letting guests come as they want means even those friends who aren't that into Halloween can still get involved.
If you're spoilt for choice and don't mind the theme being revealed before invitations are sent out, consider asking your guests which kind of theme they're most interested in, to get some inspirational Halloween party ideas. If you're tech-savvy, you could even set up a poll on social media to quickly get everyone's input.
Sending out those Halloween invitations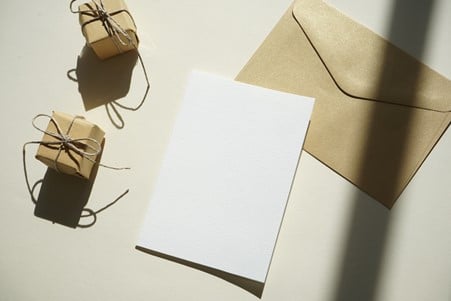 Once you've settled on your theme, you need to get those unearthly invites ready. Be sure to match them with the aesthetic you're going for. You can get creative by making and sending them out yourself, make a killer graphic in tandem with an email-based RSVP service, or set up an event on via social media.
No matter how you want to design or deliver your invites, sending invites is a must. Not only does it get your guests in the mood while giving them something exciting to look forward to, but you can fill it with all the information guests will need like the theme, date, arrival time, and whether they need to bring anything specific. We adults are a busy lot and planning ahead means everyone can get the date in their schedule and prepare accordingly.
Planning out your Halloween party food
By now the excitement is no doubt already building and you're budding to get those pumpkin decorations up before creating your costume. But let's not let our enthusiasm get the better of us, there's still plenty of planning to do.
Fantastically supernatural food is an integral part of Halloween, and we don't just mean all that delicious candy (but don't worry, we're not missing that out). Even the dead need sustenance to keep them going while they dance their feet off. A selection of nefarious nibbles from the pantry is sure to get your guests mouths watering.
Plenty of disgustingly tasty Halloween party food can be made with everyday foods by adding a Halloween twist. Make some ghostly pretzels by taking normal pretzels, coating their top in melted white chocolate, and using edible marker to add ghastly faces. For a healthy option, make some vegan friendly monster wraps, decorated as different classic monsters using olives, pickles, and vegan cheese. An inspired centrepiece can add a dramatic flourish to your selection, like bleeding red velvet cake.
Of course, if you're going for a murder mystery or classy party with a main meal, then you can theme each course around a particular monster or setting. Get creative and see what recipes you can find. Just make sure you take all your guest's allergies and food preferences into account.
And what about the candy? Picking up a wide selection of Halloween treats is easy but for a bit pizazz to their placement you could hollow out some smaller pumpkins and use them as bowls.
Setting up those Halloween decorations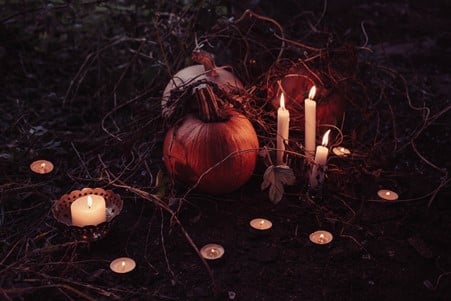 Now for the fun part - decorations! Here you get to take your theme and transform your party location into its supernatural equivalent. If you just want to creep up your home, add a dusting of cobwebs around the rooms in use, cover pictures in a layer of thin black lace for an old-timey look, and liberally spread any theme-appropriate props. You could even add a layer of fake dust everywhere, provided none of your guests are asthmatic and you don't mind cleaning it up afterwards.
On the other hand, if your theme is based around movie monsters, then each room could be decorated to fit with a different movie. A crypt for Dracula, a lakeside camp for Friday the 13th, and a dream realm for Nightmare on Elm Street. Murder mystery parties often have a theme associated with them that you can match with your Halloween party decorations, and you could go for a more reserved but elegant option by having your décor be only black and white.
For those after an aesthetic that really breaks from tradition, we recommend going for a vintage look from the 1920s or earlier. Crank the creep factor up with dusty stained photos and maps, old trunks, and decorative display skulls and animal skeletons, all in rooms that are decorated with the run-down look. Consider spraying smaller pumpkins white for a different but still spooky vibe. Vintage goes particularly well with a Lovecraftian theme.
On top of theme appropriate décor, you can use candles in wine bottles, old lamps, and strobe lights to help with mood lighting as well as fog machines for an atmospheric feel and props that guests can take photos with.
Even if the party is low-key, you can still decorate the entryway to your house with bones, cobwebs, and tombstones so guests can't miss where the party is happening.
Mixing your Halloween drinks
You know the best thing about Halloween parties as an adult. You get to drink fancy themed cocktails! A Halloween party is the perfect time to take all your favourite cocktails and add in a drop of Halloween spice. Martinis can be gothed-up with a dash of curacao and black raspberry liquor and you've no excuse not to try the appropriately named Zombie.
There are plenty of Halloween cocktails out there you can experiment with, but no Halloween party is complete without the all-important bowl of punch. Served in a cauldron, skull, or something equally spooky, guests can enjoy using a bone ladle to serve themselves. You can add a secret spook by hiding a severed hand underneath the surface, made by freezing a glove full of water inside a glass, that will be revealed as the punch goes down.
For more casual drinking, you can hollow our a few pumpkins, fill them with ice, and dot them around the party to keep bottles of beer, wine, spirits and other refreshments cool all night long. Pumpkins are naturally waterproof, so you don't have to worry about leaks.
If you really want to add a spooky twist, food-grade dry ice can be mixed with water for a misty effect on drinks.
Choosing some Halloween party games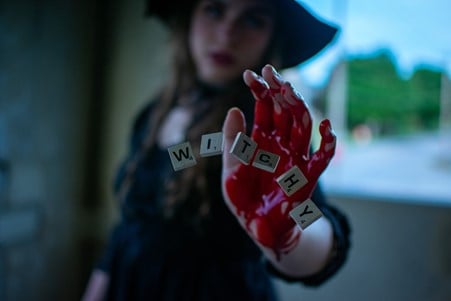 While we might be too old for trick or treating, pass the parcel, and musical chairs (ok, maybe not that last one), there are still plenty of Halloween party games suitable for adults. Obviously, if you went for a Murder Mystery theme, your entire evening will be one big game, with everyone staying in character until the culprit is discovered. But you can still play other games once the main event is over.
For a simple game, you could try "guess the monster", a Halloween take on the classic sticky note game. Participants have a sticky note stuck to their forehead with a monster on it and must guess which monster it is by asking questions. Each time they guess incorrectly, they take a drink. You could also try bobbing for alcohol instead of apples, either by replacing the apples with single serving bottles of drink or, if you guests don't mind getting sticky, the water for sangria. If you're having Halloween cocktails, why not let guests mix their own from a selection of ingredients.
Not all games have to involve alcohol though. Don't say Halloween involves giving everyone a ring or chip at the start of the evening. If they're caught saying Halloween, the guest that caught them takes their chip. At the end of the night, the person with the most rings or chips wins a prize.
You could also hold the classic costume and pumpkin carving contests, refreshing the latter by having it be a pumpkin painting contest in Halloween colours and styles. There are plenty of classic Halloween party game ideas that can be adapted, find the ones that best suit your theme.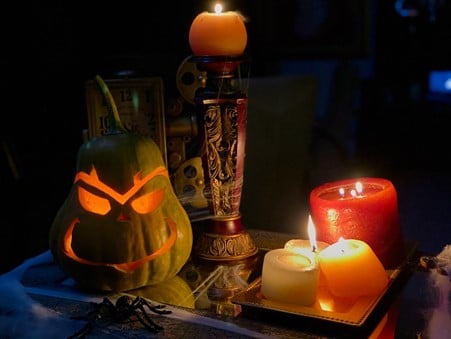 No party is complete without music. You can either create your own playlist with classic Halloween tracks (like Bobbie Pickett's 'Monster Mash'), or any song from A Nightmare Before Christmas (because, let's face it, it's as much a Halloween movie as a Christmas one). Alternatively, you could find one of the many curated Halloween playlists on places like Spotify or YouTube.
If it's your thing, there are plenty of little tricks you can play on your guests, like adding and removing writing in the bathroom throughout the party or a silhouette on one of the windows. Just check with your guests that they're ok with the idea beforehand, so the mood doesn't get ruined.
And if you really want to push the boat out with your decorations, why not include the odd motion sensor decoration to spook them with a cackle or hiss when they pass.
With everything we've just discussed, you should now have everything you need to create and host the ultimate Halloween party. Why not start your prep off by browsing our selection of foods and build your own hamper for Halloween treats that are a bit more decadent? You can also peruse our blog for other inspiring ideas for parties and food!