Luxury champagne cocktails to recreate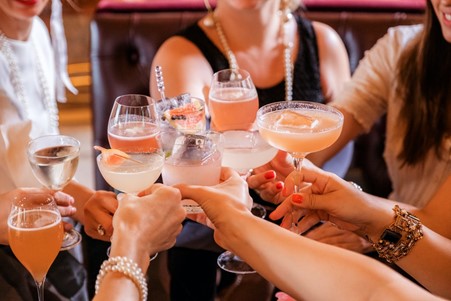 A blissful bottle of bubbly is a premium tipple to indulge in, and one that doesn't necessarily have to be served straight from the bottle. Instead, you can toy with other ingredients and drinks to create a luxury champagne cocktail that will take your tastebuds on a whole new journey.
Although, deciding which beverage to pop your famous fizz in can be a little tricky, as can be whittling down the recipes you'd like to try. That's precisely why we've rounded up five of the best champagne cocktails to recreate.
Why make champagne cocktails?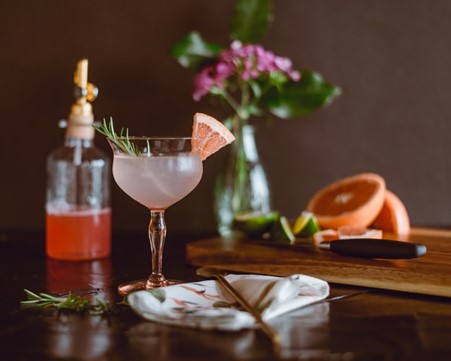 Spotting the bubbles rising to the top of your champagne flute is one thing, but tasting it in a delicious cocktail formation can be far superior. Champagne cocktails even appeal to those of you who only drink fizz from time to time. Because when this tipple is combined with other flavours, it can completely transform the essence of a drink.
You may well remember tasting a fine tipple in your favourite bar, restaurant or nightclub that you'd simply love to be able to recreate at home. Well, you can do exactly that, perfect the recipe and serve your latest creates to your beloved friends and family.
How to make champagne cocktails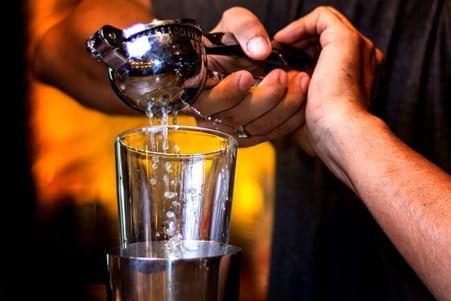 Recreating your favourite tipples from the comfort of your own home is easy when you know how. So, if you're wondering how to make champagne cocktails, it's easier than you may think. It simply involves following a clear-cut recipe, purchasing a host of decadent ingredients (like alcohol, juices and fruity garnishes), as well as the right equipment to blend all the delicious ingredients together.
Champagne cocktail equipment
To make the most classic champagne cocktails, you'll require the following equipment:
A metal cocktail shaker – or a jam jar if you're in a hurry

A jug – to measure out each of your liquids before pouring them out

A mixing glass – to combine the flavours together

A stirring spoon – to mix away

A julep strainer – to fit inside your mixing glass and prevent garnishes from mixing

A fine strainer – to remove ice fragments and prevent unnecessary foam.
Champagne cocktail recipes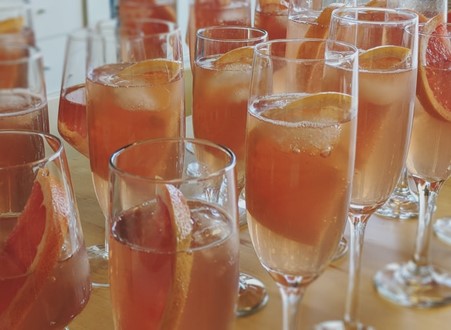 There are oodles of champagne cocktail recipes available on the web, but selecting the finest can be a tricky task, especially if you don't know where to begin. As well as providing divine wine and champagne gift boxes, we also know a thing or two about the best cocktails with fizz, for those of you with more refined tastebuds. But which are the best cocktails with champagne?
A flavourful French 75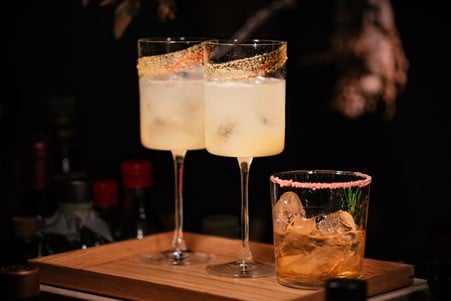 Like many classic champagne cocktails, making (and drinking) a French 75 will blow you away. Rumour has it that when the first French 75 initially emerged, gin was not an ingredient included in this magical concoction. But one thing has always remained the same – the inclusion of champagne!
So, what ingredients will you require for this charming champagne cocktail?
Fine champagne (4 oz.)

1 teaspoon of sugar syrup - which you can make yourself by simply dissolving 250g of caster sugar in 250ml of hot water

Dry gin (2 oz.)

Lemon juice 

Lemon peel to garnish

Ice.
To make the drink:
First, pour the luscious lemon juice, dry gin and sweet sugar syrup into your cocktail shaker and then add your ice.

Shake the ingredients together well, and then strain it into a shiny champagne flute.

Top your tipple up with a small amount of champagne and allow the bubble to settle for a moment. Once your drink is still, add more fizz to your glass.

Grab your cocktail stirrer and swirl the drink together gently, before adding your lemon peel as a finishing touch.
An Atomic Cocktail
As its name denotes, the atomic cocktail will awaken your tastebuds with its rich flavours and decadent ingredients. Providing quite the kick, you'll be trying and tasting this champagne cocktail recipe for years and years.
You'll need the following ingredients to make this punchy cocktail at home:
Champagne (1 ½ oz.)

Vodka (1 ½ oz.)

Brandy (1 ½ oz.)

1 teaspoon of sherry

An orange wedge

Ice.
To make this superb tipple, follow this recipe:
Stir the dry vodka, brilliant brandy and sumptuous sherry together with a handful of ice.

Shake well in your cocktail shaker, for around 15 seconds.

Strain and pour the mixture into a pre-chilled martini glass, add your tasty champagne, serve and enjoy!
A Champagne Punch
If your palate requires fruitier flavours to reach top tipple satisfaction, champagne punch is a lavish yet easy option to recreate.
You'll require the following to make this beautiful-tasting beverage from scratch:
Your finest champagne

1 bottle of soda

Brandy (1 ½ oz.)

Cointreau (1 ½ oz.)

A punnet of strawberries

Pineapple slices

Orange wedges

Mint - for garnish.
To make this flavourful champagne cocktail from home, simply:
Place your strawberries in a large sharing bowl, and begin crushing the fruit into smaller pieces.

Introduce the ice to the bowl, and carefully pour in the champagne, Cointreau, brandy and soda, mixing them all together seamlessly.

Add your garnishes for lasting flavour, including previously prepared orange rings, pineapple slices, orange wedges and a handful of fresh mint. Then, sip away!
A Black Velvet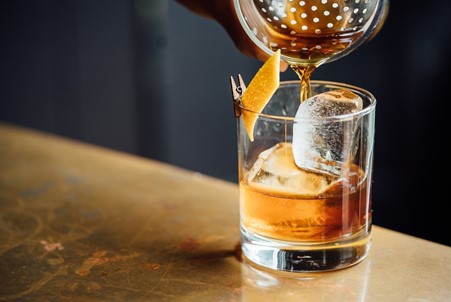 For a more robust drink, a black velvet champagne cocktail will happily hit the spot. This beverage is perfect for those who adore both Guinness and champagne, with the two drinks being mixed together to create a foamy, flavour sensation.
Purchase these two alcoholic delights to make a black velvet for yourself:
Champagne

Guinness stout.
And to curate this beverage, follow this simple recipe:
Grab a Collins glass and fill it up halfway with Guinness.

Slowly top up the glass with your champagne, ensuring that the fizz doesn't overflow!

Mix the two tipples with a glass rod to ensure the flavours meld together perfectly. Then, sip to your heart's content!
A lavish Luxe Margarita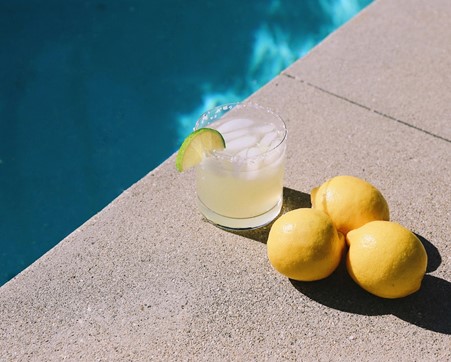 If you truly love the bitter yet refined taste of a margarita, a Luxe Margarita is calling your name. You can easily incorporate champagne into this beautiful beverage, and enjoy a refined drink that's fairly simple to make. Just ensure you have all the drinks and garnishes you require.
Ingredients-wise, you will need to gather up a fine selection of joyful bottles of alcohol and fruit juices, including:
Champagne

Cointreau (1 oz.)

Tequila (1 oz.)

Freshly squeezed lime juice (1/2 oz.)

Angostura bitters (3 dashes)

Edible flowers – such as rose petals
To enjoy the fine flavours of this tipple, you'll need a cocktail shaker to hand and this champagne cocktail recipe to follow:
Add your lime juice, Cointreau and tequila to your cocktail shaker and put your shaking skills into action for around 20 seconds.

Use your strainer to pour this tantalising mix into a pre-chilled champagne flute.

Next, top your tipple with your luxury champagne and Angostura bitters.

To finish, garnish your flute with red rose petals.
Now you have all the knowledge on which tipples to try and sip, it's time to begin making them yourself. Discover our fantastic range of champagne and alcohol gifts from the Cartwright & Butler range, now, to buy a bottle of bubbly with some sumptuous treats to nibble on at the same time.
And for further food and drink inspiration, check out our blog and start recreating all kinds of remarkable recipes.