Make the most of British Summer Time with a posh picnic!
Make the most of British Summer Time with a posh picnic!
This spring, we're championing everything that's great about British Summertime by bringing you the 'poshnic' which is, essentially, a posh picnic! After the challenging times of lockdowns and covid, let's make the most of the lighter evenings, warmer summer sun (fingers crossed!) and the great outdoors at UK's perfect picnic spots all call for celebrations. And what better way to do so than with a Cartwright & Butler poshnic?
As we all know, spring and summer even in the UK can be oh-so unpredictable, but even if it's damp and dreary and not so glorious outside, you can still enjoy a poshnic indoors. But what does a 'poshnic' really entail and what will you need to try this out for yourself? Don't worry; we've provided some top tips to turn your everyday picnic into something truly special.
Simply read on to discover some of our best posh easy picnic ideas for you to copy!
Posh Picnic essential equipment
Picnic blankets & cushions

Picnic hamper

China crockery

Table cloth & napkins

Cutlery

Champagne cooler & glasses

Bottle opener

Cheeseboard + silver cheese knife

Salt and pepper shaker

Water jugs

Cool box with ice-packs

Citronella candles

Flower posies

Great Food & Drink - a feast fit for royalty (or just a foodie)
The Picnic Hamper
No plastic plates or cutlery, or indeed paper cups for our posh picnic. If you're picnicking to impress we'd recommend you invest in the ultimate posh picnic accessory, a hamper basket. Not only to carry your food, but to safely carry your essentials, china crockery, silver cutlery and wine glasses for each type of wine, but also your delectable edible treats. A stylish hamper basket is the ideal carrying companion to make your picnic go off in style.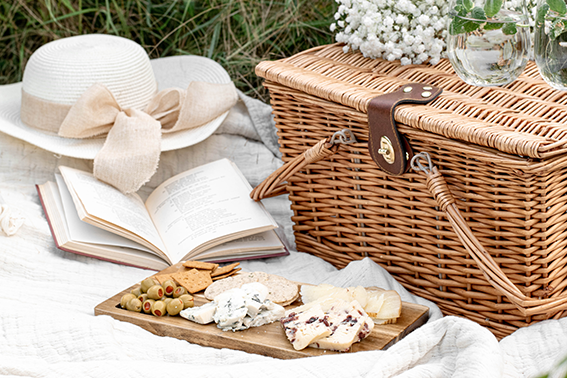 Sitting comfortably? Tips for creating a cosy picnic seating area
Create a comfy seating area with cosy cushions   
Perhaps the easiest way to posh up your picnic is by setting the scene and making it look beautiful with some stylish blankets and over-sized cushions. Add extra luxury to your trusty picnic blanket by opting for some additional throws and cushions that will give a luxurious cosy and inviting look.
To really bring out your inner interior (or exterior!) designer, the following items can really add a touch of designed elegance to your luxury picnic set up:
Fairy lights

Lanterns

Tea lights and candles

Flowers and vases

Festoon lights

Bunting

Throws and blankets

Cushions
Don't forget the dinner table
For full on posh, why not invest in a foldable table and chair set, to really elevate your seating position. Or, as a cheat, a simple pallet or two make a great base for your picnic goodies, simply pop on a few runners and placemats and voila - a temporary picnic table.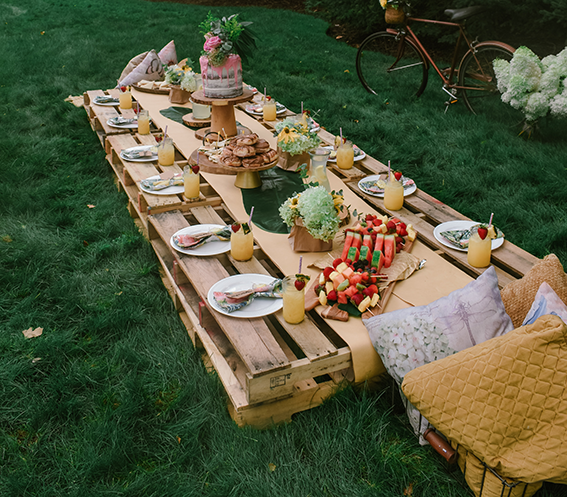 Don't forget some flowers to brighten up the ambience, whether from your local florist or a freshly picked handful of flora, in a vase or even a jam-jar, it's sure to elevate your table setting.
Light it up
If you're opting for a luxury picnic that's scheduled for the evening, add a warm glow with candles and twinkly fairy lights, but be mindful of fire-hazards. If you're unable to create a stable flat setting for them, or are picnicking with small children and pets, it's wise to consider battery powered alternatives to light up your gathering.
We love this idea, of fairy lights in a mason jar as the perfect solution to after dark lighting.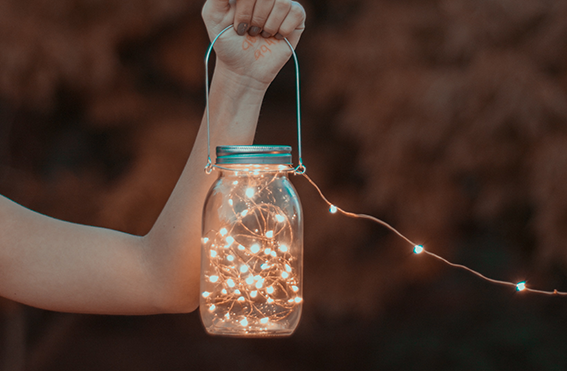 You have been cordially invited..
Or, if you really want to go the extra mile, why not create personal place name cards for guests that will make them feel special? All you'll need to do is buy some coloured card from a craft shop, cut it up into foldable rectangles and write every attendee's name on separate pieces. What a lovely idea to really make your guests feel welcome!
Top Picnic food ideas
Serving a first-class spread is imperative when arranging a poshnic but knowing what upmarket snacks to take can be a little difficult. Our advice would be to cater for all tastes; what you enjoy might not suit others and with so many dietary choices it's only polite to cater for all your guests, whether vegetarian, gluten free, vegan or children & babies. Also, don't forget to prepare those ice-packs for items that need to stay cool, in advance.
Whilst we all love the classic sausage roll, here's a few new suggestions to our top posh picnic recipes;
Ready to eat Picnic staples
Don't miss out on these bite sized tasty essentials, for the perfect family picnic.
Homemade sausage (or vegan) rolls

Scotch eggs

A trio of olives

Cheddar cheese straws

Cheese and pesto puff swirls

A selection of 

luxury nuts

Sandwiches - with the crusts cut off of course!
An assortment of breads, including wraps, bagels, baguettes, focaccia, rye and any other delicious fresh breads you can find.
Fresh nibbles & side dish plates
Fruit - the more the better, not limited to; strawberries, raspberries, blackberries, watermelon, mango, apples, pears and other easy to eat with your fingers - fruit options
Veggie dips - Stock up on your 5-a-day in a tasty way with crudites made from cucumber, carrot, sugar snap peas, courgettes and cherry tomatoes.
Don't forget a large bag of crisps with accompanying dips - from classic sour cream and guacamole to healthy but delicious hummous, tzatziki, baba ganoush or even salsa. 
Meat/Fish - Smoked salmon, prawns, honey roast ham or turkey slices. Salami, parma ham, chorizo and other for your meat lovers
Salad - whether chicken salad, pasta salad, potato salad, there's a salad recipe to suit all tastes
Dressing - whether shop bought or a dressing made by combining simple ingredients such as olive oil, lemon juice or balsamic vinegar.
Don't forget the picnic cheese board
No posh picnic would be complete without a full cheese board (and accompaniments) - as a bare minimum we'd recommend;
A delicious white, such as cheddar or Cheshire

A red, how about the classic red Leicester?

A blue - from quintessential classic stilton, or red-blue Shropshire, or, foodies favourite, Roquefort these strong tasting delights should not be missed from your board, despite how much they may stink!

Creamy mild and delicious brie or mozzarella

A fruity-flavoured speciality cheese, such as cranberry or apricot infused cheese truckle

Not forgetting a classic goats cheese. Goes well with almost all sweet tangy 

chutneys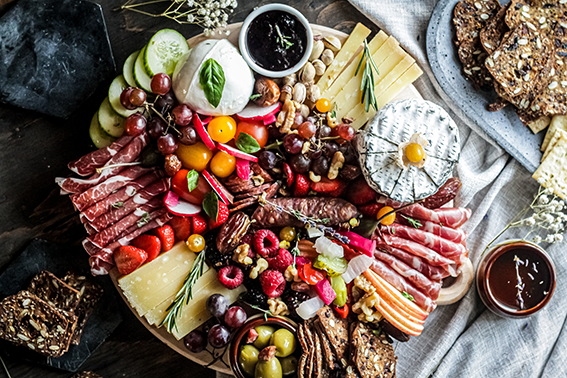 Cheese Board Accompaniments;
Crackers or biscuits - the base for your cheese. Whether your choice of 

cheese biscuit

 or 

cracker

 is a cheddar cheese biscuit or more adventurous tomato and black olive thins, we've a wonderful selection for whatever your fancy.

Chutneys & pickles - make sure you have a good selection to ensure the perfect pair with each different type of cheese. 

Caramelised Onion Chutney

 is an excellent all rounder that pairs well with mature cheddar, blue cheese or even a creamy brie.

Celery and grapes to cleanse the palate between tasting

Figs & dates, for a luxurious pop of sweetness

Nuts, such as pecans, walnuts, pistachios are the perfect accompaniment

Pickled onions, gherkins, artichokes and sun-blushed tomatoes

Not forgetting the wine. Preferably, pack a quality red, white, rose and sparkling to accompany each cheese with their unique tasting notes.
Posh Picnic Drinks
Nothing says posh-nic than a glass of sparkling bubbles, but to ensure you're catering to everyone of your guests, don't forget the alcohol free options too. To keep up appearances, elderflower presse, sparkling apple juice or other delicious fruity cocktails allow even your alcohol free guests to feel indulgent.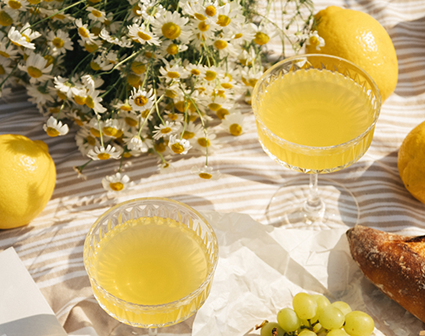 Add an extra special layer to prosecco by adding a little fruit puree - for example, the classic bellini, with peach puree is perfect, or why not try your own fruit combinations - such as raspberry and blackberry. Or for the more adventurous, a spring of rosemary and orange is a delicious botanical combination - dare you try it?
Sweet treats perfect for a picnic
What would your posh picnic be without sweet treats? From cakes, to biscuits, sweets, toffee, nougat and fudge or even jelly and ice-cream for those younger guests. Scones with clotted cream and oosy sweet strawberry jam. Chocolate eclairs, custard slices, brownies, blondies and even donuts make ideal picnic desserts. 
To make life easier, you could even buy one of our luxury biscuit hampers so you have sweet and savoury nibbles readily prepared for the big day! It's entirely your choice.  One of our favourites is the luxurious Pocklington Picnic Hamper - below, stacked full of tasty sweet options, from biscuits, to fudge to make your picnic a success!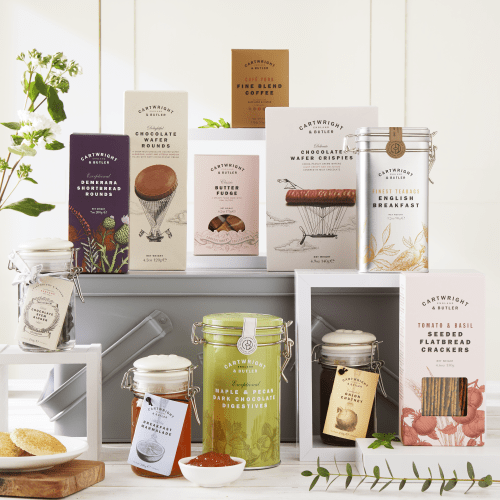 How to preserve your posh picnic food
Gone are the days of cling film wrapped sandwiches that end up getting squashed in a cool bag. Instead, you can up your serving game this summer to make your poshnic one to remember.
Switch the cling film or foil for bees wrap – an eco-friendly alternative that will keep your food fresh, and look sophisticated. Instead of a plastic cool bag to transport your food, opt for a wicker hamper that will look super stylish in the countryside. And, in addition to the plates, place the food on serving platters and trays so that your family and friends can help themselves to a delicious food and drink experience.
To provide a premium picnic experience, why not look at investing in the following items:
Serving platters

Cartwright & Butler wicker picnic hampers

Napkin rings/holders

Bees Wrap

Water jugs/dispensers

Placemats

Coupe glasses

Mason jars
All of these handy pieces of equipment will really highlight the brilliance of the posh picnic food you've selected for the occasion. Plus, they'll make your guests feel like royalty as they join you on the picnic rug!
Luxury picnic ideas: What to do during your picnic
As well as gathering a fine selection of foods, you'll want to stay entertained during your posh picnic. But what is there to do aside from stuffing your face with goodies? To your surprise, there are so many activities you can enjoy with your closest companions while you sit in the sunshine (or under the night's sky). It's just up to you which one best suits your personal preferences…
An Artistic Retreat 
After tucking into the posh picnic food you brought along with you, move all of your dirty paper plates and snacks to one side and draw! Simply take some paper and coloured pencils along with you so you and your friends, family or partner can create drawings of the beautiful birds, forestry and the tranquil scenery surrounding you. This leaves each of you with an everlasting memory of the poshnic you relished together because let's face it… there won't be any goodies left!
Play a board game
Whether you're driving to a field a little further out to host your luxury picnic or heading to a perfectly picturesque location on foot, take a board game along with you. Either pop it in your car boot before you set off or place it in a tote bag, and grab this, along with your picnic hamper for a day full of fun! This is a great way to entertain yourselves after you've eaten; now you just need to decide what game to choose… Will it be Cluedo? Monopoly or Scrabble?
Take some playing cards
For an easy activity – both to set up and to play, take a pack of cards on your posh picnic. You can play some of the famous card games you all know and love including snap, rummie, solitaire, hearts or crazy eights! Whichever you choose, this is such a relaxing way to spend the day after gorging on yummy picnic snacks and drinks!
Try a fancy picnic for yourself…
Now you have a good load of posh picnic ideas up your sleeve, you can start planning when you'll be having one yourself (and what you'll be taking). If you don't quite have the time to build your own poshnic, let us do the hard work for you! Just order a luxury hamper filled with decadent sweet and savoury biscuits, cheese twists and so much more, and get it sent to your door. You'll be raring to go – all you need to do is choose the location…
In the meantime, if you're looking to discover more food tips and recipes, check out the other insightful articles on our blog.