The Rising Cost of Prosecco in the UK and the Cheapest Spots to Have a Tipple
With the festive season approaching and the rising cost of living hitting all of our purses, you may be left wondering where you can go to enjoy a glass of bubbly and celebrate the holidays with friends and family without having to spend an extortionate amount. 
Luckily, at Cartwright and Butler, we've scraped TripAdvisor to pull together a list of the cheapest spots, with a rating of 4 stars and above, in each city to head to if you're looking to indulge in a glass or bottle of Prosecco over the festive period. We've also taken a look into the average cost of a glass of Prosecco in each city in 2022, compared to 2019, so stay tuned!
The Average Cost of Prosecco in 2022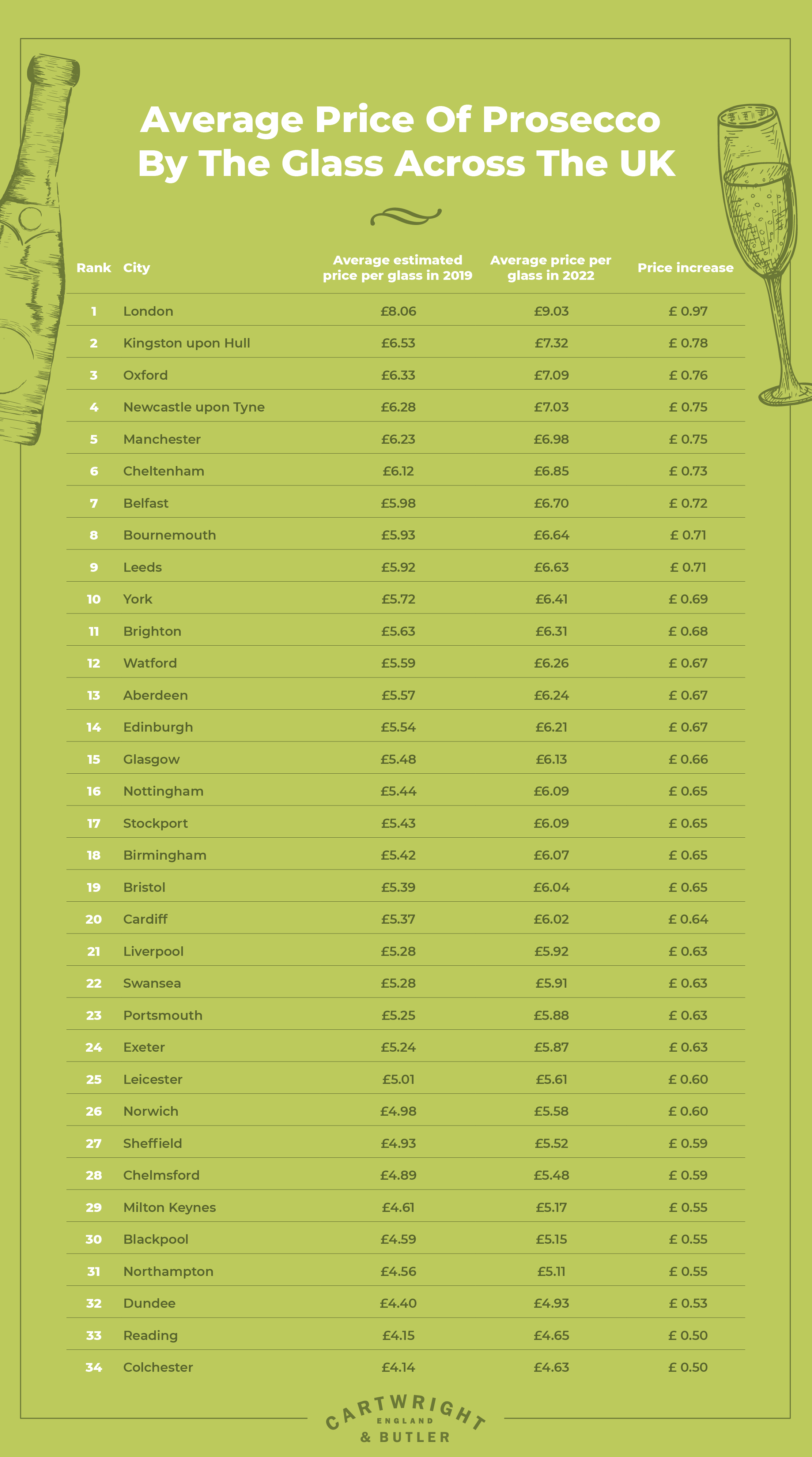 According to our research, when drinking and dining in a snazzy venue that's rated 4 stars or over, the average glass of Prosecco will cost you £6.10. So, you could enjoy 3 glasses of delicious Prosecco while catching up with good friends after work for under £20 - sounds reasonable to us!
Of course, it's important to remember that the price of a glass of Prosecco does vary across each UK city. For those living in Colchester, congratulations, as you live in a city that offers the most affordable glass of Prosecco with an average price of just £4.15 (47% cheaper than the national average), so go and enjoy your well-deserved drinks!
On the other end of the spectrum, and, this should come as no surprise, London tops the charts with the most expensive glasses of Prosecco, with an average price of £9.03, which is 48% higher than the national average

Since 2019, the average glass of Prosecco has increased by 12%, according to Statista data, based on the city of London. While this is a fairly large jump in just 3 years, the price rise is most likely linked to the rise in Italian wine export costs, which, according to The Drinks Business, rose 15.6% in the first half of 2021, mainly due to the price of packaging and harvesting materials increasing.
Cartwright and Butler also looked at the average price for Prosecco by the bottle across the country, revealing the average cost of a bottle to be £25.47.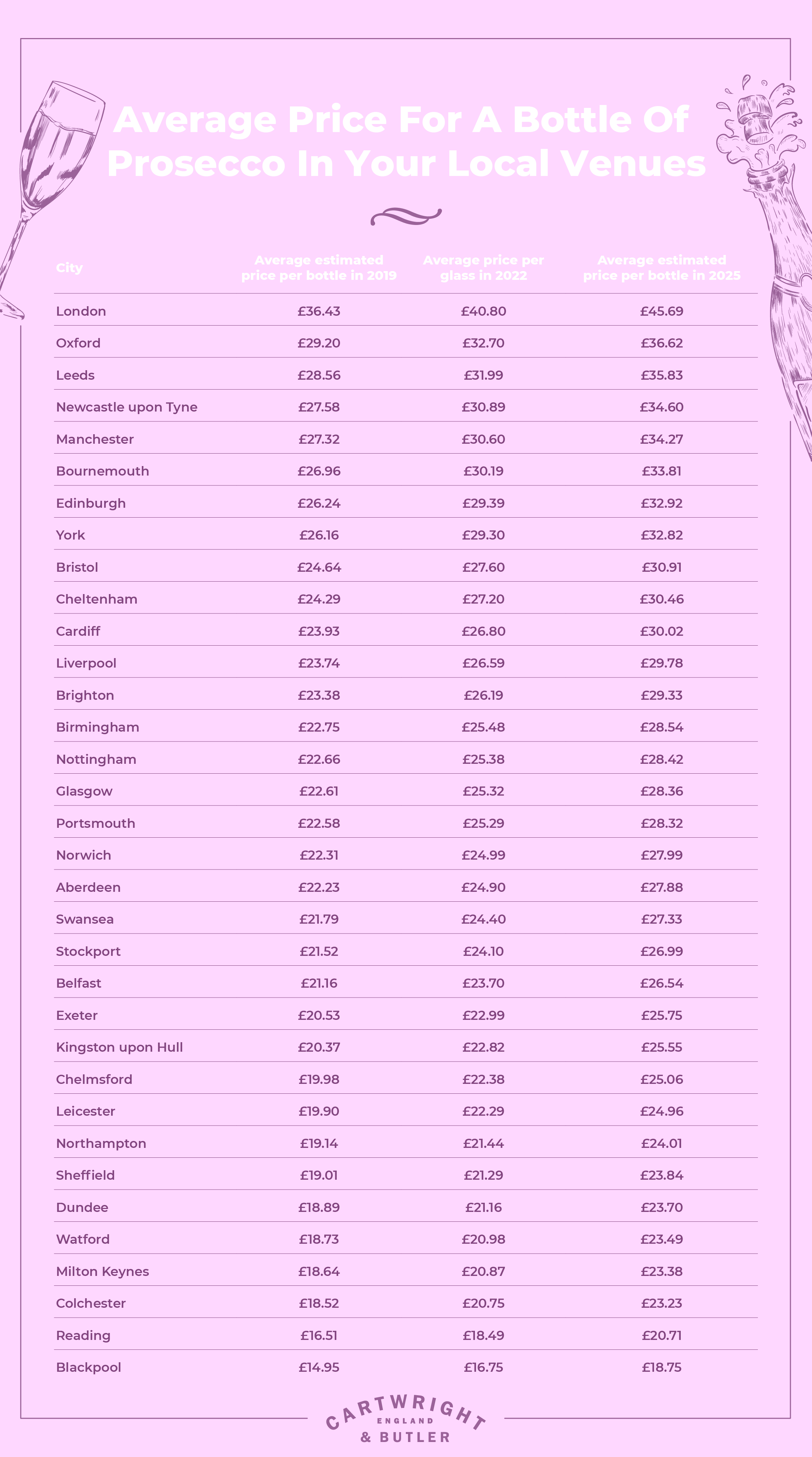 The Cheapest Glasses of Prosecco in Every UK City
Planning on heading out to enjoy a glass of bubbly with friends over the festive season? Well, alert the group chats because we've found the venues where you can grab the cheapest glass in every city.
Coming in at number 1 is Halley's Comet in Milton Keynes. With a cosy and welcoming atmosphere, this pub offers a wonderful menu of mouth-watering food, plenty of entertaining events for the whole family and glasses of Prosecco for just £3.20 - a must-visit for any resident or visitor.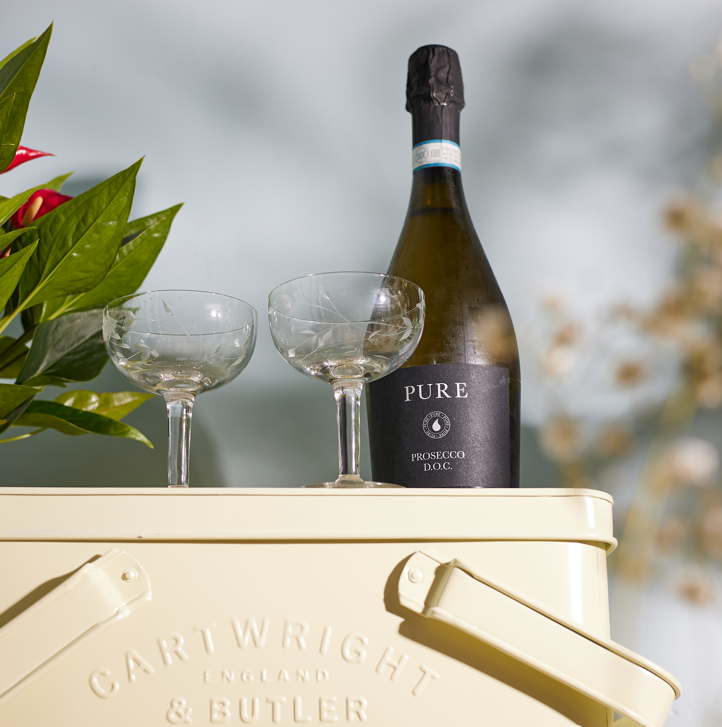 The Woolpack Inn in Norwich and The Good Companions in Reading came joint second with glasses of Prosecco priced at £3.49. And, The Beeches Hungry Horse in Birmingham, Railway Bell in London, Romiley Arms in Stockport, White Elephant in Northampton, Post Office Bar in Dundee and Dancing Jug in Bournemouth all had glasses of Prosecco for under £4, so get your tables booked now and make the most of the festivities!
How Far Will the Bubbles Rise?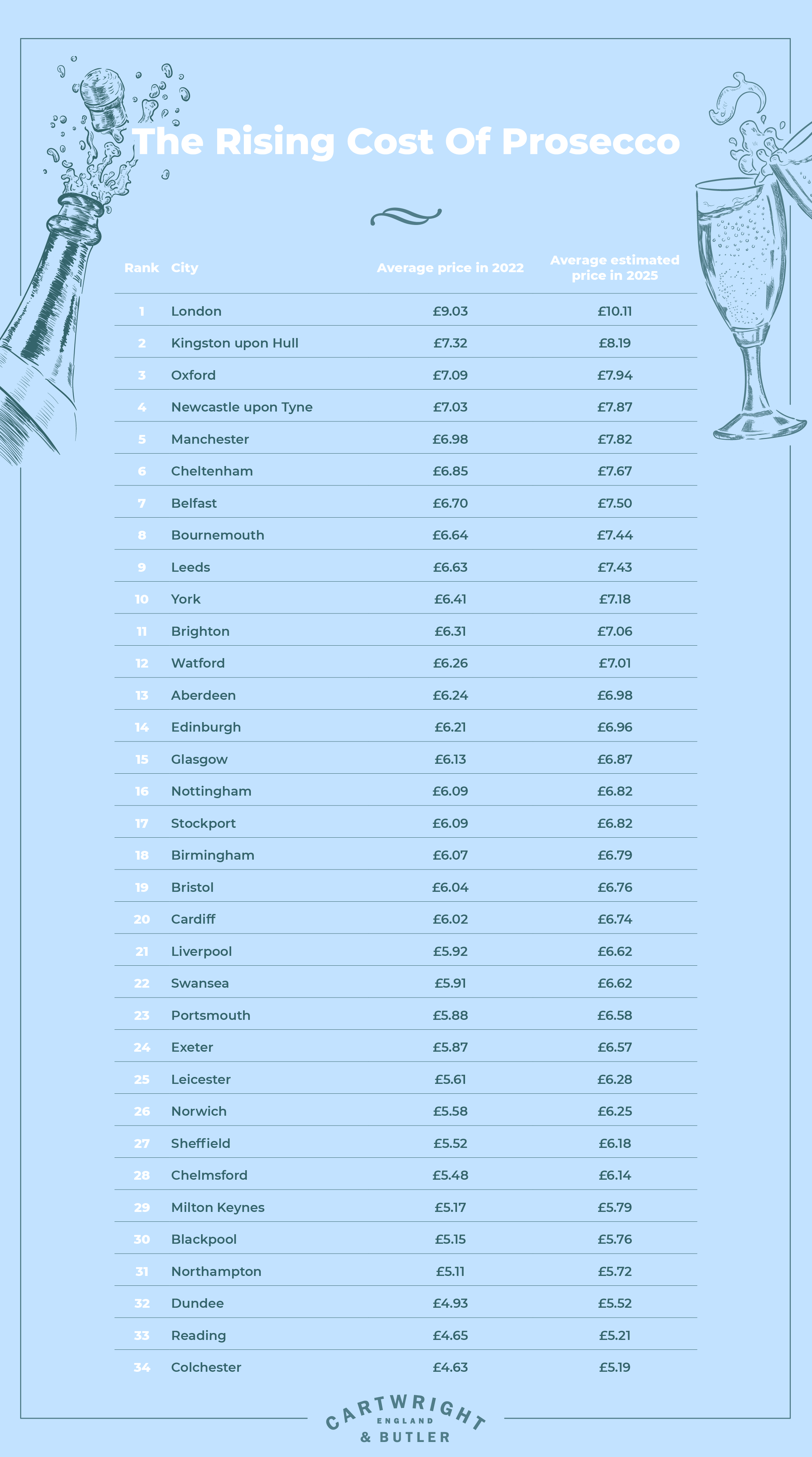 Based on the 12% rise in Prosecco price by the glass since 2019, we've predicted the possible inflation we could see by 2025. Rather than your glass of Prosecco costing an average of £6.10, as it does now, we could expect to pay around £6.84 per glass in 2025.
In London, currently the most expensive place to enjoy a glass of Prosecco, the average price is estimated to rise from £9.03 to £10.11. Where Colchester has, on average, the cheapest glasses of Prosecco, this is expected to rise from £4.63 to £5.19.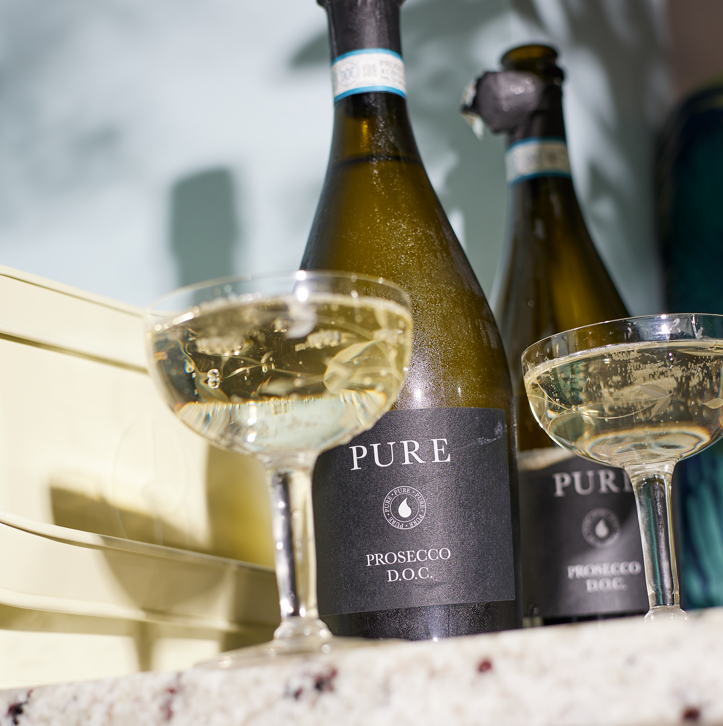 Methodology
Cartwright & Butler used TripAdvisor to pull together a list of the top bars and pubs with a rating of 4*'s and above. Using this list, they analysed the cost of Prosecco per glass and bottle in each venue to find out the average cost of a glass of Prosecco per city, as well as identify the cheapest venue.
Additionally, Cartwright & Butler used Statista data from 2019, which stated that the average cost of a glass of Prosecco in London was £8.06 to calculate the percentage increase in average price. This percentage was applied to the average cost of a glass of Prosecco in each city in 2022 to predict the possible price increase by the year 2025.
Whether you're looking for the perfect gift or you want to host your own Christmas gathering with friends, take a look at our range of luxury Christmas hampers, filled with indulgent goodies for everyone to enjoy.