Tips on Building a Personalised Hamper for Loved Ones
Gifting is an art; we've turned it into a masterpiece at Cartwright and Butler. There's something inherently heartwarming about presenting a loved one with a carefully curated hamper filled with delightful treats. Our hampers, brimming with classic British indulgences such as chocolates, cheeses, teas, coffees, and spirits, are designed to transform ordinary moments into unforgettable memories. But what truly sets us apart is our unwavering commitment to inclusivity, offering vegan and gluten-free options that ensure no one is left out. 
We invite you to explore the art of crafting a personalised hamper that not only tickles the taste buds but also tugs at the heartstrings. Join us on a journey of love, flavour, and thoughtful customisation that will make your gift truly exceptional.
Use our expert tips to build your own hamper and make your one-of-a-kind gift truly unforgettable.
1. Understanding Your Recipient
The first step in creating a memorable personalised hamper is understanding the preferences and personality of the person you are gifting it to. Consider their hobbies, interests, and any special occasions that call for celebration. Are they a coffee enthusiasts, a savoury someone, or do they have a sweet tooth? Tailoring the hamper to their unique tastes is key to making it special.
2. Start with Their Favorites
Now that you've narrowed it down, list their favourite snacks, drinks, and treats. For the classic British touch, think of the ever-loved Cartwright & Butler biscuits or the richness of our handcrafted chocolates. Take note of whether they prefer tea or coffee and whether they enjoy a tipple of fine alcohol.
3. Embrace the Gluten-Free and Vegan Options
Inclusivity is key, especially to make your vegan or gluten-free loved ones feel truly appreciated. Fortunately, our range includes delightful options that cater to these dietary preferences. Include vegan chocolates crafted with the finest ingredients or gluten-free biscuits that are just as scrumptious as their traditional counterparts. You can even opt for artisanal vegan fudge or preserves that are not only delicious but also suitable for a variety of dietary needs. By doing so, you'll ensure that everyone can savour the joy of your thoughtfully curated luxury vegan hamper.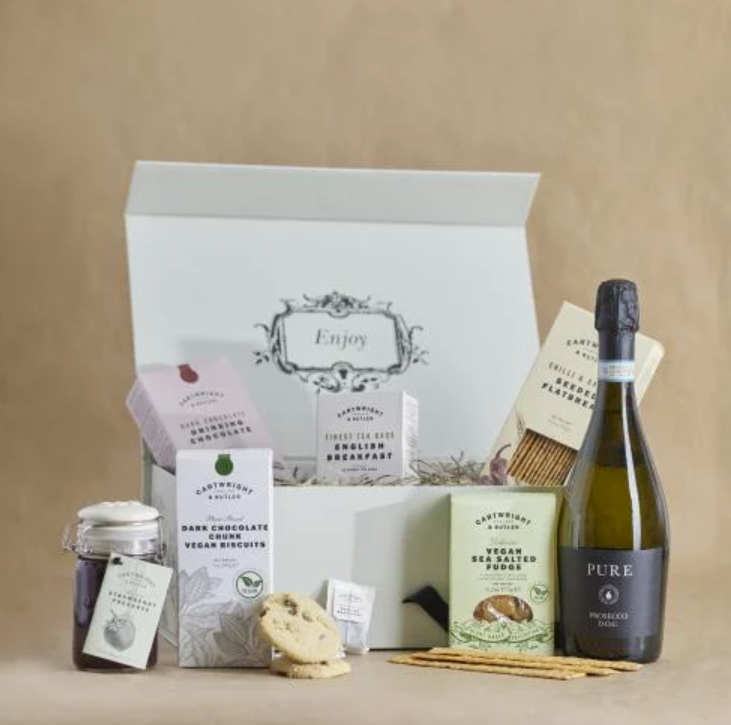 4. Add a Personal Touch
To truly make your hamper stand out, add a personal touch. Write a heartfelt note or include a cherished photo. Customise your hamper with their name or a special message to make it uniquely theirs. We offer elegant customisation options, ensuring that your hamper is a one-of-a-kind gift that reflects your love and thoughtfulness.
5. Balance the Flavors
A well-curated hamper should offer a delightful balance of flavours and textures. Mix sweet and savoury delights to keep their taste buds dancing with excitement. Pair exquisite cheeses with artisanal chutney or crackers for a classic British experience. Remember to include a selection of beverages that complement the treats, whether a robust red wine, a refreshing sparkling water, or a fine tea blend. Our classic British hampers provide a harmonious blend of tastes, allowing your loved one to embark on a culinary journey with each bite and sip.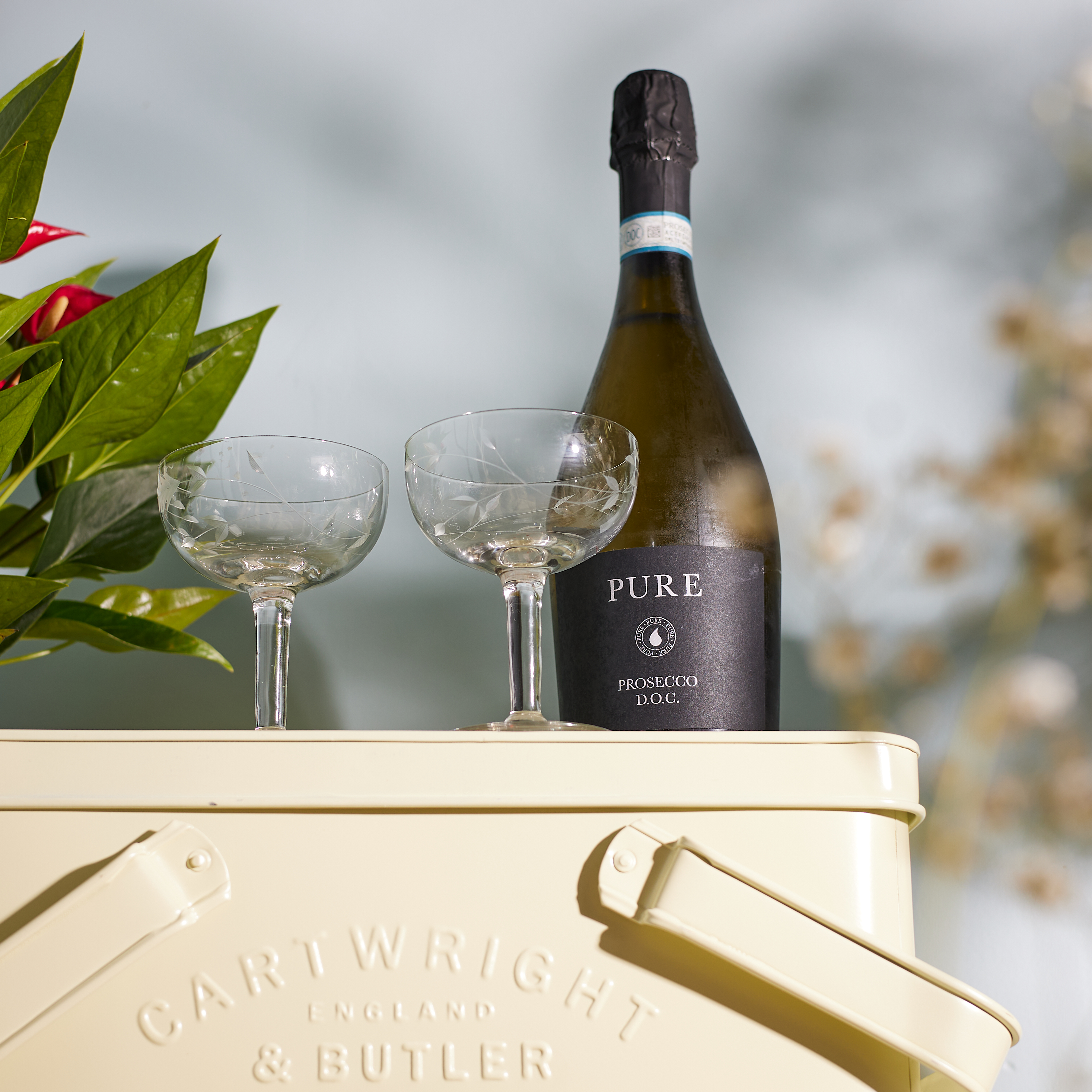 6. Packaging Matters
The presentation of your hamper is just as important as its contents. Cartwright and Butler's hampers are beautifully packaged in elegant boxes and baskets, exuding a sense of luxury and care. The anticipation of unwrapping such a gift is part of the joy. We believe the first impression should be as delightful as the last bite.
7. Consider the Occasion
Tailor your hamper to the occasion. Is it a birthday, anniversary, or a simple "thinking of you" gesture? Incorporate items that resonate with the moment. For instance, include a bottle of champagne for celebrations or soothing herbal teas for relaxation. 
At Cartwright and Butler, we have a hamper for every occasion. From christmas food hampers in preparation for the upcoming season to wedding gift hampers, we have you covered. By aligning your hamper with the occasion, you'll make your gift even more meaningful and appreciated.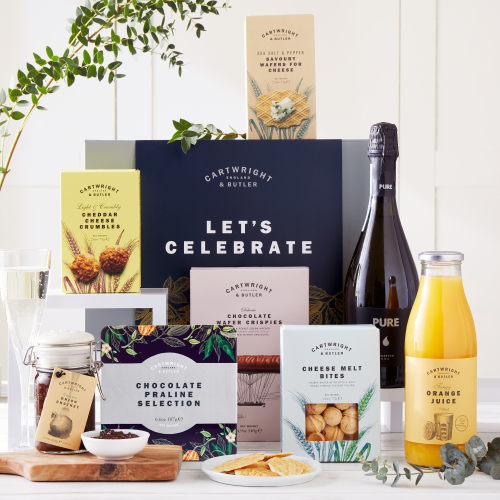 8. Explore Our Exclusive Range
We offer a wide array of products that can elevate your hamper to the next level. From artisanal jams bursting with natural flavours to premium cheeses aged to perfection, you'll find everything you need to make your gift extraordinary. Our selection is carefully curated to ensure that each item meets the highest standards of quality, so you can trust that your hamper will be filled with nothing but the finest indulgences.
A Gesture from the Heart
In conclusion, building a personalised hamper for your loved ones is an act of love and appreciation. It's a way to show that you've put thought into selecting each item, creating a truly bespoke gift. With our range of classic British food hampers and special consideration for dietary preferences, you can craft a gift that's as unique as the person receiving it.
Ready to create a memorable experience for your loved ones? Explore our exquisite selection of hampers and make your choice today. At Cartwright and Butler, we're dedicated to helping you express your affection through the art of gifting.
Remember, the joy of giving is in the details, and a personalised hamper is a beautiful testament to your love and care.