The ultimate 30th birthday gift guide
Is it your special someone's birthday coming up, or is your best friend about to wave goodbye to her 20s? Well then, you'll be searching for 30th birthday gift ideas that will blow them away while still being sentimental. It's quite a monumental occasion after all.
But where do you begin when there is such a wide pool of options on the market? Thankfully, we've rounded up a whole host of prime presents for you to send to your beloved friends and family for when they turn 30.
Simply read on to discover everything from personalised 30th birthday gifts to more practical presents. You'll be out shopping in no time…
Incredible 30th birthday gift for her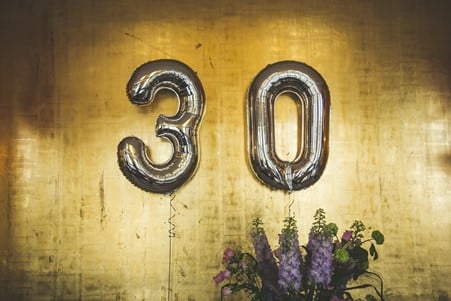 Sometimes, 30th birthday present ideas can be a little tough. After all, it's such a big occasion and we want to spoil them silly, but with an original and enticing gift that they are going to remember forever.
If your sister, friend or partner's special day is just around the corner and you're a little stumped for ideas, don't worry. We've thought up a range of 30th birthday gifts for her to relish. So, what are the finest presents on the market?
A luxury spa day
As much as she'll want to party hard on this milestone birthday, she'll also appreciate a really grand spa experience to recover afterwards, or to simply unwind. You shouldn't be doing things by halves when you're purchasing 30th birthday presents for her, either. So, let her wave goodbye to her local leisure centre and say hello to a divine rooftop spa with an infinity pool and hot stone massage treatments.
Essentially, the spa you choose needs to be a luxurious one. Think of the likes of Rudding Park in Harrogate, Agua Spa at Sea Containers in London or Maya Blue wellness centre in the incredible Titanic Hotel Liverpool. And, add a relaxing treatment for her to relish.
Alternatively, you could book her a holiday to Barcelona so she can enjoy a sunny escape with a spa experience alongside it, at the incredible AIRE Ancient Baths. Or, fly her over to Budapest to visit the iconic Szechenyi Baths.
A spa day isn't quite the same on your own, either, so ensure you book two experiences (or more if others intend to come along) to truly make the most of her birthday.
One of our personalised 30th birthday gifts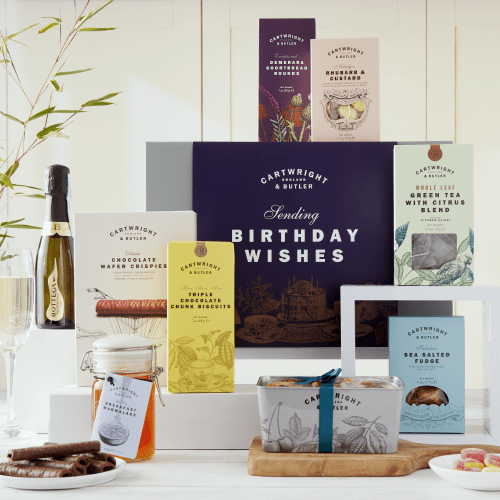 If she's a real sucker for gooey goodies, a bottle of fizz and a bundle of delicious goodies, look no further than our Birthday Wishes Hamper – packed full of treats for her to relish on (and after her big day). This is an ideal gift for the foodie in your life who loves decadent delights; she'll appreciate the variety of treats. And since it's her 30th, there's no need for her to share…
The silky sleeve which comes wrapped around the box reads "Sending birthday wishes", showing her how much you've thought of her when selecting her precious 30th birthday gift. You could even use our Build Your Own Hamper option to provide a truly personalised 30th birthday gift, with luxury snacks that have all been hand-selected by you!
Amazing 30th birthday gifts for him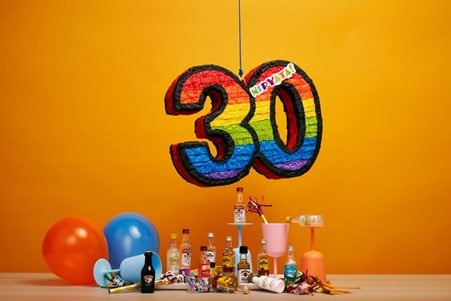 Maybe your brother, your partner or your bestie is celebrating his big birthday this year? Well, if you're hoping to find some top 30th birthday gifts for him, you're in luck; we have a whole bunch of ideas to keep him cheery and chirpy when he's celebrating his big 3-0.
But what are the best 30th birthday gifts for him and what makes them so wonderful?
A premium watch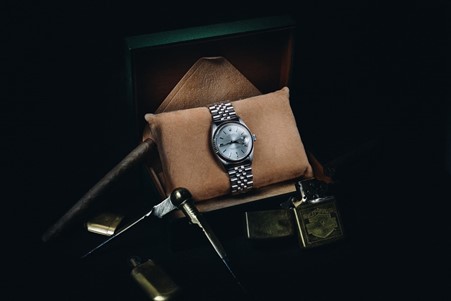 If you're hoping to splash out on a present that he'll remember forever, a watch is a fabulous idea for his big day. This may sound a little generic, but we promise you – it's not (if you choose the right one of course).
Obviously, the type of watch depends on your price range and how much you want to spend. But to really make a meal of his special day, you could treat him to a vintage Rolex from his birth year. This shows how much thought you've put into finding 30th birthday gifts for him, as it shows real sentiment – and also offers him a plush and pristine watch to wear every day.
If a Rolex isn't quite the budget you were thinking of, opt for a Timex watch or something similar and add engraving to the back of the watch. Just pop into a local jewellery shop and they can organise getting his birth date and initials engraved – perfect.
An impressive professional coffee maker
Is the man in your life a real coffee fiend, constantly nipping to the local café to get a hot cup of joe to savour with a sweet treat? Then, an extravagant coffee maker will be just the ticket for his 30th birthday!
Of course, he'll want to enjoy an alcoholic tipple on the actual day, but he'll be delighted to open a fancy coffee maker to use for the foreseeable future. After all, with his new age comes more of a need to stay awake – and caffeine will certainly help with this! So, choose the best coffee maker according to your price range. Then, purchase a bag of whole coffee beans for him to toy with, to make the perfect espresso or latte!
Perhaps he's quite the coffee lover but he's too busy to make one from scratch? If that's the case, treat him to a Cartwright & Butler coffee hamper brimming with his favourite joys. That way, he's winning all-round…
Make a grand gesture on their 30th 
Now you have some grand 30th birthday gift ideas under your belt, it's time to begin shopping for your favourite ones.
Uncover an entire range of 30th birthday gifts for every recipient in your life from the remarkable Cartwright & Butler collection. And afterwards, skim through our other insightful blogs which discuss gorgeous gift ideas for every occasion. Explore more, now to truly make their day.