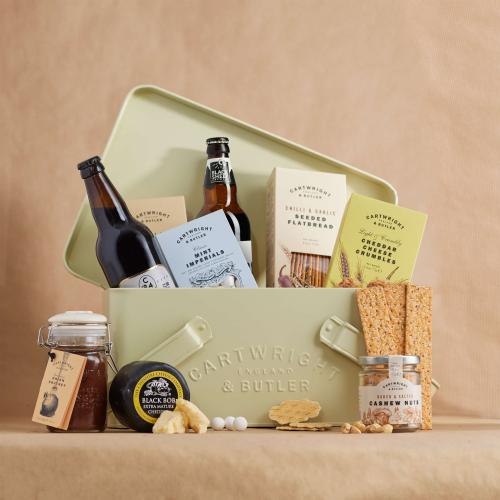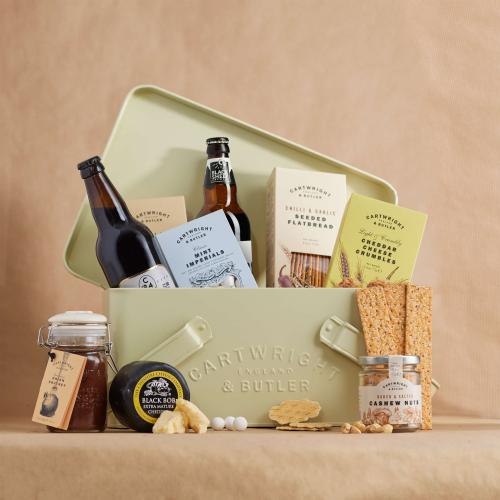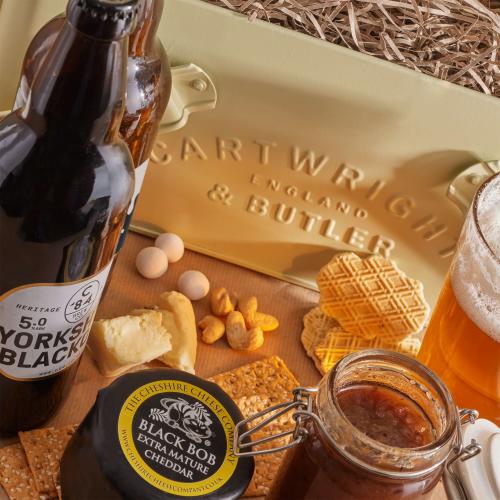 The Cheese and Beer Gift Hamper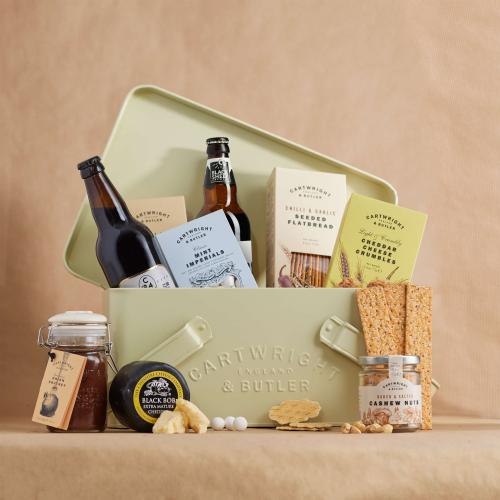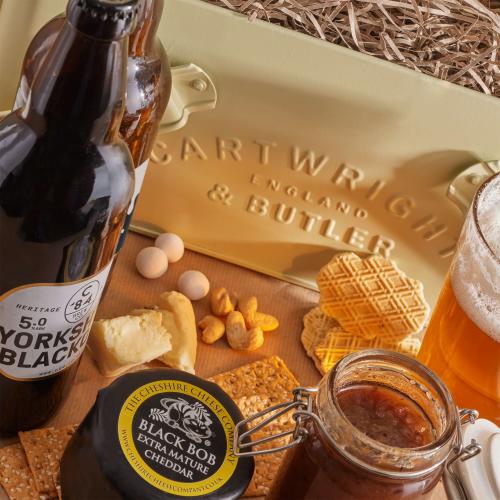 ---
Product Details
Product Code:

3124

Dimensions:

115.50 x 36.00 x 26.50 cm
Ingredients:
- Cheshire Cheese - Black bob 200g - Mature Cheddar: Milk (pasteurised) (98%), Starter (Trace), Rennet (Trace), Salt (1.8%)
- C&B Caramelised Onion Chutney -
Onions (37%), Sugar, Malt Vinegar (From Barley), Apples, Dates, Mustard Flour, Salt, Chilli Powder, Water
For Allergens, see ingredients in bold. May contain eggs, nuts, sulphur dioxide and milk.
- C&B Cheddar Cheese Crumbles -
Wheat Flour, Margarine (Rapeseed Oil, Palm Oil, Water, Salt, Emulsifier: Mono-And Diglycerides Of Fatty Acids, Acidity Regulator: Citric Acid, Natural Flavouring), Matured Cheddar Cheese (Milk)(19%), Egg, Yeast, Dried Milk, Modified Potato Starch, Sugar, Salt, Potato Starch, Yeast Extract, Spices, Colour: Paprika Extract.
For Allergens, see ingredients in bold. May contain traces of nuts, peanuts and sesame seeds.
- C&B Mint Imperials Sweets in carton Sugar, Glucose Syrup, Oil Of Peppermint, Colour: Titanium Dioxide (E171).
- C&B Chilli & Garlic seeded flatbread crackers Wheat Flour(42.8%), Water, Whole Grain Rye Flour, Sesame Seeds, Sweet Chilli (Natural Spices (Chilli, Jalapeno, Red Bell Pepper, Tomato, Garlic, Ginger), Sugar) (3.6%), Yeast, Rapeseed Oil, Linseeds, Garlic Granules (1.3%), Sugar, Sea Salt
- Black Sheep Milk Stout 500ml Hops, Malted Barley (gluten), Lactose (milk), Torrefied Wheat (gluten), Water, Yeast.
- Black Sheep Ale 500ml
Water, malted barley(gluten), wheat(gluten), hops.
Alcohol strength: 4.4% ABV.
- C&B Wafers for Cheese with Sea Salt & Black Pepper -
Wheat Flour, Vegetable Fat [Responsibly Sourced Palm Fat, Water, Emulsifier: E471 (Mono And Diglycerides From Fatty Acids), Acidity Regulator: Citric Acid], Maltodextrin (From Corn), Salt (2.3%), Milk Powder, Raising Agent: Sodium Bicarbonate, Ammonium Bicarbonate; Egg Powder, Pepper (0.6%), Soya Flour.
May contain traces of nuts, peanuts, sesame seeds and mustard.
- C&B Salted Cashew Nuts in jar Cashew Nuts (98%), Salt, Sunflower Oil
| Nutritional information | Typical figures per 100 grams |
| --- | --- |
Product Code:

3124

Dimensions:

115.50 x 36.00 x 26.50 cm
---
The Cheese and Beer Gift Hamper contains a delicious selection of savoury biscuits, cheese, beer and mints. The stylish yellow tin is an ideal keepsake, a great place to store bits and bobs which can be used way after the tasty treats have been enjoyed.
The selection of savoury biscuits includes Cartwright & Butler's best selling Wafers for Cheese and Cheddar Cheese Crumbles. The gift also includes Olive & Garlic Wheat Flatbreads, providing the perfect base for the mouth watering Godminster Vintage Organic Cheddar and Onion Chutney.
Brand new to Cartwright & Butler, the selection includes two bottle of locally sourced beer, Yorkshire Blackout Beer and Yorkshire Golden Beer. To finish, a carton of classic Mint Imperials.
PLEASE NOTE - This hamper contains cheese, please refrigerate immediately once received.
Includes
- Cheshire Cheese - Black bob 200g
- C&B Caramelised Onion Chutney
- C&B Cheddar Cheese Crumbles
- C&B Mint Imperials Sweets in carton
- C&B Chilli & Garlic seeded flatbread crackers
- Black Sheep Milk Stout 500ml
- Black Sheep Ale 500ml
- C&B Wafers for Cheese with Sea Salt & Black Pepper
- C&B Salted Cashew Nuts in jar
---
This product is found in: