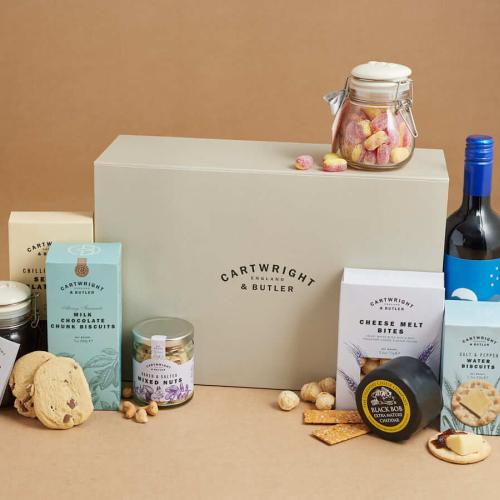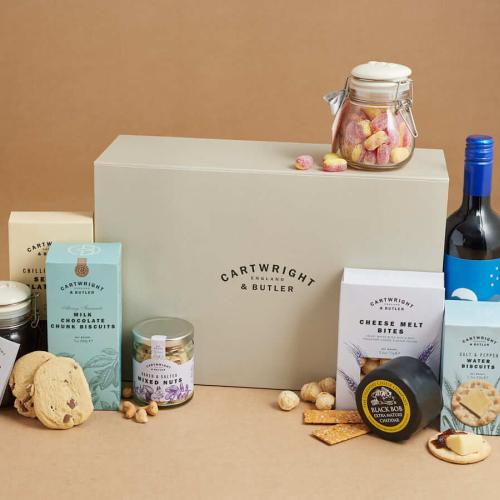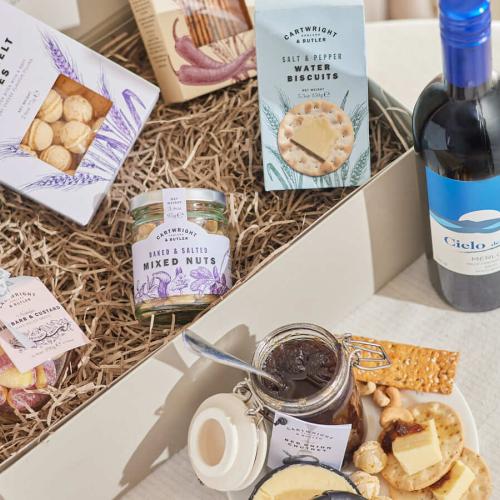 New
The Cheese and Wine Night Selection Hamper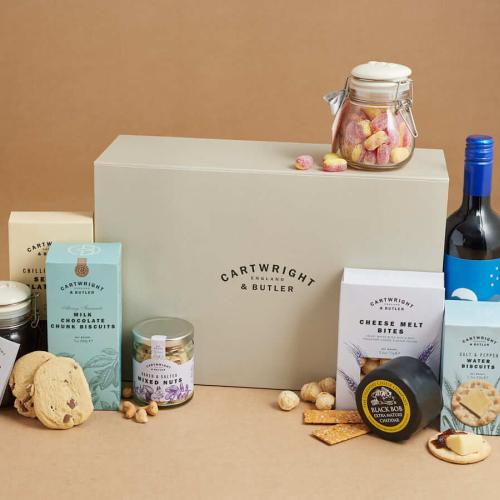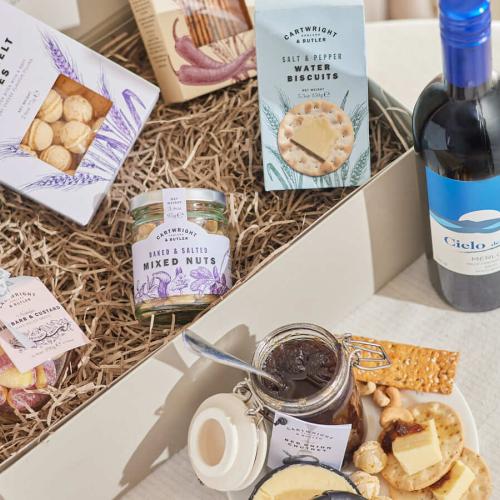 ---
Product Details
Product Code:

3162

Dimensions:

37.50 x 13.50 x 25.00 cm
Ingredients:
- C&B Red Onion Chutney - Red Onions (48%), Sugar, White Wine Vinegar (Contains Sulphites), Salt, Water.
For Allergens, see ingredients in bold. May contain wheat, eggs, nuts, mustard and milk.
- Cielo Del Sur Merlot 75cl Red Wine (Chile) - Alcohol Strength: 13% ABV.
- C&B Water biscuits with sea salt and black pepper - Wheat Flour (Calcium, Iron, Niacin, Thiamin), Water (21.2%), Rapeseed Oil, Skimmed Milk Powder, Sugar, Sea Salt, Salt (2.2%), Black Pepper (0.6%).
For Allergens, see ingredients in bold. May contain traces of nuts, eggs, mustard and sesame seeds.
- C&B Roquefort Cheese Melts - Vegetable Fat (Responsibly Sourced Palm, Coconut), Wheat Flour, Sweet Whey Powder(Milk), Cheese Powder (6%)(Milk), Flavour: Roquefort (Artificial) , Rye Flour (Gluten), Potato Starch, Salt, Emulsifier: Sunflower Lecithin, Release Agent: Magnesium Carbonate, Raising Agent: Sodium Hydrogen Carbonate And Ammonium Hydrogen Carbonate; Colour: Annatto.
- Cheshire Cheese - Black bob 200g -
Mature Cheddar: Milk (pasteurised) (98%), Starter (Trace), Rennet (Trace), Salt (1.8%)
- C&B Chilli & Garlic seeded flatbread crackers - Wheat Flour(42.8%), Water, Whole Grain Rye Flour, Sesame Seeds, Sweet Chilli (Natural Spices (Chilli, Jalapeno, Red Bell Pepper, Tomato, Garlic, Ginger), Sugar) (3.6%), Yeast, Rapeseed Oil, Linseeds, Garlic Granules (1.3%), Sugar, Sea Salt
- C&B Baked Salted Classic Mixed nuts in jar - Peanuts (59%), Cashew Nuts (20%), Almonds (15%), Hazelnuts (5%), Sunflower Oil, Salt.
Storage: Cool & dry, Under 23°C, Away from heat or direct sunlight.
For allergens, see ingredients in bold. May contain traces of sesame and various nuts.
- C&B Milk Chocolate Chunk Biscuits in Carton 200g - Flour (Wheat Flour, Calcium, Iron, Niacin, Thiamin), Salted Butter (Milk, Salt), Milk Chocolate Chunks (18%)(Sugar, Whole Milk Powder, Cocoa Butter, Cocoa Mass, Whey Powder (Milk), Skimmed Milk Powder, Emulsifier: Soya Lecithin, Natural Vanilla Flavouring), Sugar, Muscovado Sugar (Sugar, Cane Molasses), Free Range Pasteurised Eggs, Raising Agents (Sodium Hydrogen Carbonate, Diphosphate), Rice Flour.
- C&B Rhubarb & Custard Sweets in jar - Sugar, Glucose Syrup (Sulphites), Citric Acid, Sodium Bicarbonate, Flavourings, Colour: Curcumin (E100), Anthocyanins (E163).
For Allergens, see ingredients in bold. May contain traces of milk.
| Nutritional information | Typical figures per 100 grams |
| --- | --- |
Product Code:

3162

Dimensions:

37.50 x 13.50 x 25.00 cm
---
NEW
You can now personalise the sleeve on this fantastic gift box. Upload an image and two lines of text to make this gift extra special. Simply select Personalised Gift sleeve in the drop down above, add to basket, and then create your sleeve. Please note that the image you upload must be of a high quality in order for us to be able to print. Personalised sleeves can take up to 7 days to despatch.
Romantic evening in? A long awaited get together with friends? Get cosy at home with the ultimate savoury food and wine selection. Bursting with luxury treats, the stylish grey box contains a selection of savoury biscuits including Chilli & Garlic Flatbreads, Roquefort Cheese Melts and Water Biscuits, just delicious when paired with the Black Bob Cheese and Red Onion Chutney.
And what is a cheese board selection without Red Wine? The gift comes complete with a rich Merlot.
PLEASE NOTE - This hamper contains cheese, please refrigerate immediately once received.
Includes
- C&B Red Onion Chutney
- Cielo Del Sur Merlot 75cl Red Wine (Chile)
- C&B Water biscuits with sea salt and black pepper
- C&B Roquefort Cheese Melts
- Cheshire Cheese - Black bob 200g
- C&B Chilli & Garlic seeded flatbread crackers
- C&B Baked Salted Classic Mixed nuts in jar
- C&B Milk Chocolate Chunk Biscuits in Carton 200g
- C&B Rhubarb & Custard Sweets in jar
---
This product is found in: