All about Christmas Pudding & recipe how to make it
How do I make a Christmas Pudding?
Whether you're a traditionalist or more of a contemporary Christmas person, there's one thing that everyone can surely agree on? Some of us love sprouts, whereas others would switch them out for broccoli (not us personally!) However, a Christmas dinner isn't a Christmas Dinner without Christmas Pudding.  There, we've said it.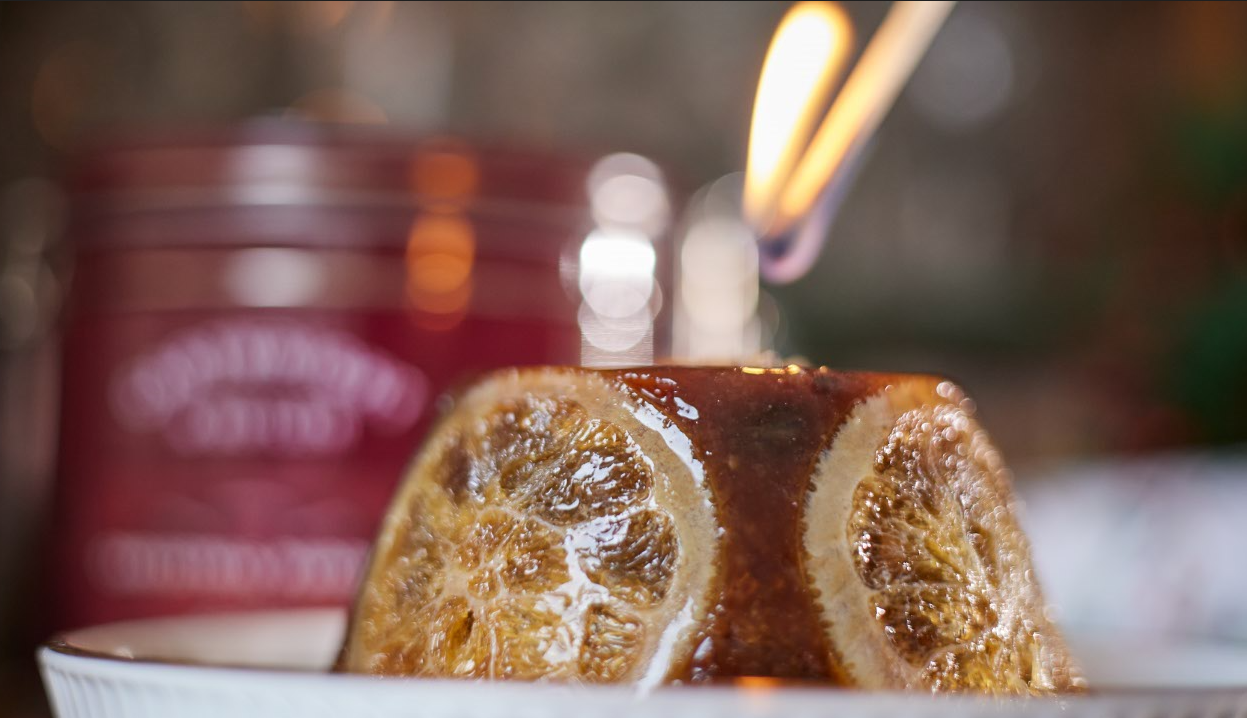 There's something quite tactile about making your own pudding, an achievement, even if you're usually a kitchen avoider, and the opportunity to craft your Christmas pudding to your own exacting tastes.  But before we settle down into the recipe, we thought we'd share a whistlestop tour of the humble Christmas Pud.
 
What's the history of Christmas pudding?
It depends entirely on who you ask!  Some say it was a Victorian invention, similar to mince pies and often flavoured with meat and meat stock.  Others would suggest it has been around since medieval times, but taking more of a broth-like form and eaten alongside your meal rather than as a 'dessert'.
 
When should I start making Christmas pudding?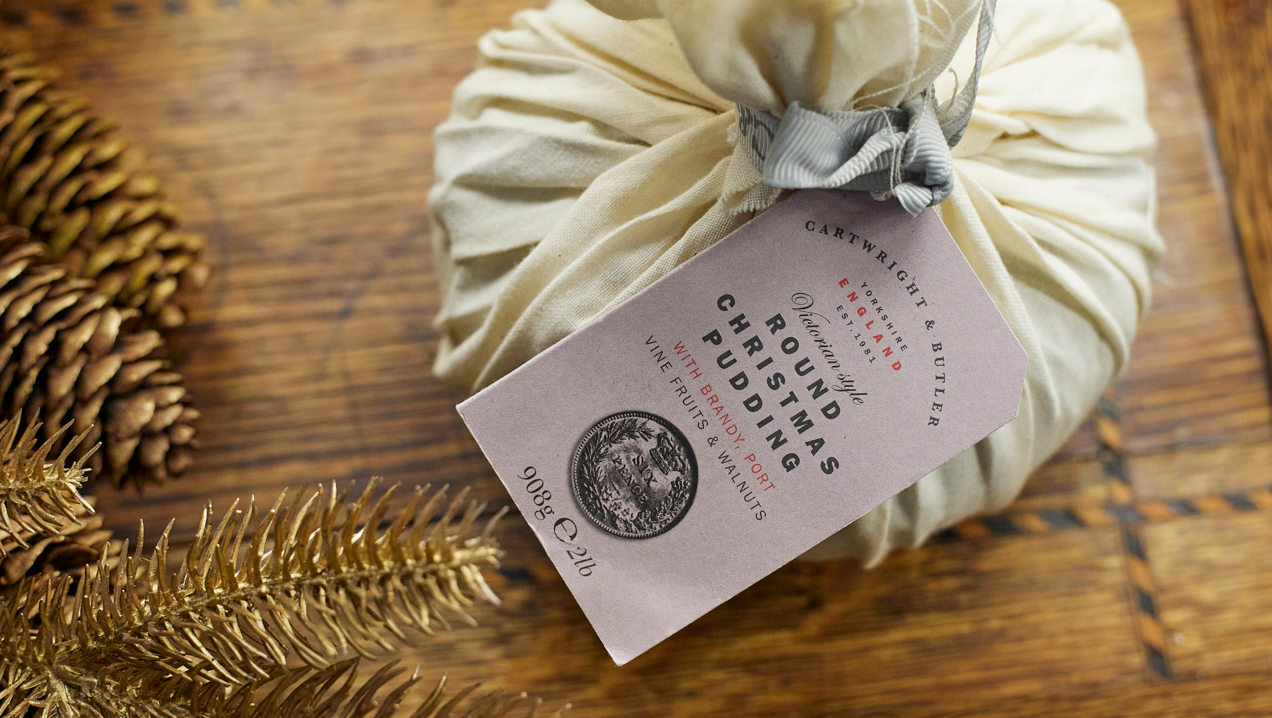 It's up to you, but in theory the longer in advance you make it, the better the flavour.  Making your pudding and storing it for a few weeks in advance of Christmas will allow the flavours of the fruit and alcohol to intensify for maximum deliciousness.  With this in mind, many guides would recommend you start your Christmas Pudding journey in September.
What is Stir Up Sunday?
The Victorians believed Christmas should be celebrated, and it was they who established the tradition of making the Christmas pudding on Stir Up Sunday, the fifth Sunday before Christmas.
Stir Up Sunday was an event for the whole family. Each family member was tasked with stirring the mixture from east to west to honour the journey of the Magi. This ritual was also considered to bring the family luck in the coming year.
Once the pudding was steamed, or boiled in a cloth, the traditional accompaniment to the Christmas pudding was a sweet custard or what we now know as brandy butter.

What about those six-pences?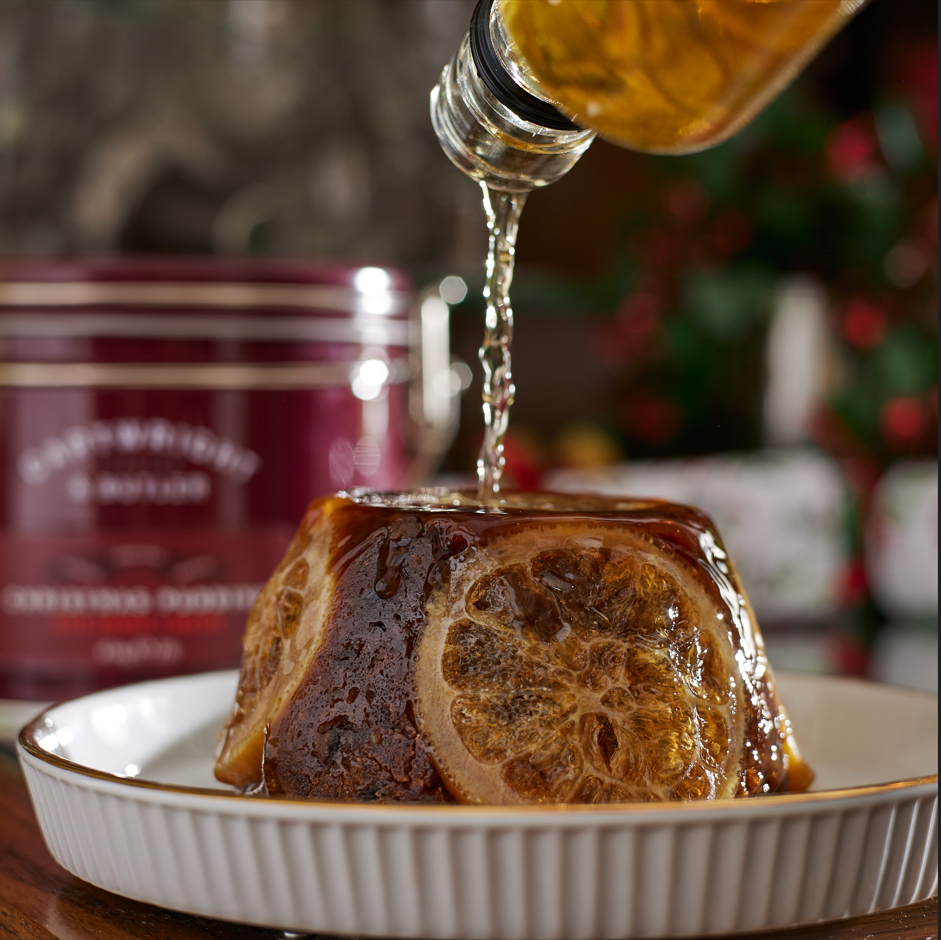 You've all heard of the tradition to hide silver coins into your Christmas pudding. It was usual practise to hide a number of small charms in the pudding mixture. These trinkets often included a silver coin which signified wealth, or a ring to represent a future marriage.
What are the ingredients in Christmas Pudding?
According to tradition, Christmas Pudding is made from a total of 13 ingredients: raisins, currants, flour, suet, eggs, brown sugar, bread crumbs, citron, lemon peel, orange peel, mixed spices, milk, and brandy.  However, we've added a few extra ingredients into our recipe to add an extra layer of luxury to your Christmas celebrations!
Traditionally brandy is the alcohol of choice for this pudding, but why not mix it up, adding in a nip of your favourite liqueur - personally we're partial to a little amaretto or Cointreau?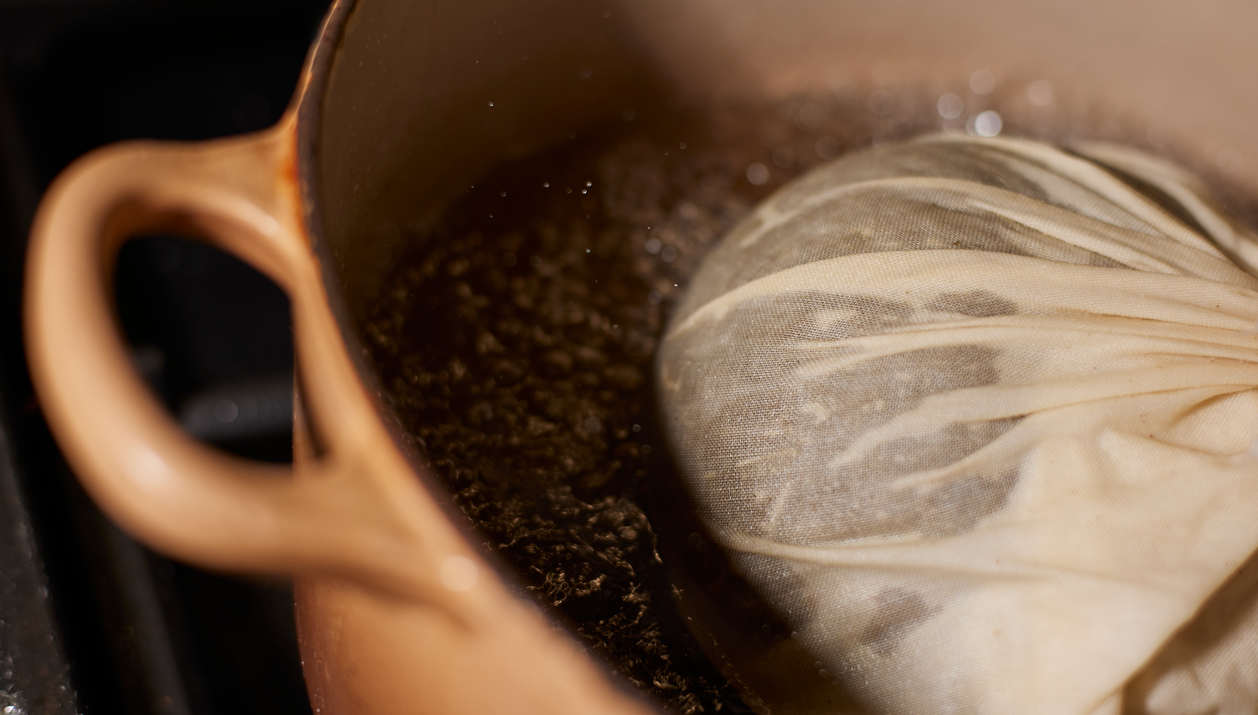 Ingredients for Christmas Pudding Recipe
50g blanched almonds
2 large cooking apples
200g box candied peel
1 pot of candied cherries
1 whole nutmeg 
1kg raisins
140g plain flour
100g soft fresh white breadcrumbs
100g light muscovado sugar
3 large eggs
3 tbsp of your liqueur of choice; brandy, cognac, amaretto or for a little orangey twist, Cointreau 
250g butter
For the brandy (or Cointreau) butter
180g unsalted butter, softened
grated zest of half an orange
5 tbsp icing sugar
4 tbsp brandy, cognac or Cointreau
Method
STEP 1
Prepare your ingredients; Coarsely chop the almonds, candied peel and cherries. Peel, core and chop your cooking apples. Time saving tip: Almonds and apples can be chopped in a food processor, but the peel and cherries need to be done by hand. Grate three quarters of the nutmeg.
STEP 2
Mix the almonds, apples, cherries, candied peel, nutmeg, raisins, flour, breadcrumbs, light muscovado sugar, eggs and 2 tbsp brandy, cognac or your liqueur of choice in a large bowl.
STEP 3
Grate a quarter of the butter into the bowl, then gently stir everything together. Repeat until all the butter is grated, then stir for 3-4 mins.  In line with 'Stir Up Sunday' why not ask the family to stir too, and get everyone to make a wish.
STEP 4
Generously butter two 1.2 litre bowls and cut out a circle of baking parchment to place in the bottom of each. Spoon in the pudding mixture and press down. Cover with a double layer of baking parchment, then tie with string and trim off any excess paper.
STEP 5
Double wrap with foil; Now pop each bowl on a large sheet of baking foil and fold the edges up over the top, then put another sheet of foil over the top and bring it down underneath to make a double-wrapped package (this should make the puddings watertight). Tie with more string, and consider making a handle to make it easy to lifti in and out of the pan. 
STEP 6
Boil or oven steam the puddings for 8 hrs, topping up with water as necessary. Once cooked, remove from the pans and leave overnight to cool. Once fully cold, discard the messy foil and re-wrap in fresh baking parchment, foil and string. Store in a cool, dry place until Christmas.
STEP 7
To make the brandy butter, cream the butter with the orange zest and icing sugar. Gradually beat in the brandy, cognac or Cointreau. Put in a small bowl and put in the fridge to set. Note this butter will keep for a week in the fridge, or it can be frozen if preferred for up to six weeks.
STEP 8
On Christmas Day, boil or oven steam for 1 hr. Unwrap and turn out onto a serving plate.  To flame, warm 3-4 tbsp brandy in a small pan, pour it over the pudding and carefully set light to it.
Is Christmas pudding healthy?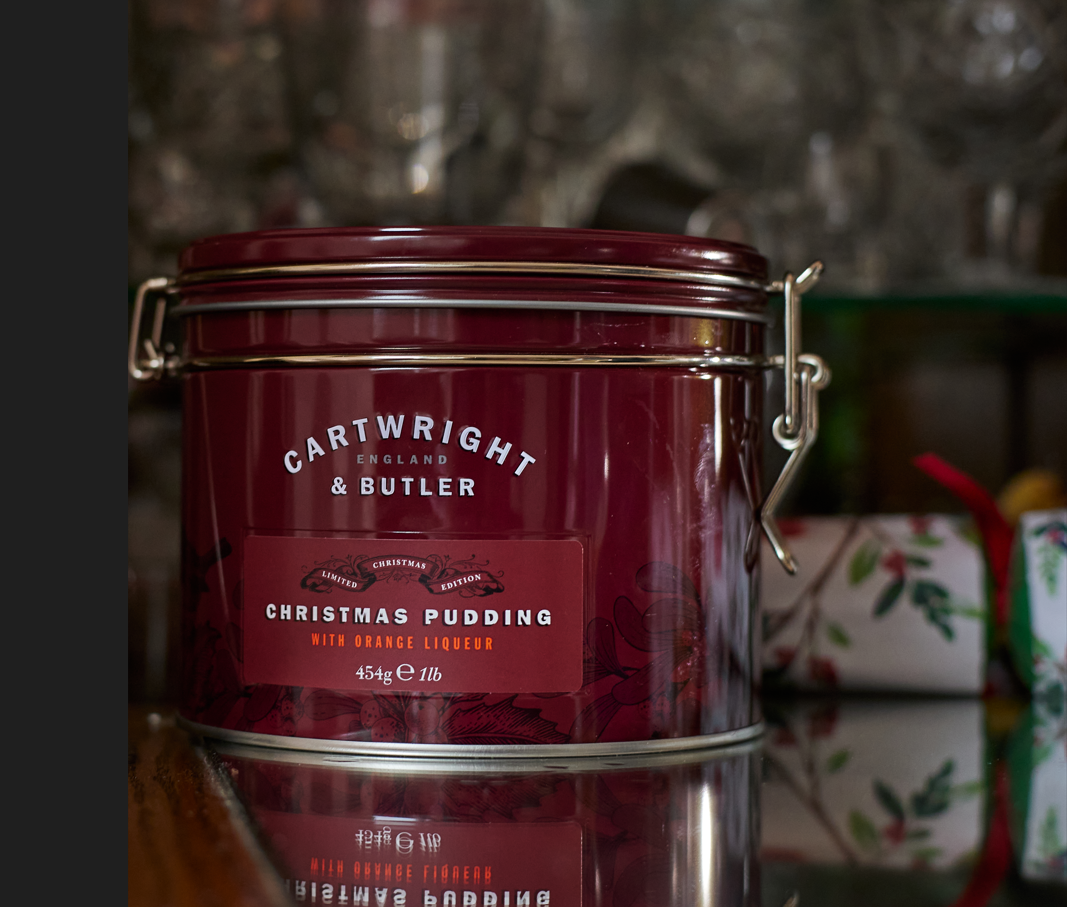 Probably not very healthy no with the large amounts of sugar, fat and alcohol!  However given that you'll only eat it on Christmas Day, we believe everything in moderation is perfectly acceptable.
How to make a vegan Christmas pudding
You may be surprised to hear that in fact, it's very easy to ensure your Christmas pudding is made to a vegan recipe.  Simply follow our recipe above, and ensure your choice of suet is a plant based vegan suet, butter substituted for a plant based spread and your egg swapped out for your egg substitute of choice (fava water / soaked chia seeds / silken tofu…).  p.s. don't forget we have a selection of delicious Vegan gifts, treats and hampers if you're looking for a gift for a plant based special someone.

Now you've seen what goes into making your very own Christmas pudding, are you tempted to give it a try, or are you preferring to buy a ready made version?  Don't forget here at Cartwright & Butler, we've a whole host of Christmas ready delights, from Christmas Pudding, Christmas Cakes and Mince Pies, perfect for any parties or festive gatherings you may hold.  We won't tell anyone they're not home made if you don't!