Crafting the Ultimate Christmas Hampers for Every Elf in Your Corporate Workshop!
The holiday season is upon us, and what better way to spread joy and appreciation than with a carefully curated Christmas hamper? For those in the corporate world, the art of gift-giving takes on a unique significance. Corporate gift hampers are the perfect way to express your gratitude to employees, employers, and clients. 
Let's delve into the magic of corporate Christmas gifts and discover how you can make your corporate gifting truly special. Whether you're looking for corporate chocolate gifts, personalised corporate gifts, or other thoughtful presents, we've got you covered.
The Art of Corporate Gifting
At Cartwright & Butler, we believe that corporate gifting should be a reflection of your appreciation for your employees or employers. It's a gesture that not only shows your gratitude but also nurtures relationships and fosters a sense of belonging within your corporate family. This is where the charm of corporate gift hampers comes into play, blending luxury, tradition, and a touch of personalisation.
The Significance of Corporate Christmas Gifts
Corporate gift-giving isn't just a seasonal tradition; it's an opportunity to strengthen relationships and boost morale. Consider the impact of a well-thought-out corporate gift hamper. The thought and effort you put into selecting the perfect gift will undoubtedly resonate with your employees, employers, and clients. Here's why it matters:
Strengthening Relationships: A corporate gift hamper shows your appreciation and fosters positive relationships within your professional network.
Boosting Morale: The act of gift-giving during the festive season can enhance employee morale, leading to increased productivity and loyalty.
Expressing Gratitude: A well-thought-out corporate gift demonstrates your appreciation for the hard work and dedication of your employees, the trust of your clients, and the leadership of your employers. It's a way of saying, "Thank you for being a valuable part of our success."
Building Trust and Loyalty: Trust is the foundation of any successful business relationship. By giving corporate gifts during the holiday season, you reinforce trust and loyalty, leading to long-lasting partnerships and goodwill.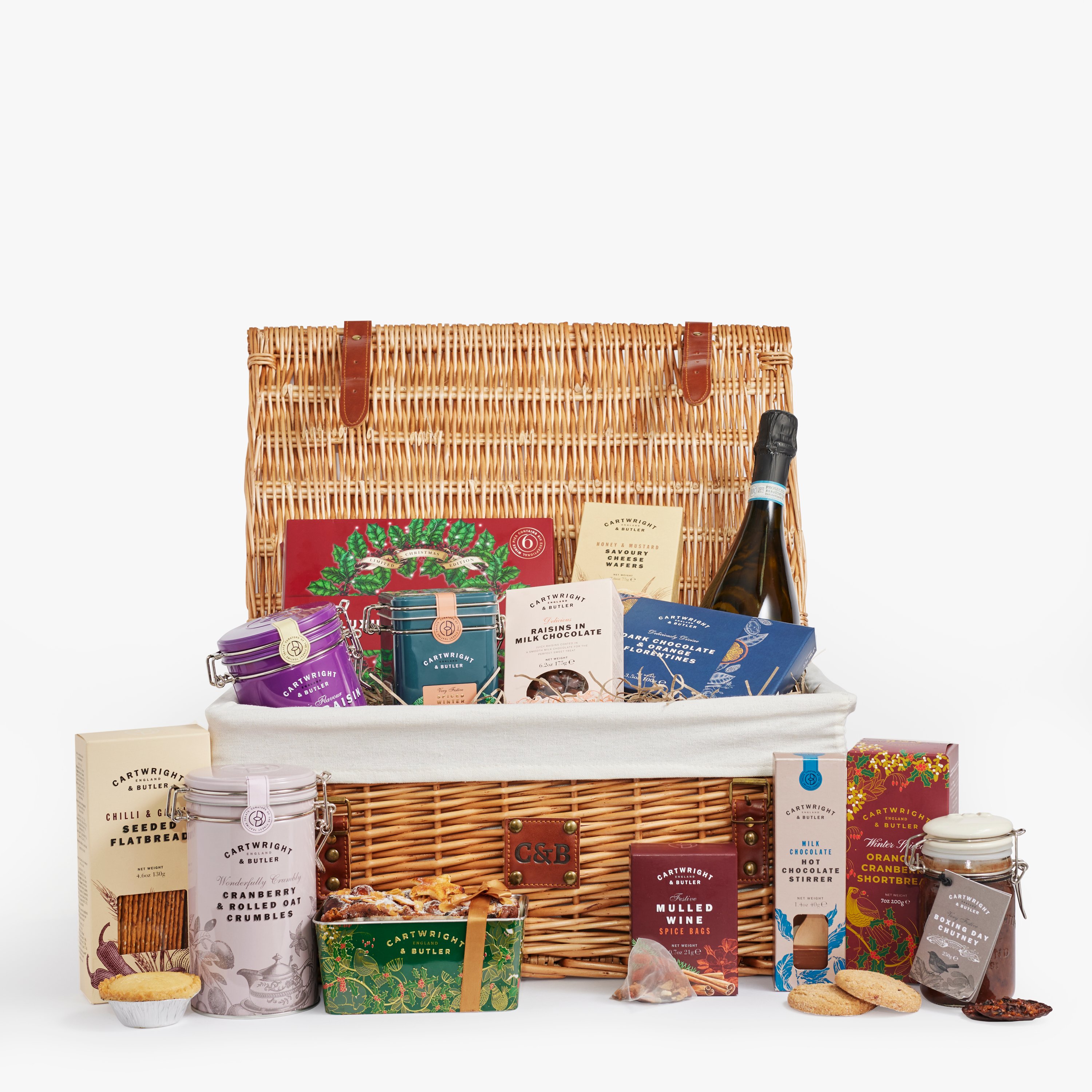 The Elegance of Corporate Gift Hampers
Corporate gift hampers, also known as corporate hampers, are the ideal choice for those who want to make a statement. These beautifully curated gift collections embody sophistication and luxury. At Cartwright & Butler, we offer a wide range of options, each tailored to suit your corporate Christmas gift needs.
The Classic Christmas Hamper
The Classic Christmas Hamper is more than just a gift; it's an embodiment of timeless traditions. Within this elegant hamper, you'll find an array of delectable British treats that have delighted generations. From our handcrafted preserves and perfectly crafted biscuits to the finest teas and coffees, this hamper is a symphony of flavours that is sure to please even the most discerning palates.
What sets our Classic Christmas Hamper apart is the opportunity for personalisation. We understand that corporate gifting isn't just about giving a gift; it's about making a statement. Add your corporate branding to this hamper, and you'll turn a thoughtful gesture into a lasting memory. Imagine the delight on your colleagues' faces as they enjoy these premium British treats with your company's logo elegantly displayed. It's the perfect way to show appreciation, share the joy of the season, and make a statement that will be remembered long after the festivities have ended.
The Decadent Chocolate Delight
Who can resist the allure of exquisite chocolates? At Cartwright & Butler, our chocolate Christmas hamper is a treasure trove of premium chocolate goodies that promise to tantalise the taste buds and warm the hearts of your colleagues and team members. This delightful hamper is the epitome of indulgence, making it the perfect choice for those who appreciate the finer things in life.
Imagine opening this hamper to discover an array of premium chocolates, from velvety truffles that melt in your mouth to exotic chocolate bars that transport you to far-off places. The Decadent Chocolate Delight is a sweet escape during the holiday season, a moment of bliss for your hardworking team. It's the gift that says, "Thank you for your dedication and commitment."
Chocolate and Prosecco Pairing:
For a truly sophisticated and elegant gift, consider combining the richness of chocolate with the sophistication of prosecco. Our alcohol and chocolate hamper is designed to impress and elevate your corporate gifting game. It's a match made in heaven for those with refined tastes.
In this luxurious hamper, you'll find an exquisite selection of chocolates that perfectly complement a fine bottle of Prosecco. It's a pairing that combines the sweetness of chocolates with the complexity of Prosecco, creating a harmonious experience for the senses. Whether you're looking to impress clients, express gratitude, or celebrate a successful year, this hamper is the embodiment of class and taste.
Gourmet Wine and Cheese Hamper:
For clients or employers who appreciate the best of British wines and artisanal cheese, our luxury cheese and wine hamper is the ultimate choice. This sophisticated hamper celebrates the rich tradition of British craftsmanship and the art of savouring life's finer moments.
Within this hamper, you'll find a carefully curated selection of premium wines and exquisite artisanal cheeses. It's a sensory journey through the essence of British elegance. Whether you're looking to express your appreciation, establish lasting relationships, or simply share a moment of indulgence with your corporate family, this hamper will leave an indelible impression. It's the perfect gift for those who savour the taste of success.
Personalised Corporate Gifts
Show your employees or employers that you care by personalising your corporate gift hampers. Include their names or a special message to create a lasting impression. It's a small touch that makes a big impact.
Go even further and consider adding a personal touch by customising the hamper with your company logo or a heartfelt message. A personalised hamper reflects your thoughtfulness and attention to detail. You can even take it a step further and build your own hamper to truly make it one of a kind. 
Corporate gifts are more than just tokens of appreciation; they are instrumental in strengthening bonds and fostering a sense of unity. When done right, they can lead to increased employee morale and loyalty.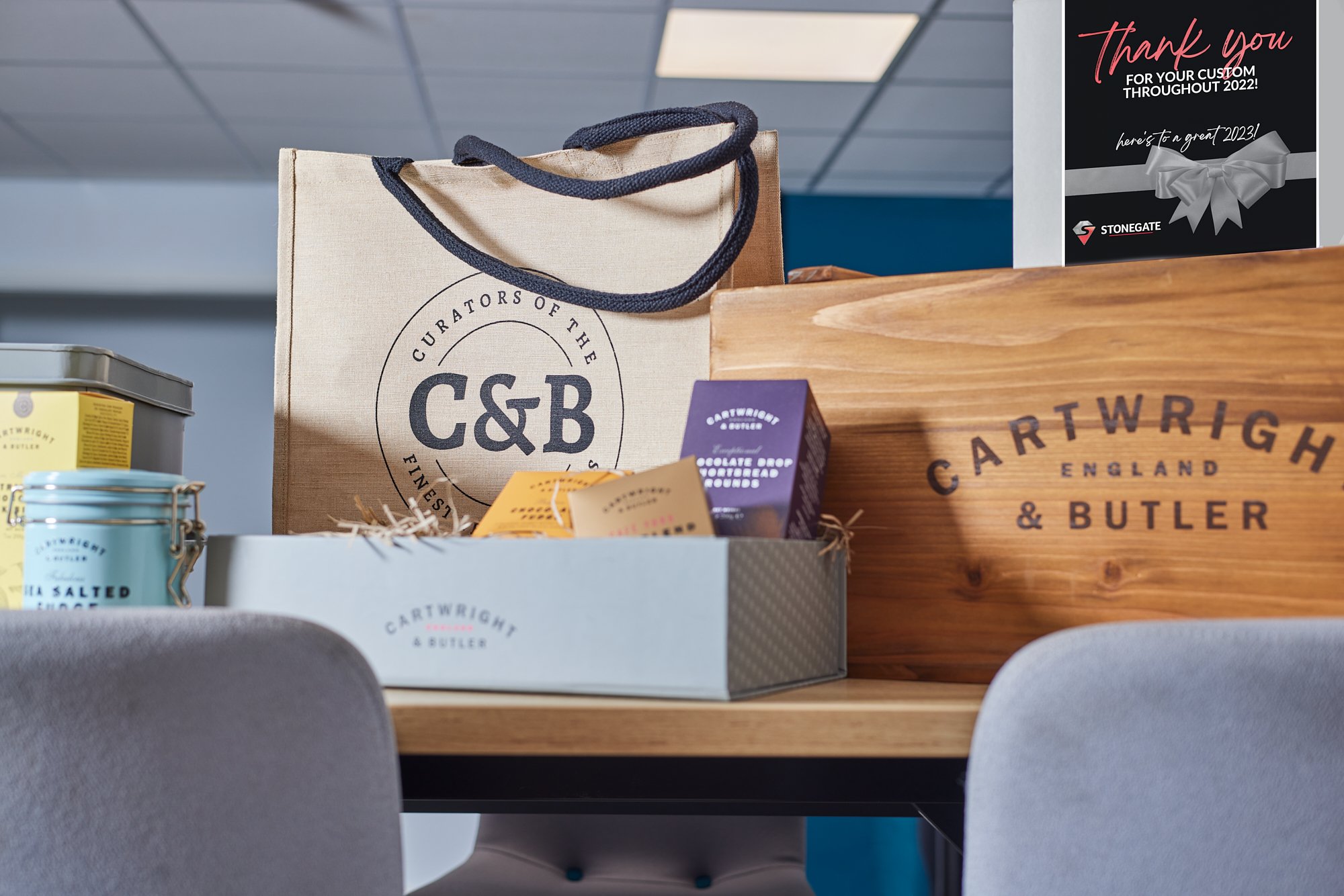 Tips for Selecting the Perfect Corporate Hamper
Choosing the right corporate hamper requires thoughtful consideration. Here are some tips to help you make the perfect selection:
Know Your Audience: Understand the preferences and dietary restrictions of your colleagues or employers.
Quality Matters: Opt for hampers filled with premium, handpicked British products for that touch of luxury.
Personalisation: Add a personal touch with custom branding or messages.
Presentation is Key: The way a hamper is presented speaks volumes. At Cartwright & Butler, we take pride in our exquisite packaging.
Tailor to Individual Preferences: Get to know the recipient's likes and dislikes. A personalized gift shows you've put in the effort.
Quality Over Quantity: It's not about the quantity of items but the quality. Choose items that represent your brand's excellence.
Packaging Matters: A beautifully presented hamper adds to the excitement. Invest in elegant packaging that reflects your brand's image.
Delivery Timing: Ensure your gifts arrive on time so that they can be enjoyed during the festive season.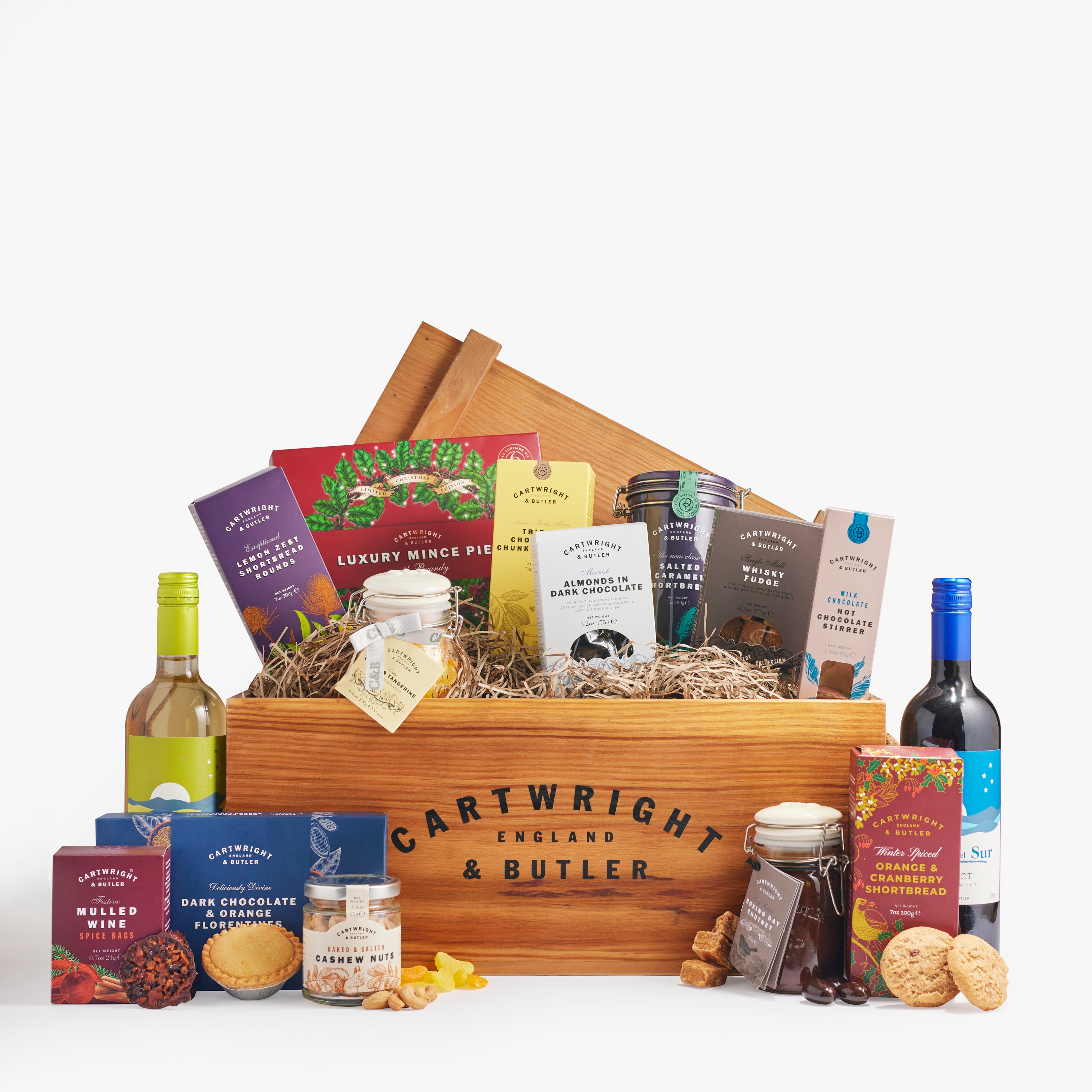 Conclusion
As the holiday season approaches, make sure to leave a lasting impression on your corporate workshop. Our luxury Christmas hampers are the perfect choice for corporate Christmas gifts. Explore the world of corporate gift hampers and choose the one that best represents your appreciation and admiration for your colleagues or employers. Remember, the act of giving is not just about the gift; it's about the thought, the gratitude, and the relationships you nurture.
This Christmas, give the gift of Cartwright & Butler - where tradition meets luxury, and appreciation takes centre stage. Choose the perfect corporate gift hamper to make your corporate gifting truly special. Your corporate family will thank you, and the holiday spirit will shine brighter than ever.