Family Christmas Gift Hampers for Foodies: A Culinary Christmas Adventure at Home
The holiday season is a time of warmth, togetherness, and, of course, culinary delights. Families that share a passion for good food and memorable experiences often find the perfect celebration in the form of a luxury food hamper. Join us as we embark on a delectable journey through a selection of gourmet and food-themed gift hamper ideas, which are more than just gifts; they're a gateway to a culinary adventure and every foodie's dream. 
From the exquisite world of aged cheese to the comforting nostalgia of mince pies, from the irresistible aroma of freshly baked goods to the sweet indulgence of fudge and sweets, and finally, the sparkling beverages that add a touch of luxury – our Christmas gift hampers are a treasure trove of culinary delights, specially curated for your family's Christmas celebration.
Exploring Aged Cheese
Our culinary adventure commences with the timeless treasure of aged cheese. Christmas is a season for indulgence, and our luxury hampers offer a splendid variety of artisanal aged cheeses. From the silky, creamy texture of Chesire to the robust and earthy notes of Cheddar, there's a cheese to satisfy every discerning palate.
Consider the pleasures of a Black Bob Extra Mature Cheddar, a cheese famous for its rich and strong cheddar flavour and tang, as it pairs perfectly with our Chilli & Garlic Seeded Flatbreads. Or indulge in the complex flavours of a matured Chesire Cheese- Smoked Red Leicester, with its beautiful orange hue and nutty undertones. Pair your chosen cheese with delicate flatbread crackers and a dollop of chutney, and watch as your family's faces light up with delight. It's a culinary experience that combines tradition, artistry, and the pure joy of good food.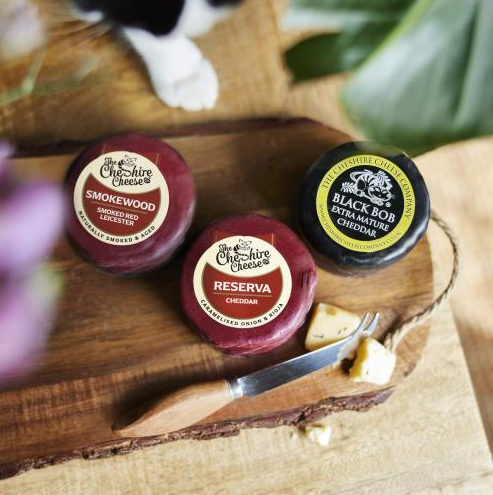 Mince Pies: An Expert Tested Christmas Classic
No Christmas celebration is complete without the beloved tradition of mince pies. Better yet, Cartwright and Butlers Cranberry & Orange Mini Mince Pies, are taste approved by Good Housekeepings as the best alternative mince pies for Christmas 2023. These little pastries are a true reflection of the holiday spirit, encapsulating the warmth and nostalgia of the season. In our luxury hampers, you'll find mince pies that embody the essence of Christmas.
Each pie is a delightful masterpiece, with a rich, buttery pastry that cradles a filling of spiced fruits. A single bite transports you to the heart of the season, invoking memories of roaring fires, twinkling lights, and laughter-filled family gatherings. Sharing these sweet delights with your loved ones is akin to sharing the magic of Christmas itself.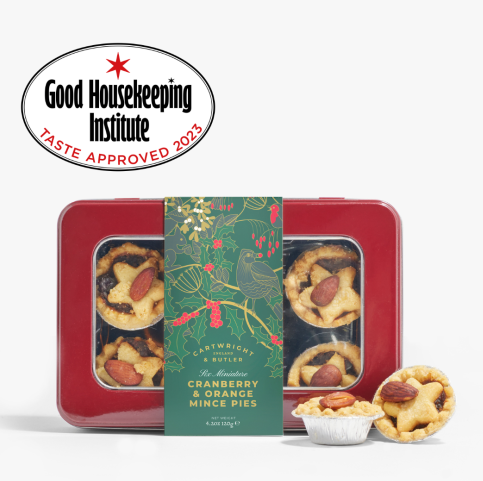 Melt In Your Mouth Biscuits 
The delectable taste of baked goods can evoke cherished memories and provide comfort. In our Christmas food hampers, we've curated a delicious range of sweet goodies to bring this experience to your home.
Imagine biting into a perfectly crafted buttery shortbread biscuit, each bite melting in your mouth with a subtle hint of sweetness. Alternatively, savour the richness of a fruitcake laden with the finest ingredients – a cake that embodies tradition, sophistication, and the festive spirit. These are the treasures that make your Christmas morning truly special.
Our hampers also feature a selection of biscuits, biscuits that are nothing short of culinary masterpieces. Whether it's the crumbly luxury of shortbread biscuits, the delicate balance of a chocolate biscuit, or the classic charm of an oat crumble, these biscuits are a delightful accompaniment to your holiday beverages.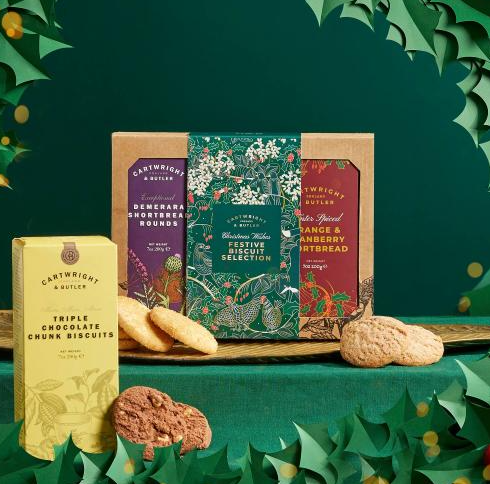 Indulgent Fudge and Sweets
For those with a sweet tooth, our luxury Christmas hampers are a treasure trove of indulgence. Dive into a world of sweetness with our velvety fudge and sweet confections. Each morsel is a testament to craftsmanship and a celebration of flavour.
Our luxury fudge, in particular, is a delicacy that delights with every bite. Crafted with the finest ingredients, it offers a range of flavours, from classic butter fudge to modern twists like salted caramel or Belgian chocolate. These sweet delights are perfect for snacking or as a sweet finale to your festive feast.
But our sweets collection continues beyond fudge. Within our food hampers, you'll find an array of luxurious chocolates, each designed to melt in your mouth and captivate your taste buds. From creamy truffles to dark chocolate with a rich, bold flavour, these chocolates are a treat that knows no bounds. They are perfect for sharing with loved ones or savouring in moments of personal indulgence.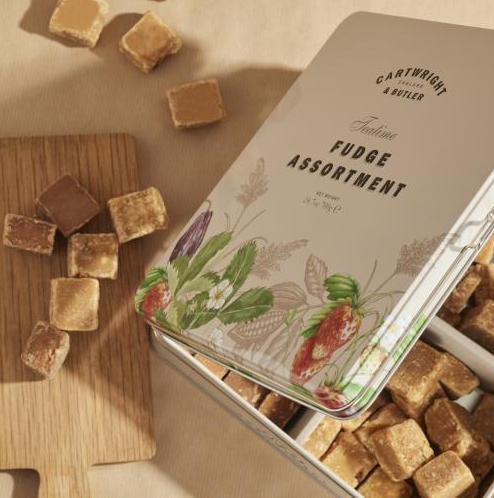 Raise a Glass to the Festivities
No Christmas celebration is complete without a heartfelt toast. In our hampers, you'll discover a diverse selection of fine beverages to elevate your holiday experience. Whether you're raising a glass of wine to celebrate or sipping sparkling champagne to toast to the year ahead, our beverage selection offers a touch of luxury to your festivities.
Our wine collection is a carefully curated assortment of red, white, and rose wines from around the world. Each bottle is chosen for its quality and character, ensuring that your Christmas table is graced with the finest flavours.
For those who prefer a sparkling celebration, our alcohol hampers also include champagne and prosecco options. These effervescent delights add a touch of class and festivity to any gathering. It's a chance to raise your glasses and offer a toast to the joyous moments this season brings.
If you're looking for non-alcoholic alternatives, we have a range of exquisite non-alcoholic beverages that offer the same level of sophistication and taste without the alcohol content. These options are perfect for creating a festive atmosphere that the whole family can enjoy.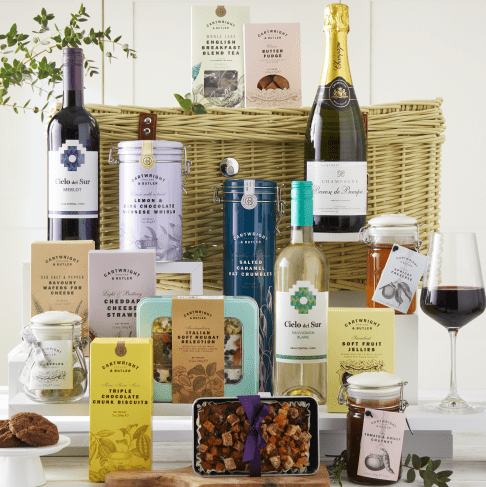 Ready, Set, Indulge!
This Christmas, embark on a memorable culinary adventure at home with your family. Our luxury British food hampers are more than just gifts; they reflect the love and care you have for your loved ones. Whether you're seeking a personalised hamper or wishing to build your own hamper, we offer an array of options to make your Christmas extraordinary.
At Cartwright & Butler, we are committed to delivering not just products but experiences. Our food hamper gifts and luxury Christmas hampers are a testament to that commitment. We invite you to explore our selection and immerse yourself in a culinary journey that your family will cherish for years.
This holiday season, celebrate with food, love, and togetherness, and make your Christmas truly exceptional. Give the gift of gourmet delights and create lasting memories around the table that will warm your hearts and palates for years to come. As you share the joy of good food and great company, you'll find that the true magic of Christmas is not in the presents but in the moments you create and the memories you cherish.