The Perfect Christmas Gift for that someone who has EVERYTHING
We all know that someone, a friend, family member or colleague who is impossible to buy for.  You dread Secret Santa or you mentally make a note to be sure you keep the receipt because whatever you gift them this year, it will be returned.
Not any more!  Here at Cartwright & Butler we have the solution to your gifting dilemma, your present woes and we're going to turn your frown upside down.  
What's that I hear you say?  The perfect Christmas Present for anyone?  That's what we said.  Let us introduce to you ….
A hand picked (by you), food gift hamper full of deliciousness.  Whether the lucky recipient of your gift is a cheese fiend, a sweet tooth or a wine aficionado, we've a pantry stocked with biscuits, cakes, chutneys, chocolates, jams, fudge and much more, waiting for you to create the ultimate food hamper gift that they will never forget.
Custom Build your gift hamper
We've made it super easy with our 'Hamper Builder' online for you to create your own bespoke hamper.  The hardest bit we're sure, is choosing what to put in it. Although for inspiration, take a browse through our hundreds of pre-curated hampers if you need a little help.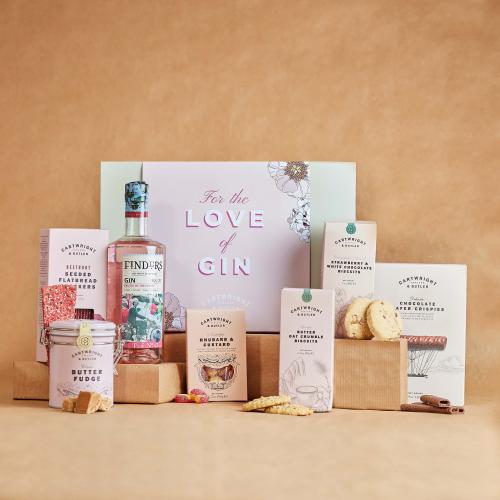 We've got your back.  With oodles of deliciously cakey goodness, buttery biscuits, traditional sweets, chocolate, jams, honey, preserves, nougat - need we go on?  One of our absolute favourites is the 'for the Love of Gin' gift boxes pictured above.  A perfectly pink treat with a bottle of exquisite pink Finders Gin and a variety of delicious sweet goodies.
Savoury Treats Hampers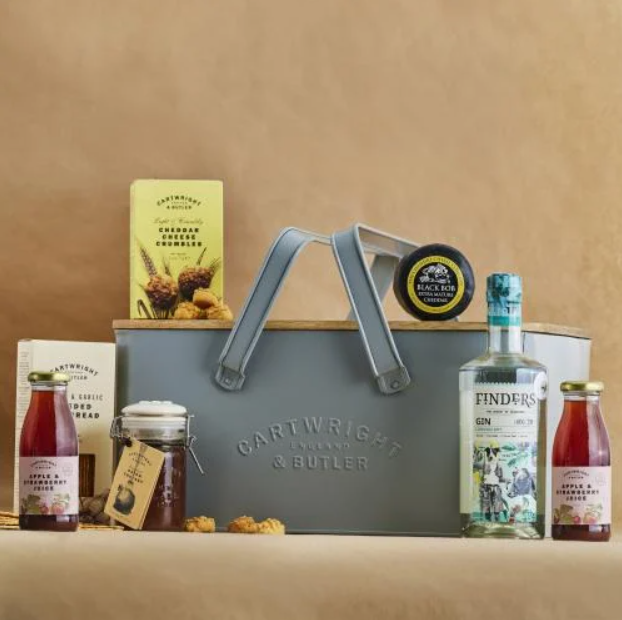 Personally we can't think of anything better than a hamper packed with cheese, savoury biscuits, luxury flatbreads and chutneys (and not one to blow our own trumpet here, but our caramelised onion chutney has won the Great Taste Award).  Not forgetting a delightfully tasty bottle of red (or white) wine to wash it down with.  Our Gin & Nibbles hamper above is a superb example how to blend gin with a delightful selection of savoury treats.
Romantic hamper
One for your significant other, Wife, Husband, Boyfriend or Girlfriend.  What is more romantic than a box of luxury chocolates and a sparkling bottle of champagne (or prosecco)?
Beer Hamper
Is your gift-recipient-who-has-everything partial to a nice refreshing beer or two?  Why not create a bespoke basket of treats focused around the humble bottle of beer?  A chocolate waver or two, chilli flatbreads and chutney with cheese or even a nice box of shortbread.  Or you could just select one of our top selling Beer Hampers if you fancy!
Personalised Message Gift
If that wasn't fabulous enough, we've also got our personalisation service.  You can choose your message and if you really wish, a photograph and we'll print it on your hamper sleeve, as the perfect personalised gift.  The only thing you'll need to think of now is what to say!
So, we hope we've given you a little Christmas inspiration, what to buy those tricky individuals, and don't forget once you've decided, to pop in a few little treats for yourself, after all you've earned it!