Alternative Christmas pudding ideas
For many, Christmas is all about enjoying great festive food and drink, but not everyone favours the traditional Christmas dessert of a fruit pudding. Thankfully, we've come up with five impressive alternative Christmas pudding ideas you can create to satisfy the whole family!
1.

Festive yule log
The first of our Christmas Day desserts, this is a familiar favourite for many families over the festive period; a yule log is the perfect Christmas pudding alternative for a day of complete indulgence. This recipe should serve 8, but it can be quite rich, so be careful not to overdo it!
The ingredients you'll need
85g of golden caster sugar

85g of plain flower

200g of icing sugar

2 tablespoons of cocoa powder

½ a teaspoon of baking powder

3 eggs

50g of butter (either unsalted or salted is fine)

140g of dark chocolate

284ml of double cream (this is typically one pot)

1 tablespoon of golden syrup
How to make a yule log
Before you start making this alternative Christmas pudding, make sure to preheat your oven to 200°C (180°C fan or gas 6).

Grease a 23cm x 32cm Swiss roll tin, and line with baking paper.

In a mixing bowl, whisk your eggs and golden caster sugar together until thick.

In a separate bowl, combine your flour, cocoa powder, and baking powder, before folding into your egg mixture. Once combined, bake for 10 minutes.

Once ready, tip your cake onto a pre-prepared sheet of baking paper, remove the original paper, and roll your cake from its longest edge.

While waiting for your cake to cool, you can make your icing. This involves melting the butter and chopped dark chocolate together in a heatproof bowl over a pan of simmering water. Once melted, remove from the heat and stir in your golden syrup and about five tablespoons (roughly a quarter) of your double cream.

In another mixing bowl, whisk your remaining double cream until it starts to firm up. Unroll your cooled cake, and spread your whipped cream, before re-rolling into a log.

Transfer your log onto a plate or serving dish, and spread your chocolatey icing over the cake. Finally, run your fork through the icing to give the impression of bark.
Christmas panettone cake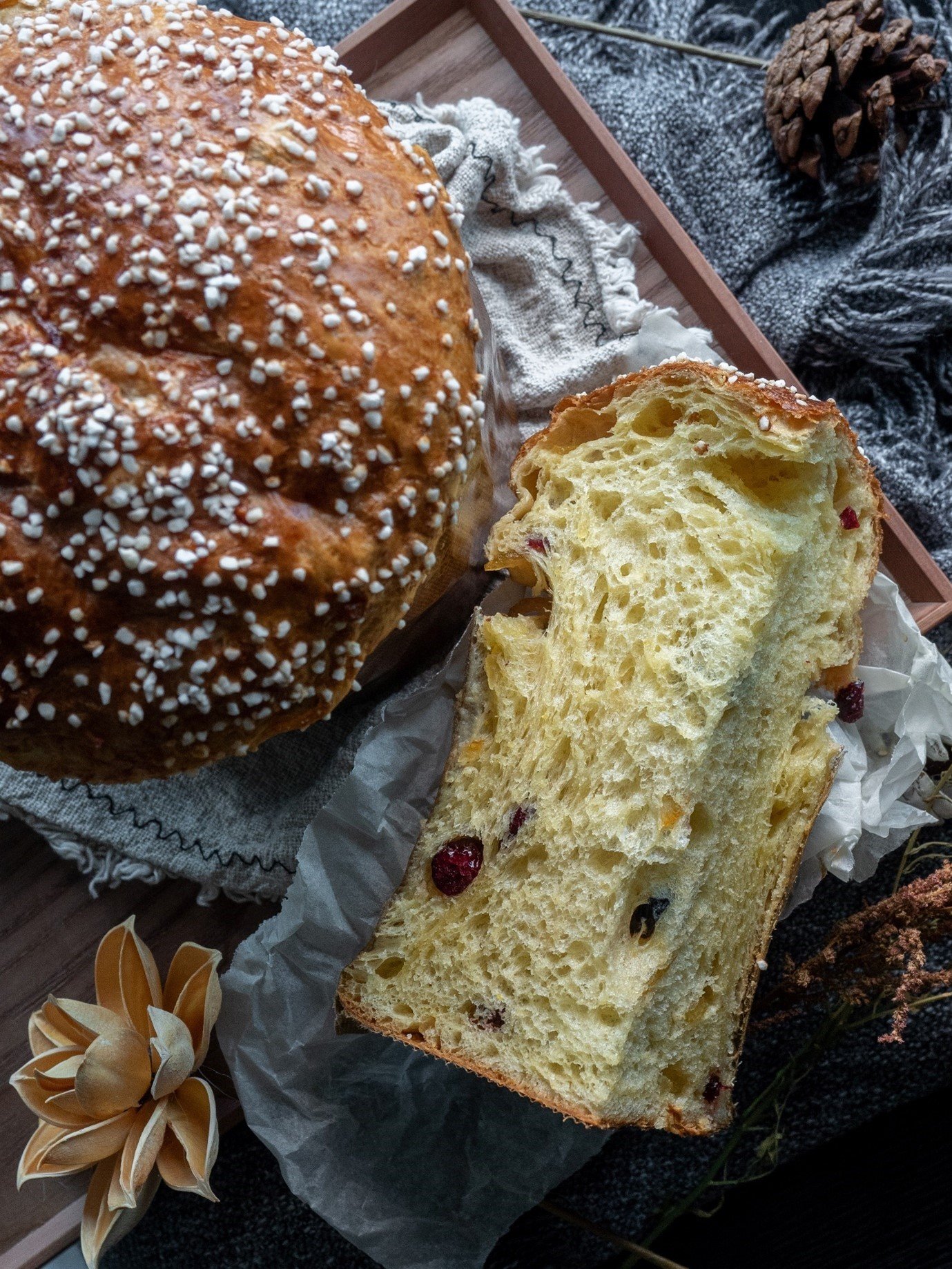 This panettone cake is a delightful treat for family members who like to divert from tradition and favour alternative Christmas pudding ideas. It should serve 12, but chances are some of you will want to go back for seconds!
Ingredients for this Christmas dessert
625g of panettone

6 tablespoons of rum or brandy

2 eggs, stored at room temperature

75g caster sugar

500g of mascarpone, at room temperature

250ml of double cream, at room temperature

125ml of Marsala wine

75g of marron glacés

100g of chopped pistachios

125g of chopped chocolate
How to make a panettone cake
Cut your panettone into 1cm thick slices (this is easiest with a serrated knife) and lay roughly a third along the bottom of a 9-inch cake tin. Make sure there are no gaps.

Drizzle a couple of tablespoons of your rum or brandy, to moisten the panettone.

Get started on the cake filling by whisking your eggs and sugar until they're light and frothy. You can then whisk in the mascarpone and double cream, before gradually adding in your Marsala wine until your mixture has thickened.

Remove a heaped cupful of the mixture, and put aside in a container. This is for the topping, so refrigerate for the time being.

With your remaining mixture, crumble in your marron glacés, chocolate, and 75g of pistachios. Fold until everything is combined, and spread half over your panettone.

Repeat step one with a further third of your panettone.

Spread the rest of your mascarpone mixture over the top of your panettone. Repeat step one with your final third of panettone, cover tightly with cling film, and refrigerate overnight.

Once your cake is ready to serve, take out of the fridge and remove from the tin. Spread the leftover mascarpone mixture over the top and sides and scatter the remaining pistachios plus any other festive toppings you enjoy.
3. Spiced mince and apple crumble
This twist on a classic favourite combines the best of two desserts, and allows you to use the rest of your mincemeat from your latest batch of mince pies. Serves six, so if you've the extended family over, multiply your ingredients accordingly!
What you'll need to bake the crumble
850g of apples (Bramley are best)

2 pears (ripe, ideally)

250g of mincemeat

The juice of ½ a lemon

125g of golden caster sugar

¼ teaspoon of freshly grated nutmeg

½ teaspoon of ground cinnamon

125g of marzipan

225g of plain flour

150g of chilled, unsalted butter

50g of flaked almonds

A pinch of salt
How to make this Christmas pudding alternative
Before you start making this delicious Christmas pudding alternative, preheat your oven to 180°C (160°C fan or gas 4).

Peel and core your apples and pears, before dicing. Put in a big mixing bowl, squeeze in your ½ lemon, and make sure your fruit is well-coated.

Add your mincemeat, 75g of golden caster sugar, cinnamon, and nutmeg to the mixture, and combine.

Dice your marzipan so that they're roughly 1cm chunks, and add to your mixture.

After making sure everything is well-combined, pour your mixture into an overproof dish and cover with foil. Bake in the oven for around 10 minutes.

While your filling bakes, you can start making your crumble. To do this, put your flour, butter, and salt in a mixing bowl and rub the ingredients together with your fingertips until you achieve a breadcrumb consistency.

Continue rubbing the ingredients together until the crumble starts to clump a little, before adding the remainder of your sugar and flaked almonds. Continue to combine.

Take your filling out of the oven and evenly sprinkle your crumble mixture over the top. Return to the oven and bake for a further 45 minutes.

Serve to taste, whether that be with custard or festive brandy cream!
4. Melt-in-your-mouth chocolate fondant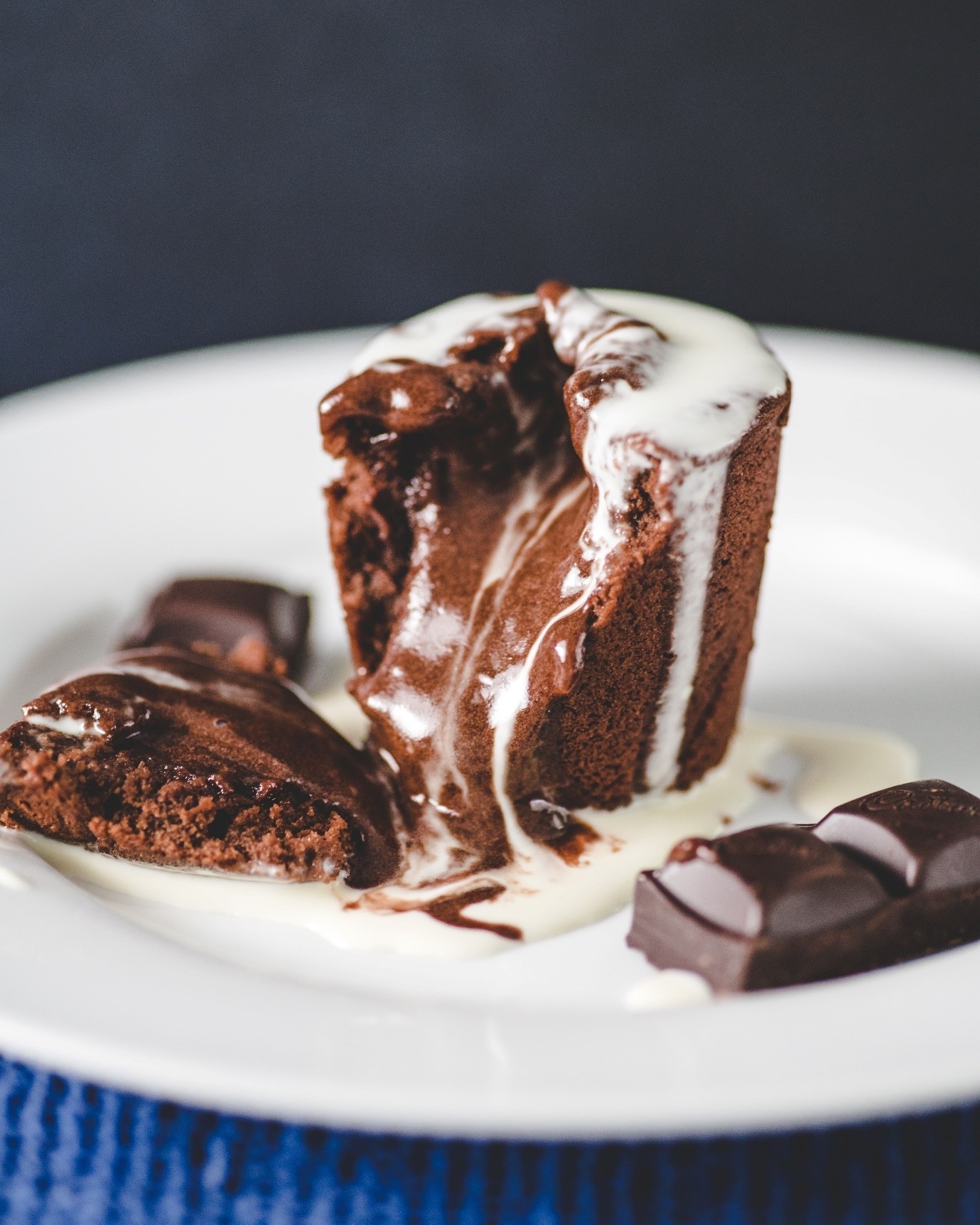 Chocolate fondant is a tried-and-tested favourite, so why not swap it in as one of your alternative Christmas pudding ideas. We've included Baileys, but feel free to remove if you prefer a booze-free pud. Importantly, for this Christmas dessert, you'll need 9 ramekins.
What you'll need for this Christmas dessert
200g of dark chocolate

250g of butter

200g of plain flour

200g of golden caster sugar

4 full eggs + 4 yolks

A splash of Baileys
How to make a chocolate fondant
To start with, you'll need to butter your fondant ramekins. Melt 50g of your butter and brush the insides, before placing your moulds in the fridge to cool.

Place a heat-proof bowl over a pan of simmering water and melt your chocolate and remaining butter. Once fully melted, remove from the heat and mix until smooth and fully combined, before mixing in your Baileys. Put your bowl aside for ten minutes to cool a little.

In a separate mixing bowl, whisk your eggs and yolks, along with your caster sugar. Once you have a pale mixture, sift your flour into the bowl and combine thoroughly.

Pour your chocolate mixture into your egg mixture gradually and whisk well as you go along. You should be left with a loose batter.

Pour your fondant mixture into your pre-prepared ramekins and place in the fridge for 15-20 minutes. At this point, preheat the oven to 200°C (180°C fan or gas 6).

Place your moulds onto a baking tray and cook for just over 10 minutes, or until the top starts to crust and the sides start to come away.

Loosen your fondant from the side of your ramekin, and gently tip onto a plate, serving with your choice of cream, ice cream, or custard. Or enhance your Christmas dessert and top with rum sauce or brandy cream.
5. Impressive profiterole wreath
This recipe is perhaps the most complicated of our five, but it's oh-so worth it when the times comes for you to dig in. Discover why making a profiterole wreath will fast-become one of your favourite Christmas Day desserts.
Your ingredient list
110g of butter

130g of plain flour

275g of caster sugar

50g of cornflour

½ teaspoon of cinnamon

¼ teaspoon of ground nutmeg

4 large eggs + 6 yolks

600ml of full-fat milk

250ml of double cream

100g of milk chocolate
How to make your profiterole wreath
Preheat your oven to 200°C (180°C fan or gas 6) and line three separate baking trays with baking paper.

Melt your butter in a saucepan with 250ml of water over a low/medium heat until combined, before bringing to a boil.

Remove your butter from the heat and add your plain flour, making sure to mix quickly until you have a soft and doughy ball. Cook over a low flame for a few minutes and continue to stir, before leaving to cool.

Once cooled, put in a mixing bowl and gradually add your 4 eggs, making sure to whisk each in completely before adding the next. You should be left with a glossy paste, which you'll spoon into a piping bag (with a 1.5cm nozzle).

Carefully and evenly pipe 10-12 mounds onto each of your pre-prepared baking trays and gently smooth out the tops. Bake for 10 minutes in your preheated oven, before reducing the temperature to 190°C (170°C fan or gas 5) and continuing to bake for another 10 minutes.

With a skewer or sharp point, pierce your buns and return to the oven for a final 5 minutes, before removing and letting cool completely on a wire rack.

Next, you'll need to make your crème pâtissier filling. Start by pouring your milk into a pan and bringing to the boil. While cooling, mix your egg yolks and 75g of caster sugar until pale, before whisking in your cornflour, cinnamon, and nutmeg.

Pour your boiled milk over your egg yolk mixture and pour back into your pan. Bring the mixture to the boil and mix continuously for a minute, before removing and pouring into a bowl and leaving to cool (it's a good idea to put clingfilm over your bowl to prevent a skin from forming).

The next step is to make chocolate ganache. Break up your chocolate and put it aside in a heatproof bowl. Meanwhile, heat 100ml of your double cream in a second bowl over a simmering pan of water, before pouring over your chocolate pieces. Mix until smooth and let cool.

Back to your crème pâtissier; whip your remaining double cream and fold into your mixture. Spoon this into a piping bag and fill your profiterole buns.

Finally, you'll need to make a caramel. This is simple and only requires the remaining 200g of caster sugar and five tablespoons of water. Boil the sugar water until your mixture turns golden, before removing from the heat and letting cool.

Arrange your profiterole buns in a wreath pattern, with one smaller ring inside a larger ring. Leave roughly a third of your buns for a second layer. Dip each profiterole in caramel to make sure they all stick together.

Drizzle your chocolate ganache over your profiterole wreath and serve to taste with more cream if you desire!
While a homemade Christmas dessert is always an indulgence over the festive period, you might just want to relax instead – save yourself the effort and check out our complete range of Christmas hampers, cakes and luxury mince pies!