Brits' tea and coffee drinking habits
In Britain, we're known for loving hot beverages. And when you pop over to someone's house, the first thing they will say after inviting you in is, "Fancy a cuppa or a coffee?". And this is done as a general standard!
So, we surveyed Brits to delve a little deeper into people's tea and coffee drinking habits. We found out how the majority of people make their beverages, and their favourite biscuits to dunk after the kettle has boiled.
Simply read on to uncover some interesting discoveries on tea and coffee drinking habits across the nation.
Tea and coffee daily drinking behaviours revealed
Drinking the likes of luxury coffee or tea is something that's ingrained into our nature as Brits. We wake up, pop the kettle on, and start out the day with a hot cup of our favourite drink.
With so many of us sipping away at home, in the office, or in a quaint little café, we became intrigued. Because we wanted to find out how other people make and drink these hot beverages, and how often they do so…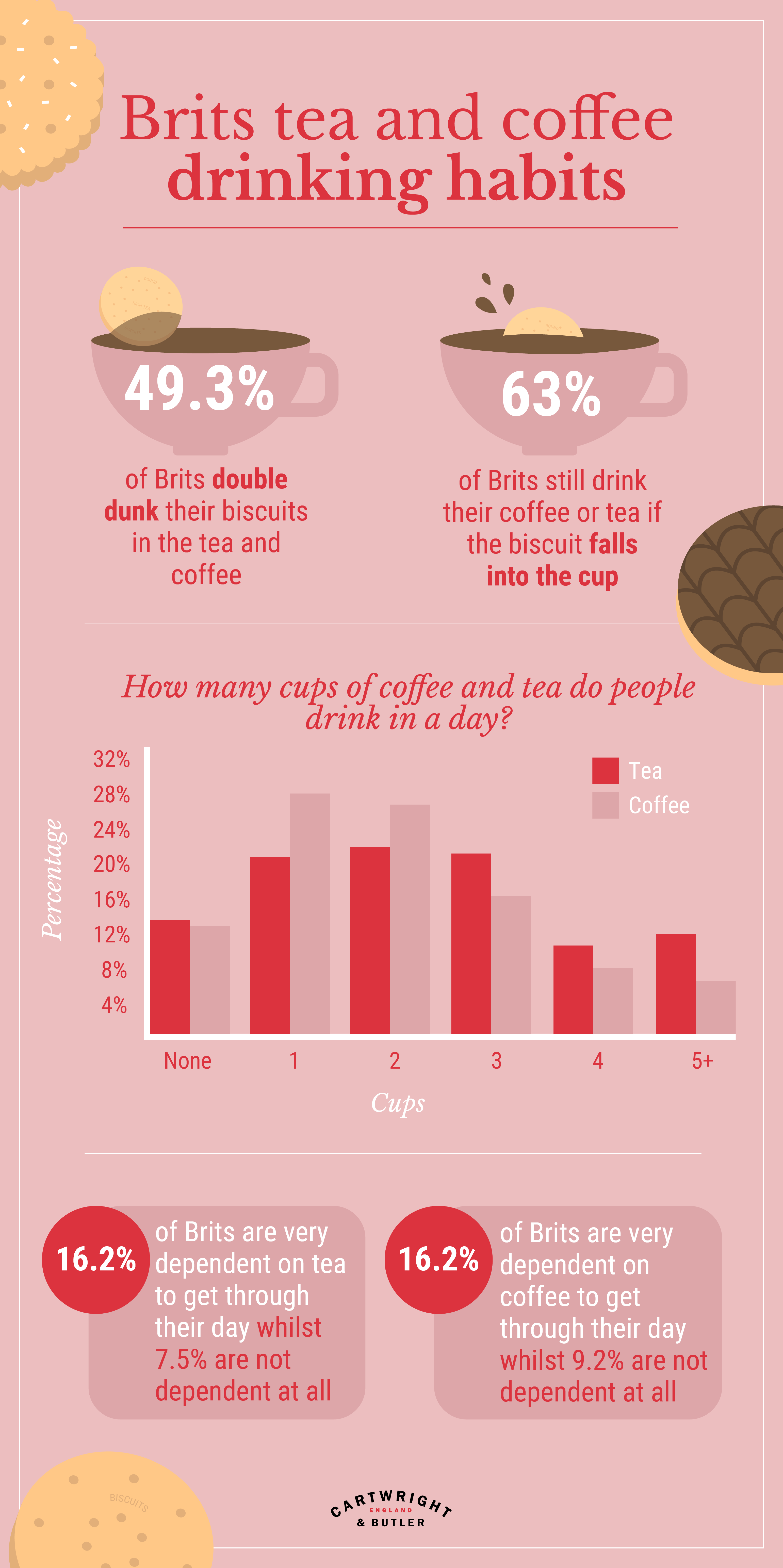 2-3 cups of tea and coffee are drunk a day
Brits are known worldwide for loving a fine cuppa, and this was proven by our findings, which revealed that on average, Brits are drinking 2.7 cups of tea a day. The same can be said for our keen love for coffee, as 2.3 cups are being sipped daily, which only differs slightly from tea.
Fascinatingly, 31% of Brits drink over three coffees a day and regard this as their daily fix, and 44% of tea lovers drink over four cuppa's a day! Seeing that the nation enjoys both in almost equal amounts shows how much we adore hot, caffeinated beverages as part of our daily routine.
41% of people can't function without tea or coffee
Drinking our favourite hot drink each day has a lot to do with our palate preferences, but Brits are clearly incentivised by the caffeine boost both coffee and tea bring. In fact, as many as 41% of respondents claimed they could not function to some degree without a hot cup of tea or coffee. And only 13% of those surveyed said they don't drink a cup of tea a day at all. So, we rely on the stuff more than we think (and for good reason)!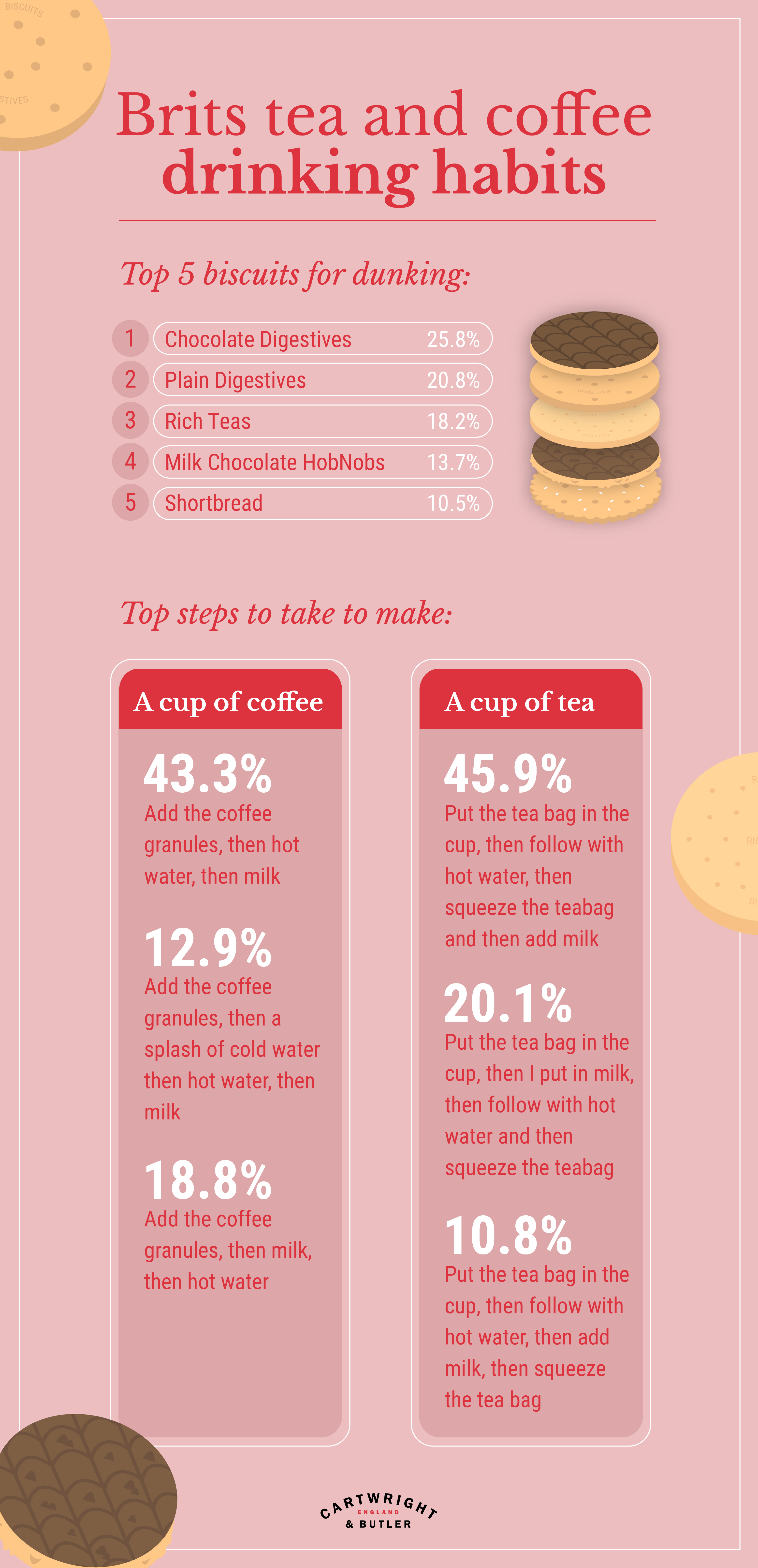 Almost half of Brits are making their tea the wrong way
We all have a specific way of making our tea, maybe you have yours with two sugars, you add the milk first or you let it brew for over five minutes. Well, it seems that almost half (44%) of Brits are making their cup of tea the wrong way entirely, according to our experts.
But how? Well, a fifth of British residents revealed their tea-making method was popping their tea bag in a cup, pouring hot kettle water on top, before squeezing the teabag. Whereas one in 10 people (11%) stated their own tea preparation was a little different, as they add hot water initially and add milk before removing the teabag.
So, what is the right way to make this popular drink? Our experts at Cartwright & Butler are here to provide a helping hand, to get the most out of your tea.
Place your teabag in the cup

Pour hot water from the kettle into the cup

Leave your tea bag to brew a while before squeezing it and removing it

Finally, add your choice of milk as well as sugar or sweeteners (if you desire).
When it comes to coffee-making, 43% of people add coffee granules to their cup first, followed by hot water and milk, which is pretty standard. Surprisingly, though, some Brits do the exact opposite, with 19% of people adding granules, milk and then hot water to have their most preferred tasting cup of Joe!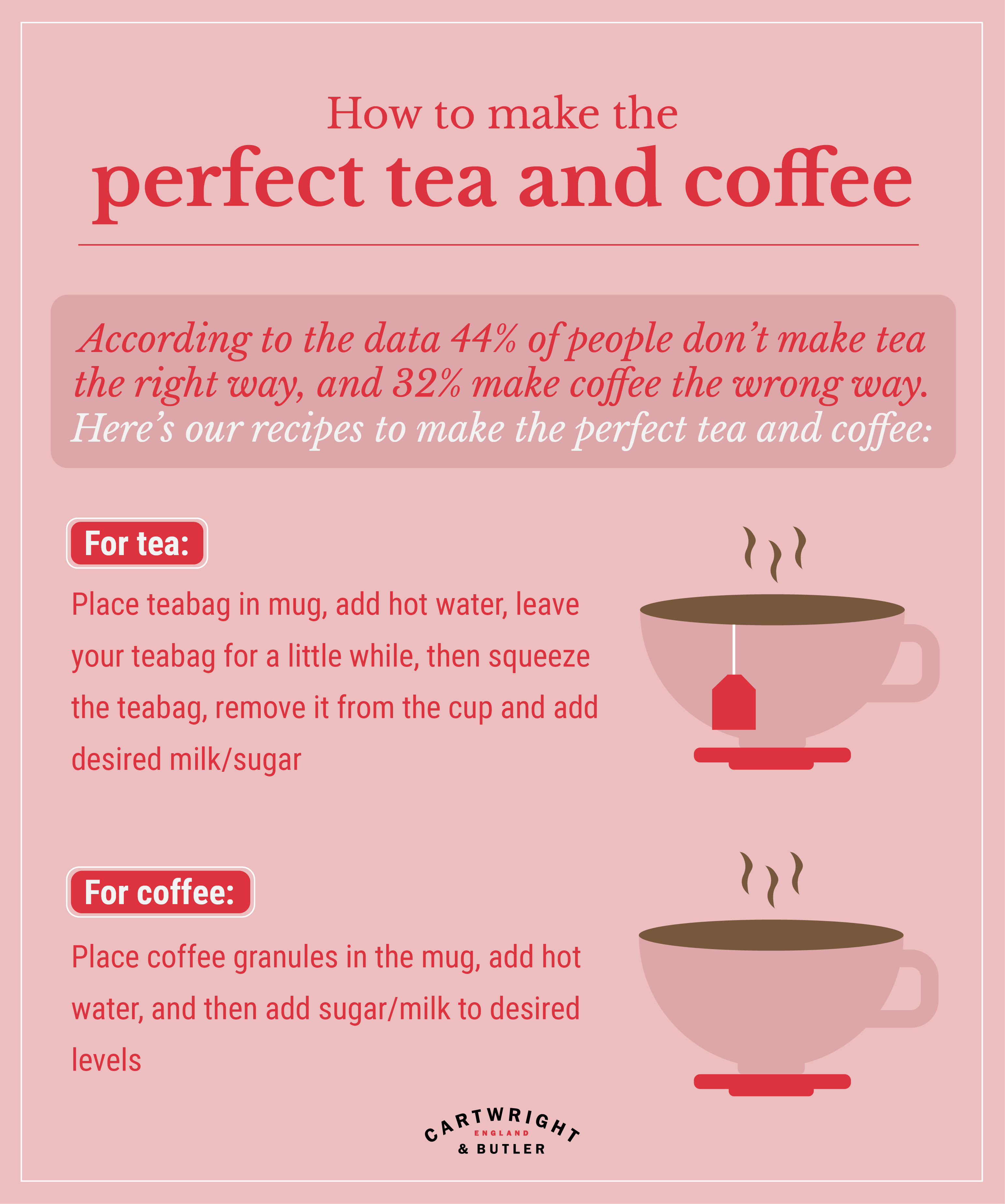 Chocolate digestives are the winning biscuit for dunking
As well as drinking our tea and coffee, we like to really enjoy this experience by pairing it with a delightful treat, most likely being a smooth, crumbly or chocolate biscuit. We wanted to explore people's dunking preferences, and if they did this yummy ritual at all.
And we found that chocolate digestives took the top spot for dunking for Brits, being the highest contender out of the top five:
It seems Sheffield residents prefer this biscuit the most out of all UK cities, with 35% of people dunking a chocolate digestive in their tea or coffee, with Cardiff (32%) and Leeds (30%) coming shortly behind. But it seems the people of Leeds choose Plain Digestives as their top dunking choice (33%), which was higher than any other city. Evidently, the North are keen on their choccie digestives.
Then again, the cities of London, Liverpool, Edinburgh, Cardiff, Birmingham and Belfast all chose the Chocolate Digestive as their ultimate favourite. It seems no matter where we live, we mostly share the same biscuit preferences.
Although, it appears Bristolians go crazy for a Ginger Nut over any other biscuit for beverage dunking (17%). And apparently dunking a biscuit and it breaking into the cup isn't an issue for people. In fact, 63% of people claimed they will still happily drink their tea up, even if the soggy biscuit is left in the bottom!

So, there you have it, everything you need to know about drinking tea and coffee, and what biscuits are accompanied by these steaming hot beverages, time and time again.
After learning a little more about Brits' drinking and dunking behaviours, you're probably itching for a cup of your favourite stuff. Peruse our finest hot beverage range, and purchase our decadent tea and coffee hampers to get a taste of the most premium hot drinks.
Meanwhile, for further insights into interesting food discoveries and statistics, such as information on The UK's Cheesiest Cities, visit our blog.
Methodology
Survey of 1,000 Brits who drink tea or coffee, commissioned by Cartwright & Butler and conducted by TLF.