The mumfluencer rich list: Instagram's highest earners
To celebrate mums and all of their brilliance this Mother's Day, we wanted to focus on the UK's Instagram mums who've drawn in mummy tribes from across the globe and made money from sharing the honesty highs and lows of being a parent.
In recent years, social media has become a platform where the celebrities we admire day-to-day are celebrated further for their amazing parenting. Many of you will look to iconic mums for guidance, baby clothing inspiration, toddler tips, and even entertainment.
With this new craze around Insta-ready mums and how much their feed can brighten up your school-run-heavy morning, we thought we'd dig a little deeper and find out which famous mothers earn the most from using social media. The results are in… so find out more.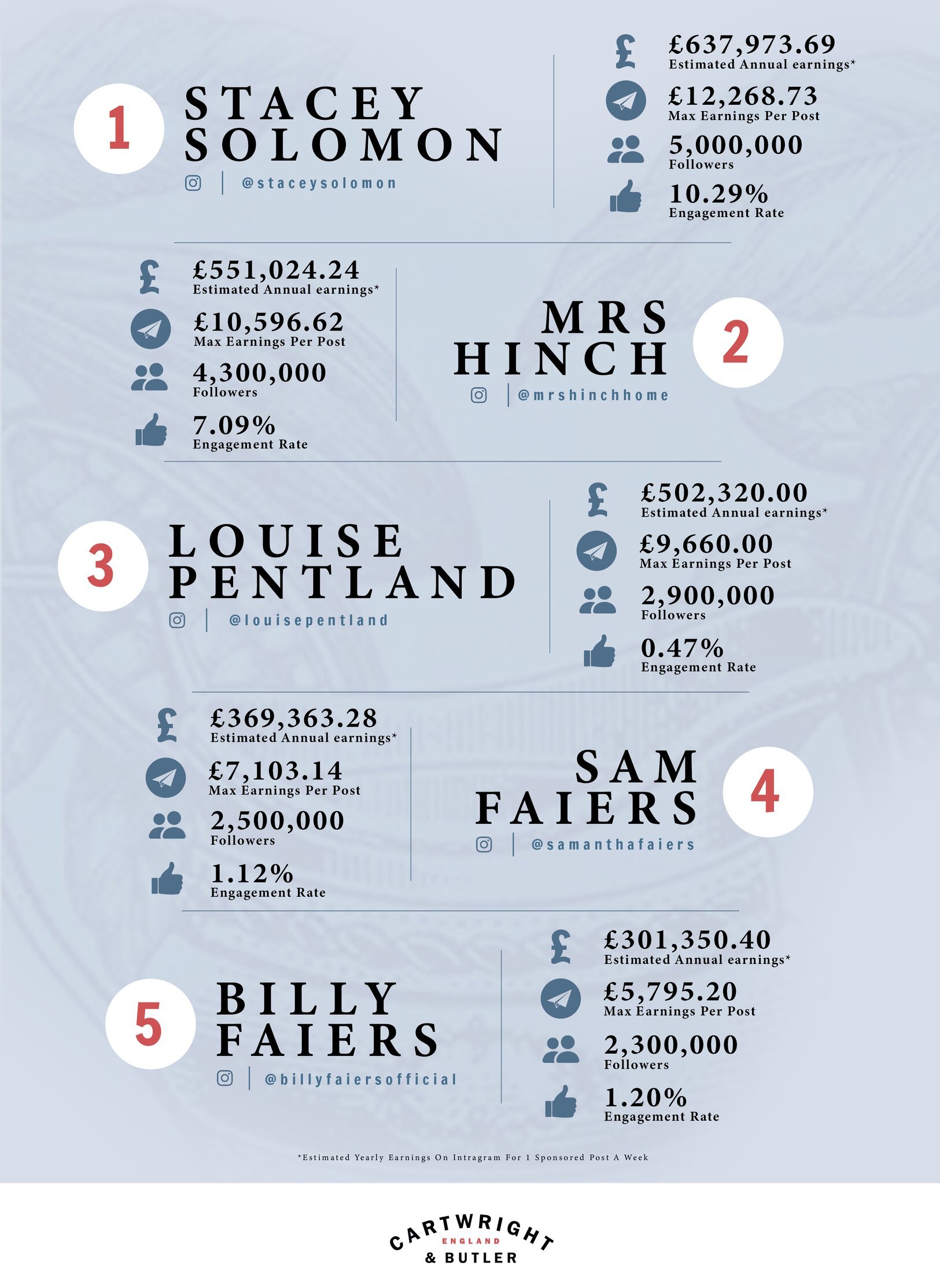 Stacey Solomon takes the crown, earning £637,973.96
It seems Stacey Solomon isn't just popular for her former singing career and current role as a Loose Women panellist, but also as the number one, go-to mumfluencer! Potentially earning a whopping £12,268.73 per Instagram post, Stacey is clearly providing insightful content on the highs (and lows) of motherhood to mums everywhere, proven by her 10.29% engagement rate!
Having over five million followers, her feed appeals to mums across the board, which comes as no surprise since her estimated yearly earnings for one sponsored Instagram post per week totals around £637,973.96!
To keep topping up her social media earnings, Stacey could easily venture out to other platforms like YouTube. After all, mums just love seeing what Stacey and her four children are up to, how she celebrates special occasions with them, and much more. So, there's certainly room for higher earnings from her in the future.
Mrs Hinch takes the second mumfluencer spot
Cleaning queen and mum-spirational mama, Sophie Hinchcliffe, is the second-highest earner, with the cost of just one of her posts coming to a maximum of £10,596.62. Despite being a mum-superstar with a warming personality, Mrs Hinch currently has 700,000 fewer followers on Instagram than top-spot Stacey Solomon and no TikTok following in comparison to Stacey's 1,600,000. These differences could be the reason Mrs Hinch's posts come out as £1672.11 less than Stacey's. Clearly then, the more people follow these mumfluencers, the higher their earnings will be.
Louise Pentland follows, earning £9,660 per Instagram post
The mum-spirational YouTube sensation, Louise Pentland, ranked third on the mumfluencer rich list, with her estimated yearly earnings on Instagram (for one sponsored post a week) racking up to £502,320.00!
Her innovative vlogs cover everything from mental health to Centre Parks trips with the little ones, and other mums are evidently resonating with this content across all platforms!
Louise has the highest following on YouTube (where her mummy stardom began), with 2,250,000 viewers tuning in to uncover what her daily life entails, and earning an estimated £835.32 per video. She may earn less on Instagram than top-mumfluencer, Stacey Solomon, but continuing her vlog and sharing it on the social media platform could place her even higher. Especially since Stacey currently doesn't have a following on YouTube at all.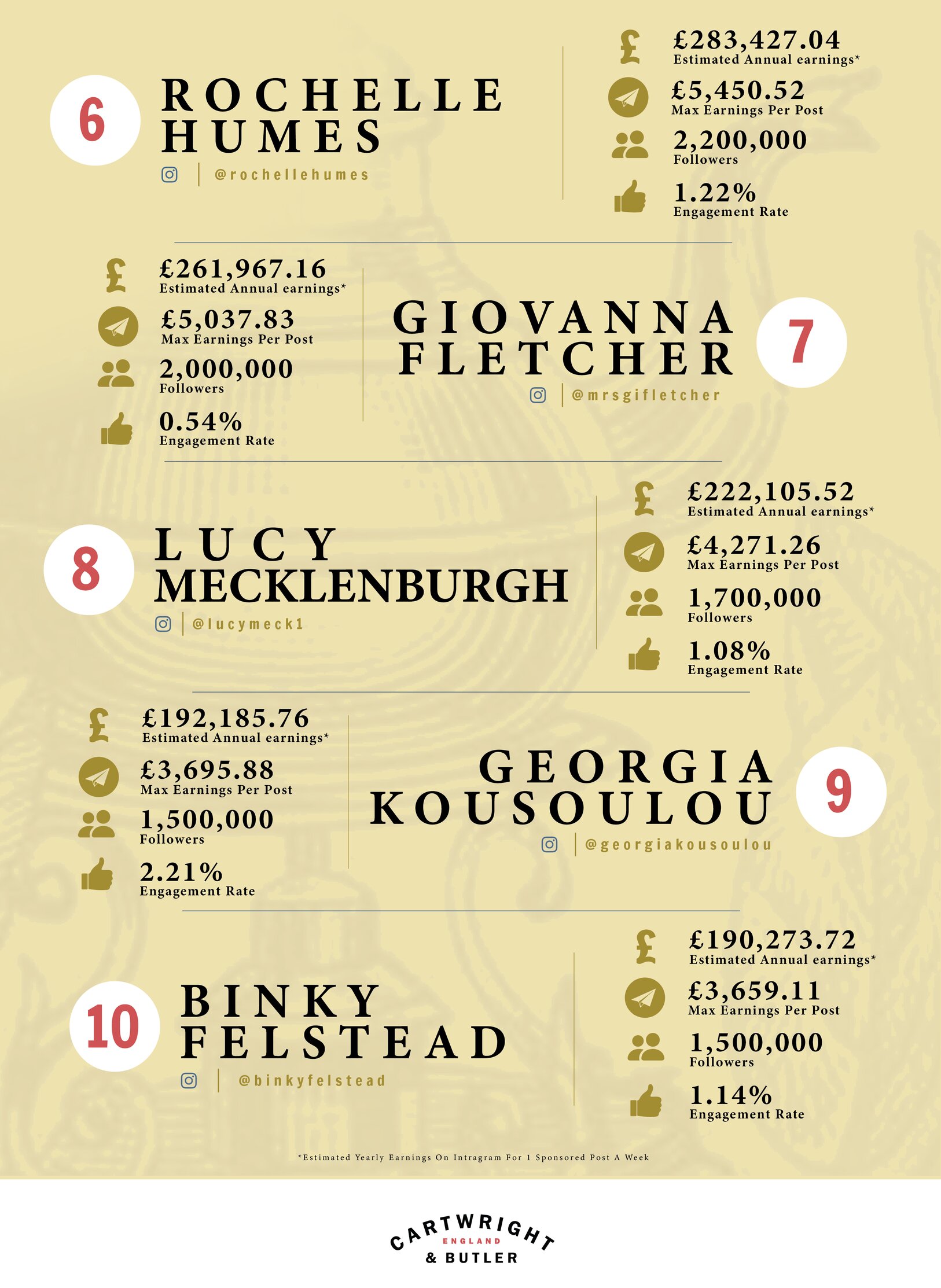 Other high-flying mumfluencers taking Instagram by storm
Sisterly stars of mum-inspired reality TV show, The Mummy Diaries, Billie and Sam Faiers, placed fourth and fifth for their earnings per Instagram post, with Billie making £1,307.94 more than her younger sister. But, like their relationship with one another, their earnings were close in comparison.
Up next in sixth place was Rochelle Humes, who receives an estimated £5,450.52 per post, with an Instagram engagement of 1.22% and 2,200,000 followers scrolling through her feed each day. And, aside from the top two leaders on the mumfluencer rich list, Rochelle was higher than every other motherhood celeb in the top 10 regarding engagement levels. So, who's to say we won't see her soar above other mumfluencers soon by further promoting her My Little Coco product range (designed for newborns, toddlers, and mums) on the likes of YouTube and TikTok?
Giovanna Fletcher wasn't far behind, earning just £1,179.26 less than Rochelle Humes, with the potential to earn £5,037.83 per Instagram post. But her 'Happy Mum, Happy Baby' YouTube podcast brings in 182,000 followers; meaning her income could easily be boosted by the help of modern video platforms like TikTok.
Following from Giovanna, in eighth place, was former TOWIE star and well-loved mum, Lucy Mecklenburgh. She's estimated to earn £222,105.52 a year for just one sponsored Instagram post a week, which is usually anything from cute holiday snaps with the family to productive pregnancy fitness tips!
The final six mum-stagrammers in the top 15 were Binky Felstead, Kate Ferdinand, Anna Saccone, Carys Whittaker, Rosie Ramsey and, last but not least, Roxanne Hoyle, best known as Ladbabymum. Ladbabymum may have come last on the leaderboard for her Instagram earnings, but she picked up the highest amount of money per video on YouTube (£894.14), when compared with other celebrity mums. So, watch this space; by integrating TikTok videos into her Instagram platform, Roxanne Hoyle could be the next number one mumfluencer in a year's time…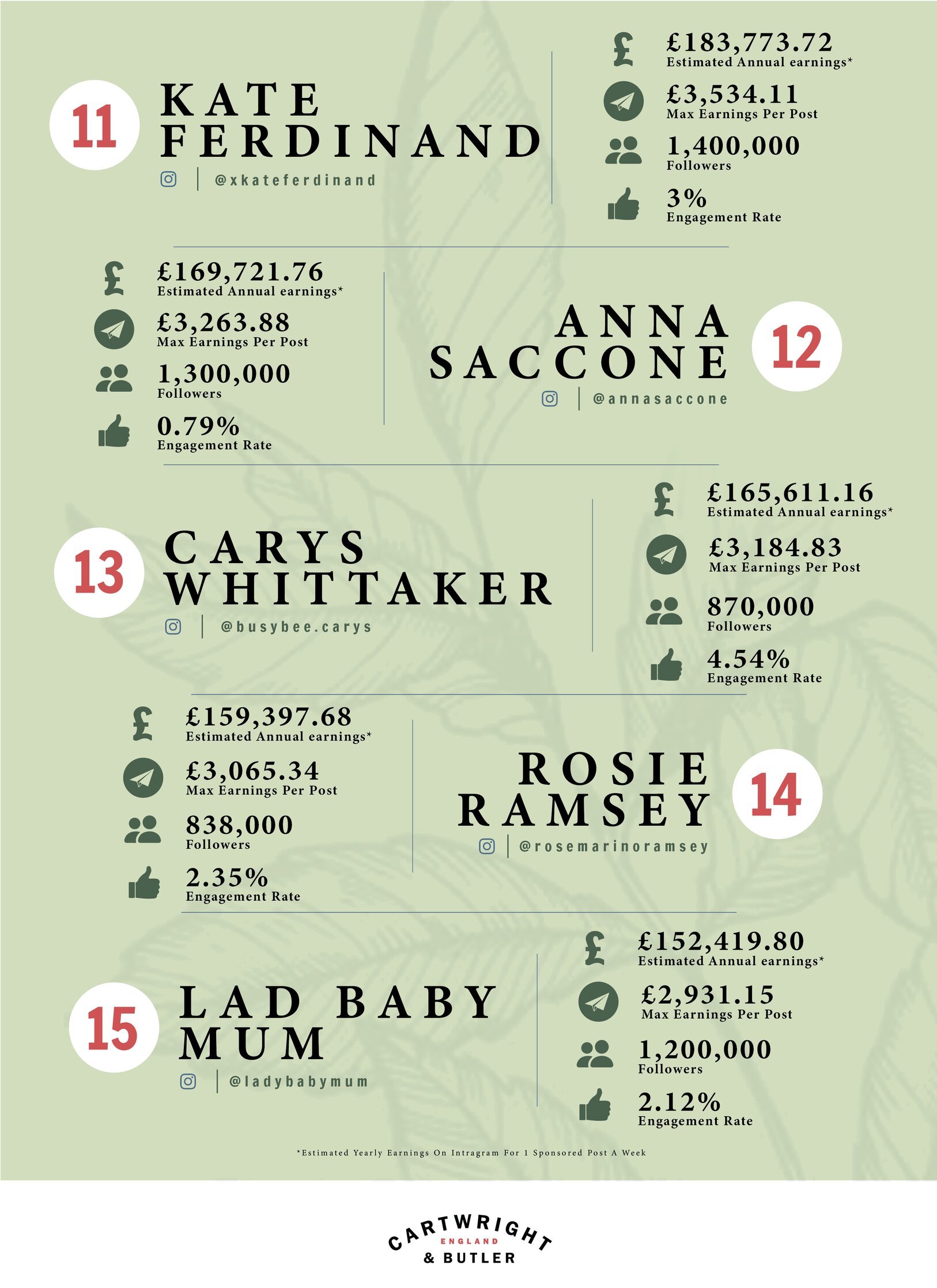 Discover more from Cartwright & Butler   
For more inspiration on lifestyle and food, visit our blog to read tips on wrapping your Mother's Day gift, amazing afternoon tea ideas and much more. And our decadent Mother's Day hampers are superb presents; each one lets your mum tuck into great goodies while you celebrate all of her brilliance!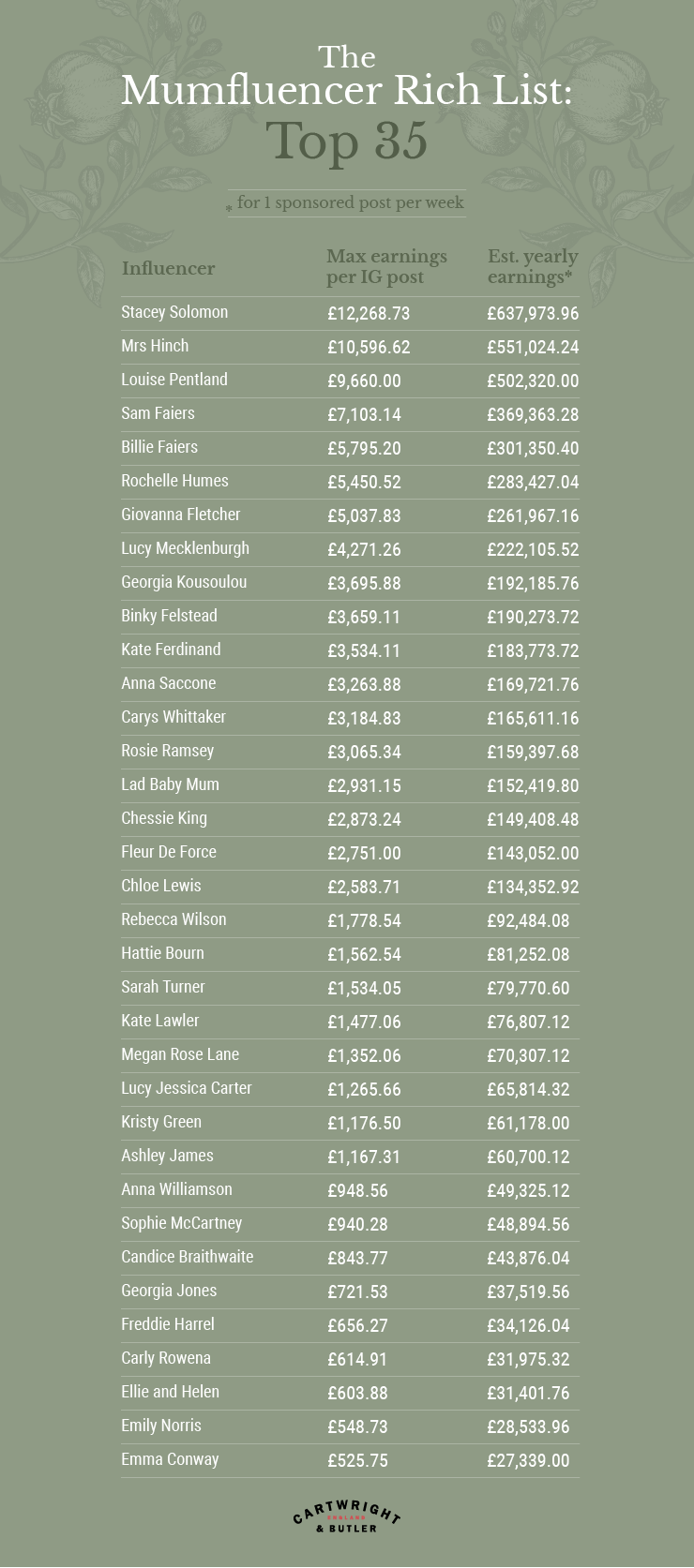 Methodology
A total of 74 mum and family-based influencers were analysed using Linkfluence data. These were selected from lists on the best mum bloggers to follow on social media. To determine which personalities are positioned to earn the most from social media, we used the influencer marketing hub money calculators* to determine how much the individuals are expected to earn, per post across Instagram, TikTok and YouTube. We also used the influencer marketing and analytics tool, HypeAuditor to generate follower and fan engagement data. With this information, we were then able to calculate the fee each could demand per sponsored post. Please note, the money figures from the tools were given in US dollars, therefore we exchanged the figures into GBP using Google. All currency figures are correct as of 11/02/2022.
*https://influencermarketinghub.com/instagram-money-calculator/
https://influencermarketinghub.com/tiktok-money-calculator/
https://influencermarketinghub.com/youtube-money-calculator/