The perfect wine and cheese pairings revealed
There's nothing quite like arranging a night in with your closest friends to enjoy a good helping of wine and cheese. Often, though, as much as you love a good cheeseboard, you might not actually know how to pair wine and cheese together to bring out both of these glorious items' flavours.
Not to worry; we've created this insightful guide to talk you through everything to look out for when it comes to cheese and wine pairings. Whether you're a fan of a rich bottle of red or a crisp white, and you love nearly every cheese going, we've got a combination to perfectly please your palate.  
So, listen up as we reveal the best cheese and wine pairings out there – you'll be an expert in no time!
How to pair wine and cheese
You're not alone if you have no clue what the best wine and cheese pairings are. After all, there are so many cheeses on the market, and delicious wines to choose from. But where to start? Well, we'd generally recommend choosing cheese and wine combinations that are equally as intense, which you can determine by the wine's ABV (Alcohol By Volume).
Generally speaking, wines that are over 14.5% ABV tend to be more intense and taste much better with rich and strong-tasting cheeses, such as brie or stilton. Whereas those that are a little less intense - under 12% ABV - meld perfectly with more delicate cheeses. These are the cheeses we all know and love, that bring a touch of flavour but without being overpowering, such as cheddar or brie. Then, you'll just need to choose your favourite wine – or maybe even try a new one, and start your cheese pairing journey.
White wine and cheese combinations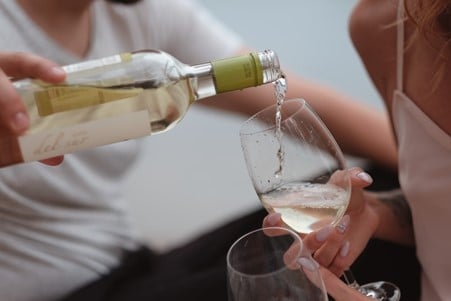 Wondering how to pair wine and cheese with a crisp white wine? For those of you who enjoy every flavour of this tipple, there are plenty of cheeses that will pair well with a glass as you unwind on an evening. Take Sauvignon Blanc – this is a really popular light white wine, which pairs beautifully with gorgeous gouda cheese. This is because the acidity from the wine itself really balances out the flavours of this rich, buttery cheese – so it's a match made in heaven! The same goes for muenster and brick cheeses.
One cheese that goes really well with this style of wine, which might well take you by surprise, is goat cheese. As we all know, goat cheese is a richer, stronger and more fragrant style of cheese. And so sipping on a French Sauvignon Blanc really helps to cut through the intensity while bringing out some yummy flavours from the beverage itself.
If you adore a wine with a little fizz - maybe even a good bottle of chardonnay - then there are plenty of cheeses to enjoy alongside this dreamy drink. If you and your friends are planning a cosy night in with a cheeseboard, alongside a fine glass of chardonnay, an aged gruyere or a gouda should certainly be featured on the wooden plaque. Pop a gooey camembert in the oven, with a good helping of crusty bread and let the flavours of this drink and the soft texture of the cheese completely awaken your tastebuds. Cheese pairings with wine don't get much better than these!
Red wine and cheese pairings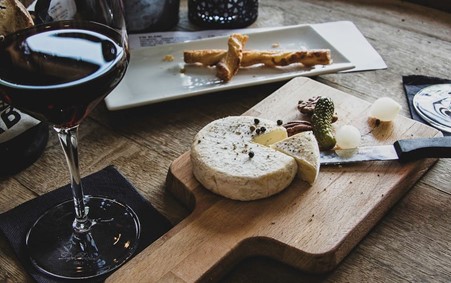 Are you a lover of a fine red? Well, you're in luck because there are oodles of wine and cheese pairings available to tuck into. When it comes to gorging on cheese alongside red wine, the high tannins featured in the drink itself mean the rich taste of the cheese is heightened. Why? Because when cheese ages, its water content is reduced which then makes the cheese itself even stronger – because of its enhanced fat content. And this pairs perfectly with the red wine of your choosing, which is pretty swell.
But when it comes to cheese and wine combinations, which cheeses are best to pair with red wine?
A creamy cheddar

Manchego cheese

A gorgeous gouda

A parmesan cheese like Parmigiano-Reggiano

A sweet yet salty gruyere.
If you're a huge fan of a mouth-watering merlot, this exquisite style of red wine pairs wonderfully with a good gorgonzola, brie and crackers or gouda. Not to mention, you can enjoy a sprinkling of parmesan as you wash down a brilliant bottle of the stuff for tantalising results!
Another great wine and cheese combination is a punchy pinot noir and gruyere cheese. Because the slightly salty and sweet flavours from this marvellous cheese pairs really well with the juicy, fruity flavours of the berries which make pinot noir so fantastic to drink. This tipple and the cheese work in harmony to bring flavoursome results, without either overpowering the other.
Uncover our brilliant cheese and wine combinations
Now it's time to get your shopping list ready. Or, you could let us do all the work for you by purchasing one of our cheese hampers, all equipped and ready for your swish night in with your loved ones. This means you're all set for the evening – so it's a no brainer really.
This glorious bundle brings you creamy Godminster Vintage Organic Cheddar Cheese to pair with a brilliant bottle of Cielo del Sur Merlot Red Wine from Chile, alongside a host of other decadent goodies for a night everyone will remember. Our remarkable range of cheeseboards are also the perfect accompaniment to your ritzy evening in. So, show your guests you know what you're talking about with your tasty selection of different cheeses. 
And remember to explore our blog in full for food further inspiration. You can even read similar articles on dreamy dishes and alternative pairing ideas, like our food and beer pairing guide – perfect