The ultimate beer and food pairing guide
Wanting to learn how to pair beer with food? We take you through the greatest beer food pairings in this guide, so you can taste the true heights of each flavour.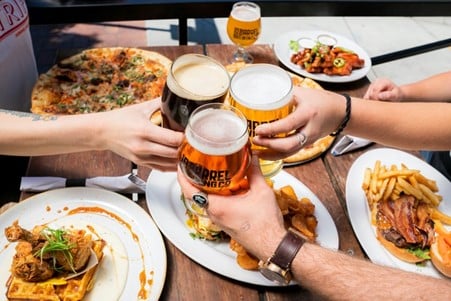 Beer is a wonderful beverage for all to enjoy, but did you know it pairs perfectly with some of your favourite dishes and snacks? Or, perhaps you're well aware, but unsure which type goes with which meal?
Not to worry; as you would expect, we know a thing or two about food and how to please your palate. So, to help you out, we've listed the different types of beer and how to pair them correctly with different types of food. You'll be an expert on beer food pairings (and will be trying each one out) in no time!
First thing's first, there are no rules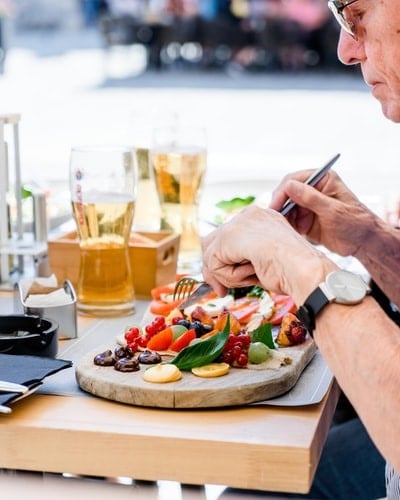 When you're wondering how to pair beer with food, it's important to remember that although these beverages have different flavours and notes, from citrus to aromatic, each one can taste different to every person. While you may think an IPA taste's highly citrussy, your friends may think otherwise.
We do have different taste buds after all, so the level in which we experience different flavours is, naturally, to be expected. However, the varying styles of beers on the market provide many tempting foods for you to enjoy with a prime pint…
Choose beer food pairings by style
You'll be well aware that beer is a delicious drink, but its name is such a broad term. And there are so many different styles of these hoppy delights. Whether you're hoping to enjoy a robust bottle with a fine meal or crack open a can to enjoy with some snacks while watching TV, once you know the best beer food pairings you'll never look back.
So, which food and beer pairings work well together? We've listed the six most popular beer styles and what dishes (and snacks) are ideal with these budding brews. You'll be clued-up like a craft connoisseur in no time. Your palate will be absolutely enthused!
1. IPAs (India Pale Ales)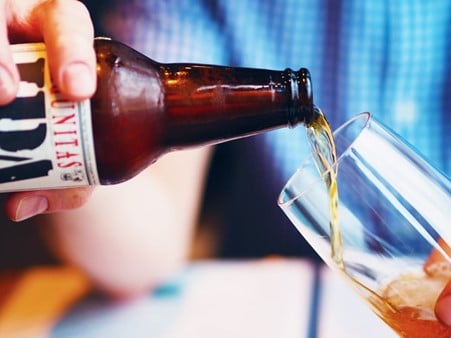 An IPA typically cleanses the palate, so you'll find this brew brings out the flavours of your favourite meals. Luckily, this popular beer style can be paired with an array of decadent dishes. But which everyday dinners are tastier with an IPA?
Simply pair an IPA with foods like:
An aromatic Thai green curry

Mexican dishes, such as tacos

Oily fish: think mackerel or sumptuous salmon

Steak is a great accompaniment with a fine IPA

Juicy burgers; this food melds well with the hoppy flavour of a great IPA

Roasted quail – the fatty texture counteracts the hoppy bitterness wonderfully.
2. Wheat beer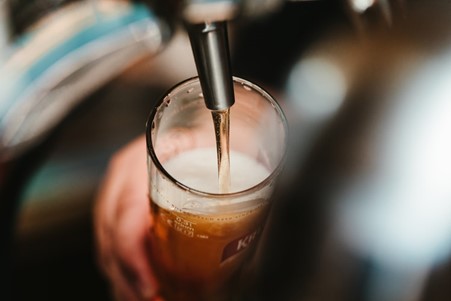 Wheat beers are light, smooth and versatile beverages, brimming with citrus or other fruits to create a truly flavoursome brew. Compared to other beers, they are lightly carbonated, which makes them totally adaptable when it comes to food pairings. If you're one to enjoy a whole host of dishes, you'll particularly enjoy this beverage because its tastes are less secluded.
So, which delights are best enjoyed with a wheat beer?
Indian food – sip your tipple with a mild curry (like a Korma)

Fruit-filled and fruit flavoured desserts, such as banana pudding

Fresh sushi

Buffalo wings bring out a wheat beer's citrusy notes

To achieve contrasting tastes, add spicy Thai noodle dishes into the mix

Light soups.
There are certainly plenty of different meals to plate up alongside your wheat beer over dinner with friends. And they'll be majorly impressed by your knowledge when you serve them their trusty tipple with the finest foods to go alongside it.
3. Stout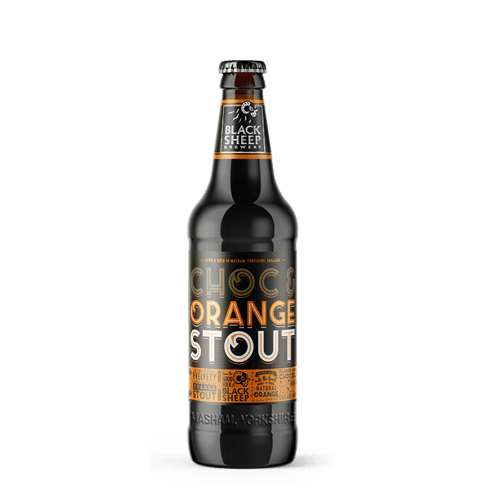 Stouts are usually deep and dark top-fermented tipples, with a nice dry finish to match – which is typical of Irish stouts in particular. When you're considering fabulous food pairings with beers like this one, think of rich, flavoursome dishes, such as:
Rich, chocolatey desserts, like mousse or gooey chocolate brownies

Flavour-packed Mexican food

Shellfish - fresh oysters are a typical beer and food pairing, especially if you're drinking Guinness!
And an imperial milk stout mixed with creamy vanilla ice cream is a wonderful beverage to consume. It's much like a fizzy coke float, but with decadent stout as your main flavour instead. Beer with food pairings never sounded better!
4. Porter
This 18th century-style English beer contains top-fermenting ale yeasts and plenty of hops, too. A glass of porter is packed with toasty and chocolatey flavours, much like a stout, which means rich dishes are best enjoyed with this tremendous tipple.
For tasty porter beer and food combinations, try:
BBQ ribs: the smokiness complements the beer tremendously

Steak and stilton pie – the tart cheese flavour brings out the brew's true flavour

Venison or beef stew

Dark chocolate desserts – the rich cocoa taste comes to life when paired with a porter.
And if you're looking oping for blissful beer and cheese pairings, consume stilton with this style of beer for a real taste sensation (much like the pie we mentioned earlier)!
5. Pale lager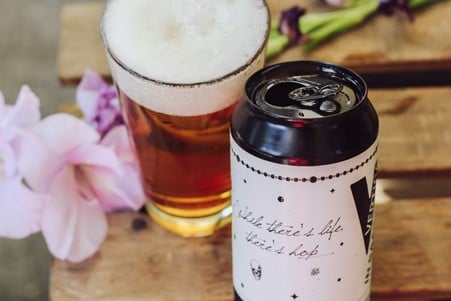 What's wonderful about pale lagers is they're pretty versatile; the flavours packed into this brew allow you to eat really rich or really light dishes. It's a highly carbonated beverage, which means it's ideal with spicy foods because it's so refreshing to taste.
To heighten your tastebuds, try the following foods alongside your pint of pale lager:
Simple salads – the light flavour complements the lager well

Spicier foods, such as chilli

Herby chicken dishes bring light flavours to your palate

Brie works beautifully with pale lager

Olives are a good match when drinking this beer

Sushi.
6. Amber ale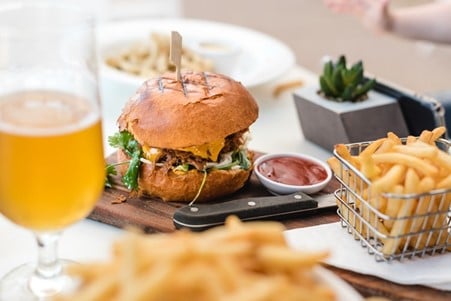 Amber ale is typically packed full of malty flavours, with plenty of hops and has a light to medium body. This means it can pair perfectly with a whole host of foods, especially those with tomatoes. Why? Because the tangy acidity of the tomato in any dish is seamlessly balanced out by the sublime sweetness of the malt.
Amber ales can be paired with the likes of:
Rich and creamy risotto; the flavour of the grains balances well with the hops

Pepperoni pizza – because of the pizzas malty base

Grilled meats like chicken, sausages and burgers

Grilled seafood brings out the caramel notes of this beverage

Tomato-based dishes like moussaka and spaghetti bolognaise.
Pair beer with food: The Cartwright & Butler range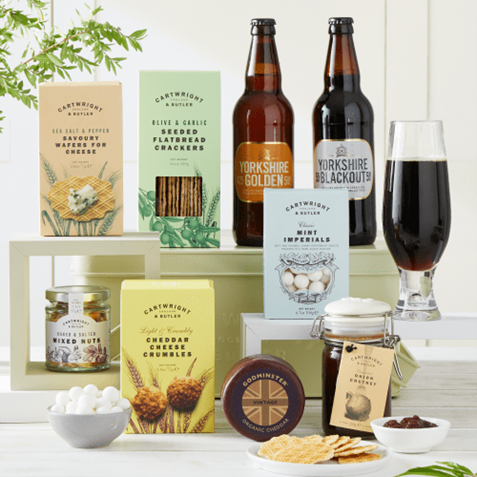 Now it's time to put your new knowledge to the test and guzzle down your favourite beers with your favourite goodies. We have a whole range of beer gifts for you to enjoy, to try out these amazing beer food pairings. Indulge in the likes of our decadent cheese hampers to enjoy with a bottle, or if you have a sweeter tooth, try one of our chocolate based beer hampers which is sure to please.
And you can discover more food-related articles just like this one on our helpful blog. Check it out to learn more about different delights and dishes you can savour.