Tips and ideas for decorating a Christmas cake
With Christmas coming up, there's always someone in the family who goes wild for a Christmas cake. But thinking of new Christmas cake decorations each year can be a little challenging as you'll want to create a masterpiece to show off to your friends and family!
Thankfully, we've conjured up five easy (yet impressive) Christmas cake decoration ideas for you to try at home. You'll certainly impress your dinner guests with these excellent methods and crafty embellishments…
A three tree Christmas cake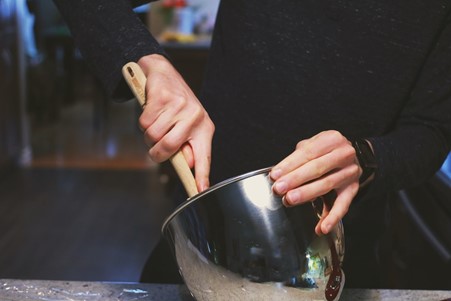 A three tree Christmas cake brings that classic festive feel and is a great idea if you have little ones in the family. Because you could turn this into a fun activity for them to enjoy, or just let them dig in when it's all decorated. Decorating a Christmas cake has never been more fun!
What you'll need to make a three tree Christmas cake:
Christmas tree cookie cutters

675g marzipan

100g green sugar paste

Yellow sugar paste

Coloured dragees (edible pearls)

675g sugar paste

A star cutter

A sleek ribbon to wrap around.
Just follow this easy recipe to decorate to your heart's content:
To decorate your Christmas cake, simply roll out the marzipan on a wooden chopping board and transfer it onto your cake

Then, finish the marzipan with a layer of sugar paste

Next, make your Christmas trees by kneading the yellow sugar paste; ensure it's softened and roll it out

Now, cut out three stars – which will be used as toppers for your Christmas trees

To cut out the decorative Christmas trees, roll out the green sugar paste and use your designated cutter to make your shapes. Remove the excess sugar paste, placing this to one side

Use a soft brush and glaze the Christmas trees with water on the spots where you'll be placing your 'baubles' (sugar pearls)

Grab a bowl and use the green sugar paste. Then, mix it with water to make a glue to affix your trees onto the top of the cake

Wrap your ribbon around your cake and wallah – you've decorated your tree-inspired winter cake!
Christmas cake decorations can be both easy and creative, which is exactly what this design portrays. Remember to take a picture of the final product before you and your loved one's tuck in!
A snowflake Christmas cake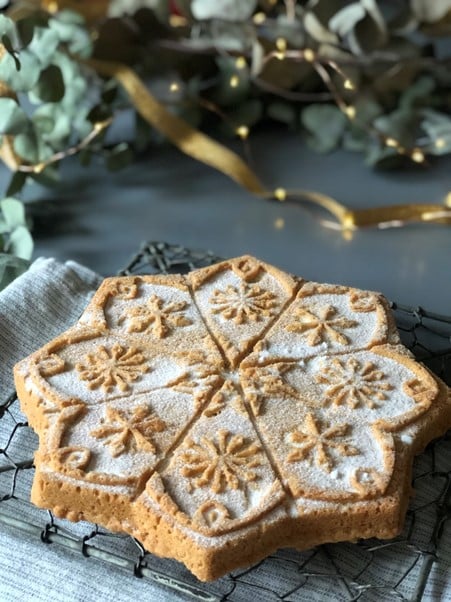 Luxury Christmas cake decorations don't get much better than this one. It's a fairly simple idea, but one that really brings your sticky delight to life. It adds that premium look to what feels like a boring cake when you initially take it out of the oven. It also brings an original take on a Christmas cake, as you'll be cutting it into slices and decorating each one. This means you can present deliciously sweet, light-bites for your guests, or your friends and family, in smaller bites – perfect!
To make this design, you'll require the following:
2kg pack of marzipan

2 x 500g packs of blue, ready-to-roll fondant icing

2 x 500g packs of white ready-to-roll fondant icing

1 tablespoon of apricot jam

Snowflake cutters

Ribbon.
Then, follow these steps to start icing!
After you've made your cake and let it cool down, cut it into smaller cakes that are roughly the same size

Open your apricot jam and add it to a small bowl with one teaspoon of water and brush each cake with this mixture

Cover each cake with marzipan, ensuring that each of the sides is trimmed and smoothed down. And discard of the extra marzipan later

Use a rolling pin to roll out the blue fondant icing and cover each cake with this

Roll out the white fondant icing to make the snowflakes, and use your cutters to make the shapes (and trim the edges of any excess icing)

Use your apricot jam and water mix, brush it on the blue fondant icing where you want the snowflakes to sit and place each one on your pieces of cake

Then, place your ribbon around the side of your cake and get ready to tuck in!
See, icing a Christmas cake with fondant icing isn't as hard as you'd expect. You'll be an icing expert in no time, all ready for cake decorating for the new year ahead.
A golden star sparkle Christmas cake
For further fondant Christmas cake ideas, this one is a real winner. A golden star cake looks decadent, it's an easy look to achieve and you'll be bursting with pride when you see the results!
The ingredients for this fabulous decoration include:
750g of white, ready-to-roll fondant icing

750g of golden/yellow marzipan

5 tablespoons of apricot jam

30g pack of small, gold edible pearls

Three small and large star cutters (with five points on each).
Start decorating by following this marvellous method:
Add the apricot jam and a couple of tablespoons of water to make a mixture; this will help stick your decorations to the fondant and glaze the icing

Roll out the marzipan, cover the cake with it (and ensure you trim the edges). Then, brush the sides with the apricot and water mixture

Add the white ready-to-roll icing as your base and again, trim any excess icing

Next, use your large star cutters to make decorative marks in the centre of the Christmas cake and carefully pull it out of the cake's fondant icing, using the tip of a knife to help

Stamp your smaller cutters around your central larger stars and remove

Fill the spaces made from your cutters with the gold edible pearls, filling the star cut-out to ensure no cake is showing

Add a ribbon as an extra touch, wrapping it around the sides of the cake.
Now you're done, place it in the centre of your dinner table to show it off!
Traditional Christmas cake decorations: Dried fruit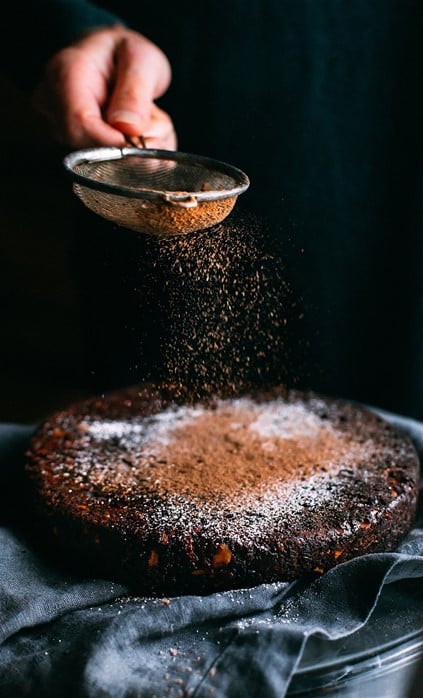 If you're wondering how to decorate a fruit cake with the traditional design this Christmas, this idea is going to work wonders for you.
As well as fondant icing being a popular choice when decorating a Christmas cake, many of you may like the "simple yet effective" look of a syrupy, candied-fruit cake topping. This is also a great idea for those of you who don't eat dairy, as it's entirely dairy-free.
You'll just need the below ingredients to begin:
2 tablespoons of apricot jam

Glace cherries

Pecan halves

Walnut halves

Whole almonds
To make this classic-looking Christmas cake, simply:
Melt two tablespoons of apricot jam in a pan until liquidised and brush this over the top of the cake

Using the sticky apricot jam as glue, you can begin decorating by adding the glace cherries and nuts to the cake

Place the cherries on the centre of the cake and leave gaps in between each. Then, place the walnut halves in each of these spaces

Line the outer ring of your cake with your pecan halves and whole almonds, working them into the centre

Brush the rest of your apricot jam over the top of the cherries and nuts to add that traditional, shiny glaze.
Remember that with this decoration, you can make it totally unique by assorting the nuts and cherries; placing them wherever you see fit. The design is completely down to you…
A snowy sparkle Christmas cake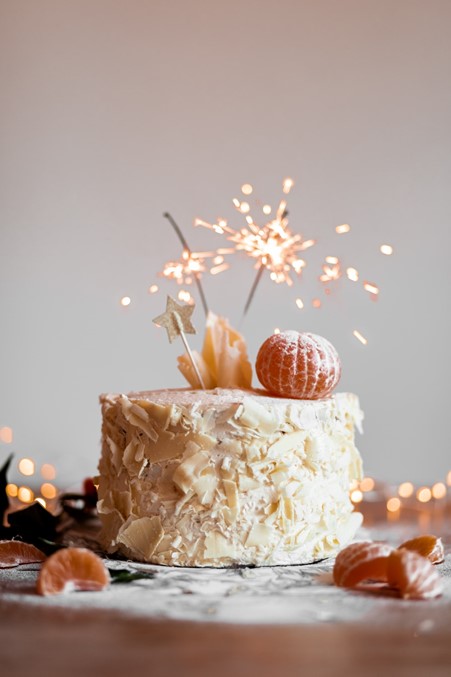 At Christmas we expect snow, but we don't always see it fall. So, why not bring it to your cake design instead, to mark the joys of winter and add a festive-looking cake to your dinner table? You'll truly wow the crowd with this snow-inspired fruit cake, and it's pretty easy to achieve, too.
Ingredients for this Christmas cake include:
100g preserving sugar

400g white sugar cubes

3 tablespoons of shiny dragees (edible pearls)

Edible silver/sparkly glitter

1 whisked egg white.
To decorate, you'll need to…
Put the sugar cubes in a bowl and crush each one using the end of a rolling pin (or anything you see fit if you don't own one)

Add the preserved sugar to the bowl, alongside the whisked egg white and edible pearls and mix them together with a wooden spoon. To achieve the right texture, ensure the mixture resembles wet sand

Pour the sugary mixture onto the top of the cake and completely level the surface with a palette knife

Pop the cake in the oven to bake for five minutes; this will set the sugar and add texture to it, to resemble snow

Take the cake out of the oven and wait for it to cool

Now, sprinkle the edible glitter on top of the cake and more of the edible pearls, should you want to.
This cake will look truly premium. In fact, some of your guests may be cautious to eat it, because the design will look so seamless!
Start designing your Christmas cake…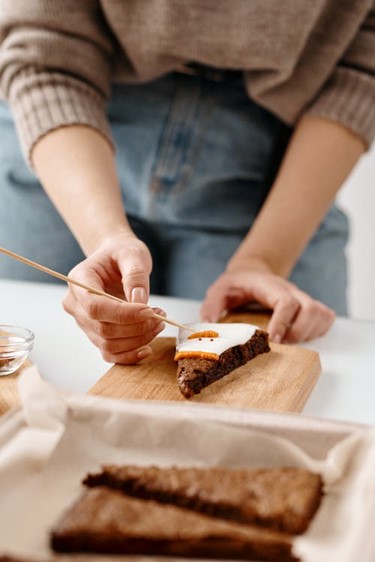 If you're ready to make your own dreamy-looking dessert on the 25th and ice it to perfection, use our above ideas for decorating Christmas cakes. Go ahead and create a work of art to show off to your closest companions. Or head over to our blog to find more wonderfully festive food ideas and Xmas-inspired articles.
Perhaps you're thinking of buying a Christmas cake for a loved one you won't manage to see this festive season? In which case, our mouth-watering Christmas cakes will make the brilliant Yuletide present this year. Or, explore our yummy range of mince pies for those who love nibbling on one with a cup of tea. Not forgetting our selection of luxury Christmas puddings which will truly turn heads, just pick one to suit your lucky recipient's favourite tastes, or for a full festive feast, take a look at our range of hampers for Christmas!