The best non-alcoholic Christmas drinks to make
Christmas is a merry time, filled with thrilling reunions with the people you don't always get to see throughout the year. You'll likely be planning some evenings together, and to meet up for a delicious dinner. But if you don't drink, you're the designated driver of the group or you've just stopped drinking this year, you might want to invite your chums over for nibbles and tasty tipples without the added alcohol.
Of course, there are plenty of non-alcoholic Christmas drinks out there for you to sip and serve, but you might be looking for a more exciting beverage than a simple soft drink this holiday season. That's where we can help; we've rounded up five of the best Christmas mocktails for you to make in the comfort of your own home. So, read on to discover the finest drinks for you to make and relish this festive season.
Peppermint and white chocolate martini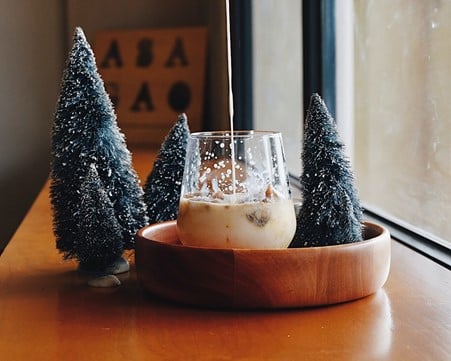 When we think of Christmas food and drinks we imagine sweet-tasting mince pies, a box of Quality Street and peppered candy canes. And this leads us to this delicious, rich and minty mocktail: the peppermint and white chocolate martini. We're not afraid to say that this is one of the best Christmas mocktails, as the combination of chocolate and mint is reminiscent of the festive period. And what's better is, you can drink it all up!
To make this drink, you'll need to buy the following ingredients:
White chocolate syrup

Peppermints (crushed) to garnish

85g of white hot chocolate

57g of peppermint mocha coffee creamer

Ice cubes.
To make one of these cheery Christmas cocktails, simply:
Grab a cocktail shaker and fill it with ice

Pour in the white hot chocolate granules and coffee creamer

Shake the mixture well and pour it into the pre-prepared glass immediately

Chill your martini glass in the fridge and once it is cold, dip the edges in the white chocolate syrup for when your cocktail mixture is ready to serve

Sprinkle the crushed peppermint onto the edges of your glass. Then, sip on this festive drink to your heart's content!
Tangy ginger non-alcoholic Christmas punch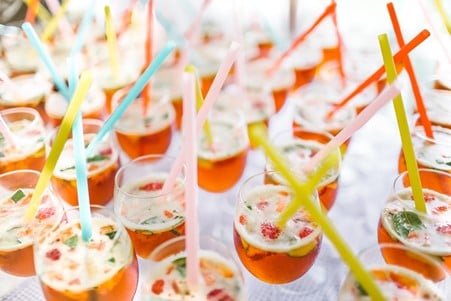 Maybe you adore a good non-alcoholic punch when you invite your friends over for the evening? In which case, this gorgeous ginger-filled, non-alcoholic Christmas punch can be your drink of choice over the festive period.
Make this for your greatest friends, long-distance family members or even just for you and your partner as you indulge in a jolly Christmas film.
You'll just need the following ingredients to make this luscious non-alcoholic Christmas punch:
275ml of ginger ale

2 lemons (one for the juice, the other sliced)

2 sliced pears

2 tablespoons of caster sugar

400ml of white grape juice

500ml of sparkling water

1 tablespoon of mixed spice

Ice cubes

Pomegranate seeds

Rosemary sprigs.
 To make this delicious concoction, simply:
Place the lemon and pear slices, alongside the mixed spice and sugar, in a large glass bowl (or even a jug)

Leave the mixture to chill for one hour to infuse the flavours

Pour in the white grape and lemon juice and add the sugar until it's dissolved

Next, add the sparkling water and ginger ale, along with a couple of handfuls of ice

Mix everything together with a large spoon  

Take your fruity pomegranate seeds and sprinkle them over the drink mixture, before adding your rosemary sprigs to garnish

Simply grab glasses out of your cupboard, then pour and serve.
A passionfruit porn star martini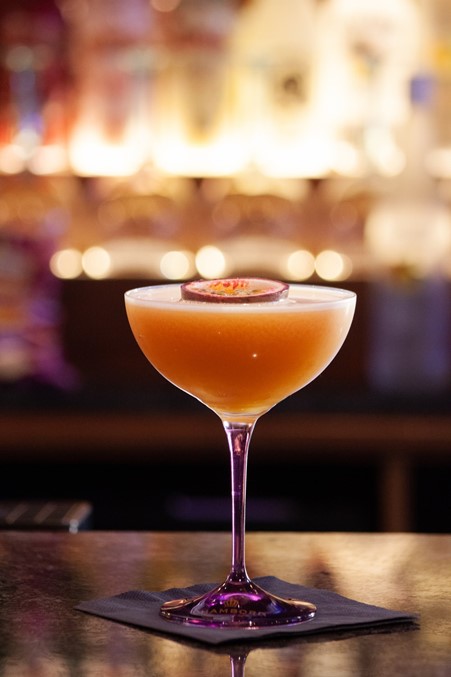 Passionfruit drinks of any kind are simply delicious. They're always bursting with fruity tastes and for this reason, you don't need to make a traditional pornstar martini to enjoy this rich fruit.
This is one of the best Christmas mocktails out there because it's simple to make and packed with flavour. You really can't go wrong creating this drink to sup with your favourite people!
All you'll need ingredients-wise is:
1 passion fruit for the mixture, ½ a passion fruit to garnish

A few drops of vanilla extract

15ml of lime juice

15ml of passion fruit syrup

Ice cubes.
To make these marvellous non-alcoholic Christmas cocktails, follow this simple method:
Slice open your passion fruit with a sharp knife

Scoop out all of the seeds from the passionfruit's pulp and add this, the syrup and the ice cubes to your cocktail shaker

Shake your tasty mixture well for a good minute or so

Strain the mocktail into your martini glass, or a gin glass if you don't have one

Finish this drink off by adding the saved half of your passion fruit to garnish and sip up!
A merry mojito mocktail

A merry (virgin) mojito is the perfect tipple to enjoy near, on and during the days after Christmas Day. Matching the green colours prevalent at Christmas, this drink is fun, festive and flavoursome and will make heads turn when you serve it up in a crystal glass.
The refreshing taste of this mocktail is a true treat, especially for those of you who love mint added to your beverages. It's an easy one to make, too. And this makes drinking it even more enjoyable because it doesn't involve buying too many ingredients or spending long lengths of time perfecting it…
Buy in the following ingredients to make a couple of these mojito-inspired, non-alcoholic Christmas drinks:
6 mint leaves (and a couple more to garnish)

3-4 tablespoons of apple juice

1 lime, sliced into wedges

Sparkling water

1 tablespoon of caster sugar

A dash of almond extract.
To make this merry Mojito, follow this method:
Place your lime wedges in a glass and use the end of a rolling pin to juice the lime wedges

Pop the mint into the glass and muddle this with the lime

Add the ice to your glass of choice and pour in the fruit juice, alongside the almond extract

Stir the drink mixture together and top it up with sparkling water

Lastly, add the extra mint leaves to garnish and savour this brilliant-tasting drink.
A Christmas citrus fizz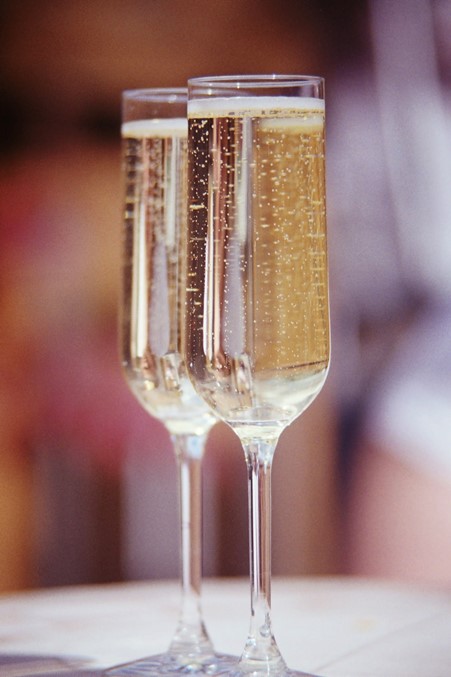 This is one of the greatest Christmas mocktails recipes out there because it's like a booze-free Buck's Fizz. Instead of sparkling wine featuring as the main ingredient, as it does traditionally, you'll be savouring the zesty flavours of Seedlip Gove 42 - a citrus non-alcoholic liquor. This delightful tipple is light on the palate and moreish, and you'll certainly impress your guests (and your tastebuds) with this recipe.
The ingredients to make Christmas beverages like this Christmas citrus fizz include:
20g of Marmalade cordial

50g of Seedlip Grove 42

Sparkling water.
And to make it, follow these simple instructions:
Take a champagne flute (or any appropriate drinking glass) and pour out both the Seedlip and marmalade cordial

Mix the drinks with a spoon/cocktail mixer

Top the drink with sparkling water to add some fizz and drink up!
Uncover more tasty Christmas recipes and cocktails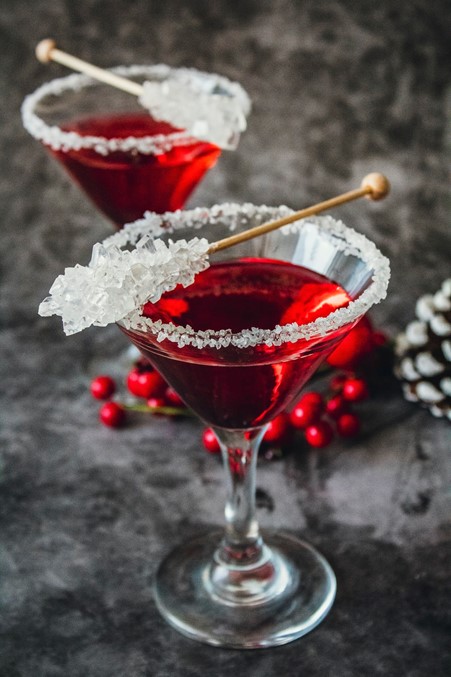 It'll excite you knowing that you have some sumptuous non-alcoholic Christmas drinks to create this year. And with this excitement comes the encouragement to make one (or more) for you and your guests this Yuletide. We know, you can thank us later…
Now you know all you need to about Christmas mocktails, you might want to purchase one of our premium Christmas food hampers to gorge on while you sip. Or perhaps you don't drink but someone visiting your abode over Xmas does, and you want to impress them by making an alcoholic martini? If this is the case, check out our article on luxury champagne cocktails to recreate.
Alternatively, head over to our blog to find further Christmas recipes, tips and ideas for decorating your Christmas cake and so much more.