How to host the perfect movie marathon night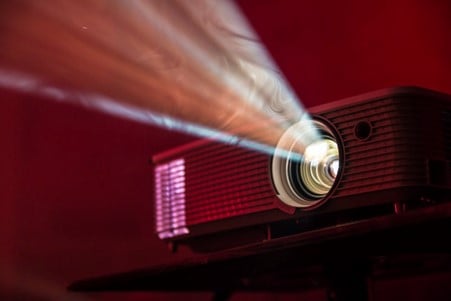 It's the start of 2022, and with new beginnings comes the need to save, to make up for the large expense of the brilliant Christmas you've just had! Of course, budgeting more in January and February doesn't mean you have to stop socialising. You just need to get creative instead, and opt for fun nights in with your nearest and dearest.
And for us, one idea springs to mind: A movie night in watching cracking films with your friends and family.
We've thought of some wonderful movie marathon ideas for you to take inspiration from. These include everything from choosing the best genres of films to the greatest movie night snacks to indulge in. After all, you want to ensure the beginning of this year is fun and exciting, without spending a fortune!
So, read on to learn more before inviting your loved ones over for a fun-filled evening.
Choose the movie before your film night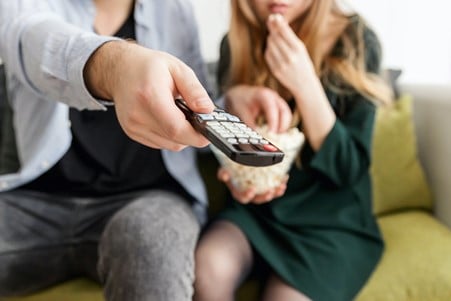 When you invite your pals over for a marvellous movie night, you should pick a film way ahead of schedule. This ensures you can all make the most of the night, rather than scrolling aimlessly through Amazon Prime, Netflix and any of the other popular streaming services.
Because let's face it, there's almost too much choice these days, so you could wind up spending more time deciding on a film than actually watching one! And the whole point of hosting movie marathons is to, well, watch a movie after all…
So, how do you decide which film to watch?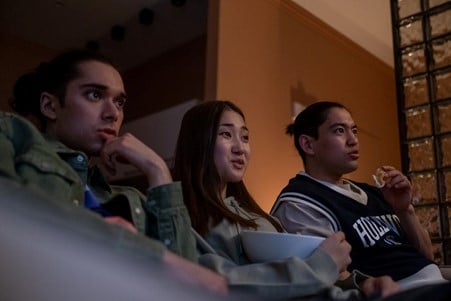 Firstly, you need to consider who you're inviting to your movie night and what film genres you're all into. You and another friend may love a good Sci-Fi film, but your other guests may not be big fans. This means you need to find a middle ground when deciding what you'll be playing on your 'big screen'.
Explore different genres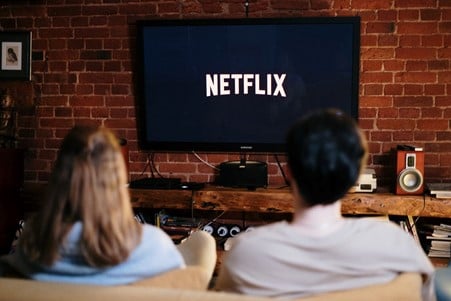 For any movie marathons you intend to throw, we'd always recommend exploring different genres, and ones with fun, quotable moments for you to all laugh along with. If you're starting early, choose around two films to watch together – this allows time for chatting time, toilet breaks, drink refills and everything in between.
Next, opt for a film series, which can include anything from the Marvel series to the American Pie franchise. Alternatively, if there's a particular film you've all been waiting to watch together, select that one and enjoy seeing it for the first time as a group!
And once you've made your decision, recreate the feeling of going to the cinema. How? By making some cinema tickets detailing the time of the showing and what you'll all be watching.
The greatest movie night decorations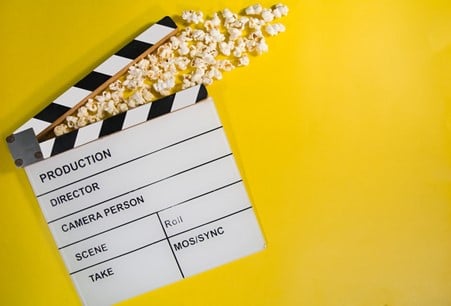 If you're the host, as the saying goes, you've got to have the most… And this involves decorating your place, so it feels just like stepping into your local cinema, but with added fun and character injected into the surroundings.
You can have so much fun buying (and even creating) movie night decorations to achieve this and really play up to the cinema experience. But if you've never hosted movie marathons before, you'll need some ideas, here are ours:
A red carpet
Style it up by investing in a red carpet to position by the entrance of your house, so your guests feel like they're at a Hollywood premier… All you'll need to do is purchase a red (preferably plastic) table cloth and do a little DIY. Remember, the movie night ideas you follow can be as lavish as you wish!
Simply fold the chosen cloth in half, cut it lengthways and roll it out onto your hallway floor. And ensure it leads your guests to your living room, where the big event will be taking place. It's not only a fabulous idea, but it's cheap too!
A Hollywood backdrop
The internet is wonderful because it brings you an excellent choice of movie night decorations such as a Hollywood backdrop to hang in your living room. Buying one of these will really bring the theme of your night to life. And if you're good at making things from scratch, you could design one yourself with an old sheet and some stickers from a craft shop. Perfect! You could also purchase paper props for you and your loved ones to take pictures with to match the theme.
Movie night snacks to complete your evening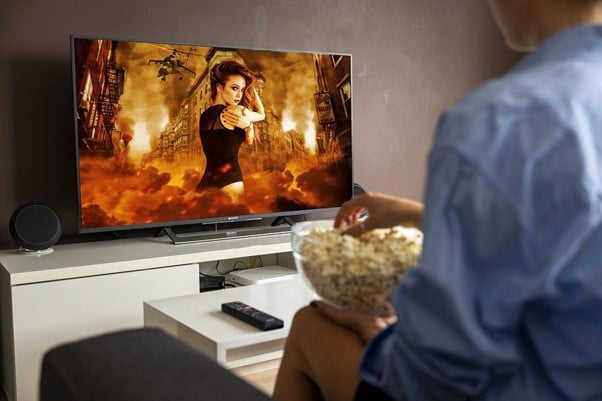 When you venture to the cinema for a film night, you ogle over the array of treats hanging on the stands by the tills as you're waiting to purchase your ticket. And not to mention, the ice cream, popcorn and frozen drinks selection that's featured on the menu listed on the wall. Part of the overall excitement of this experience is eating all of the movie night snacks, so it's imperative you bring this element to your gathering!
Build a movie night snacks table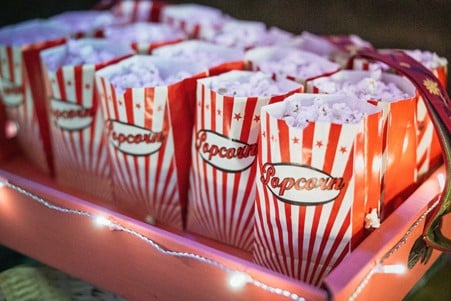 Buy a bright and colourful table cloth, and pile the goodies nice and high! Purchase anything from ice cream (of varying flavours) to buckets of sweets, as well as salted or toffee popcorn.
You could even pop some hot dogs in their accompanying bread bun, with a drizzle of mustard for your guests to scoff away. Just ensure you have meat, veggie varieties to suit all tastes. Our vegan hampers are perfect for all of your plant-based friends, too! Or serve up a fresh plate of nachos for each guest, presented in plastic baskets just like you get at the cinema. We know what you're thinking, "these are brilliant movie night ideas", and you're absolutely right!
Purchase a scrummy movie night hamper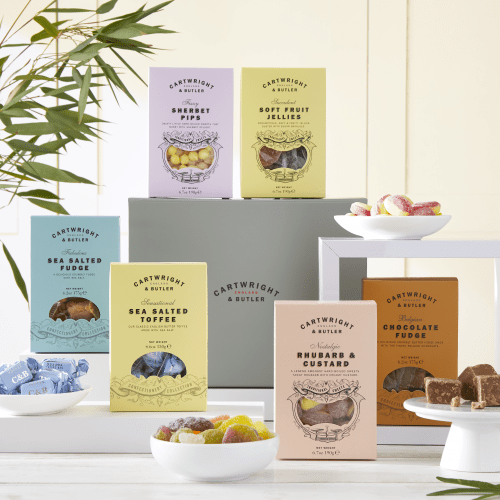 Movie marathons are all good and well, but if you're more interested in the idea of the event and less interested in buying everything individually to make it special, don't worry; you can do just that. How? By simply buying a movie night hamper from Cartwright & Butler - easy. Our line of gorgeous gift boxes means you can get a bundle of decadent items delivered to your door, how excellent is that?
Fuss-free, fabulous-tasting delights await! All you need to do is pop whichever treats appeal to you (and your guests) the most and lay them out on the table for everyone to dive into. Choose anything from our retro sweet hampers to our luxury chocolate hampers, or buy both to provide all of the delicious eats!
The best beverages for your movie night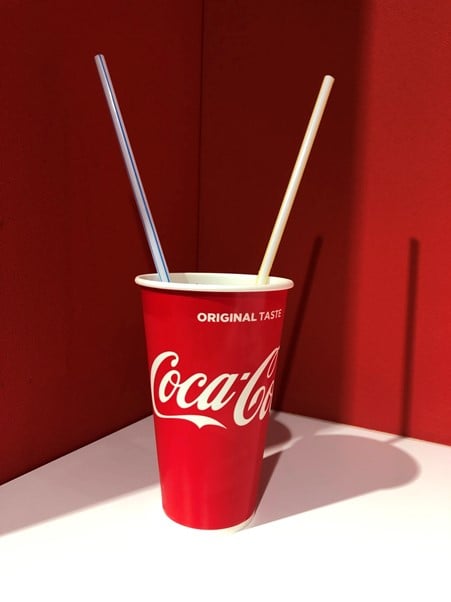 If you're wondering what the best drinks are for your movie night, these are great, fun-inspired options:
Drink cups filled with juicy, fizzy pop or cream soda

Homemade coke floats – just buy vanilla ice cream and Coca Cola

Pre-made frozen margaritas to recreate the Tango Ice Blast you usually buy (but with a kick)!
Also, adding premium drinks to your offering will spice up your evening. There's no harm in sipping a delicious tipple while you watch a new film, after all. Try these luxury champagne cocktails to recreate at home and truly impress your cinema date(s).
Or if they're into different types of alcohol, hampers in our range will suit their needs perfectly. And for your alcohol-free chums, buy in a bottle of Seedlip Spice to serve in paper cups with straws in each, just like you get at the movies…
Start designing movie marathons for months to come!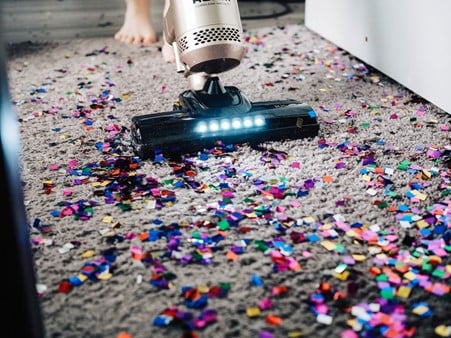 Now you're all prepped and ready to go; we hope you're excited to try out our marvellous movie night ideas. All you need to do next is secure a date, pop an RSVP on your group WhatsApp chat and then send your invites (or ticket stubs) in the post. The rest is all down to your execution of the night in question… and we wish you the best of luck, as well as a wonderful evening!
Also, check out the other helpful articles on our blog and find other quirky events ideas to try. And if you've got your eye on buying a movie night gift basket, get your hands on one of our many delicious biscuit hampers or cheese hampers packed with yumminess, for a new twist on the traditional film night in!