Unique birthday gift ideas for him
So, you've checked your calendar and there's a special guy in your life whose birthday is coming up. This is all good and well, aside from the fact you're racking your brains trying to think of what to get him…
Not to worry; whether you're celebrating your boyfriend, dad, brother, son, grandad, or father's big day, we've got a bunch of incredible birthday gift ideas for him for you to choose from. Read on to learn about the numerous unique birthday gifts for him, so you can spoil the most important man in your life in style.
Our birthday present ideas for him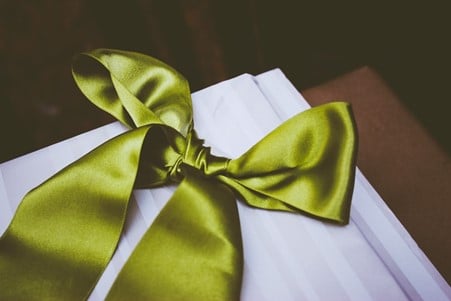 There are so many different birthday presents for him that are currently on the market, from edible bundles to smart jewellery options. But as brilliant as it is to have all this choice, it can also make shopping for guys even harder. That's why we've put our heads together and come up with a plan of action for your next male gifting opportunity. Here are our top birthday gift ideas for men…
Specialist coffee equipment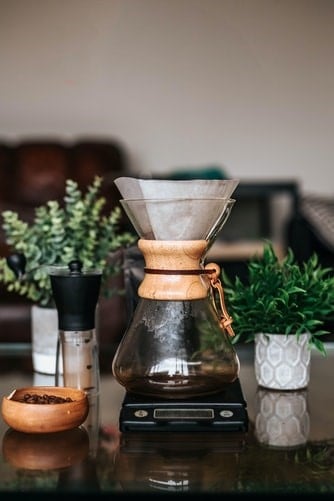 If the man you're buying for loves a warm cup of joe (and the makings behind what transforms a bean into a brew), he'll enjoy nothing more than being able to conjure up a cup for himself, to sip in the comfort of his own home.
So, buy him a glass Chemex coffeemaker online and a bag of finely grounded coffee from his favourite café, or our After Dinner Blend Coffee. And he'll require the accompanying Chemex filter papers to ensure he has a seamless coffee-making experience.
With this winning yet practical gift, he'll feel like a coffee expert in no time! You could get really creative and add all (or some) of these items to a box filled with tissue paper, to create the ultimate "at-home" coffee kit.
Depending on your budget, and how much he adores coffee, you could also treat him to a coffee grinder. This way, he can grind his own coffee beans and not rely on a coffee shop to do this for him when he wants to make his favourite hot drink. And he can start his barista journey on the day of his birthday to relish his first cup of freshly made coffee, accompanied by a nice helping of creamy birthday cake!
A 'make your own beer kit' package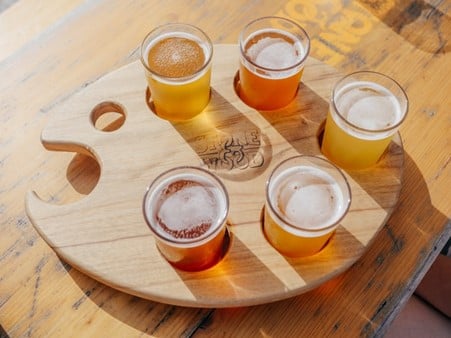 Birthday presents for him are usually rooted in food or alcohol, because who doesn't love savouring goodies? That's why a 'make your own beer kit' is a fantastic gift to send the great guy in your life, especially if his go-to drink is an ice-cold brew.
There are a number of these kinds of presents out there for you to choose from, including beginner beer kits to connoisseur beer kinds. Your choice will all depend on what type of beer drinker he is, or the beer sipper he wants to become! Your lucky recipient will receive everything they need to make their favourite hops. This will include the specific ingredients required to make this dreamy drink, which is usually sachets of a specific brewer's yeast. Of course, he'll also receive an instruction manual on how to best brew his pint.
One thing's for sure, he'll be bursting with gratitude knowing you bought him this mighty fine present. And make sure you point him to our ultimate beer and food pairing guide, too, so he can enjoy his beverage with the best meals to bring out its true flavour.
A scratchable world map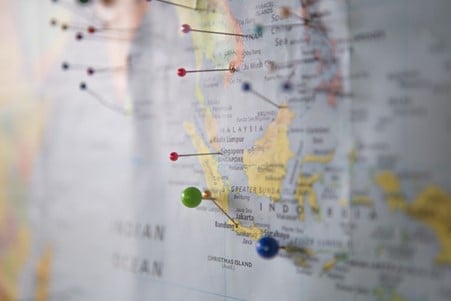 Birthday presents for men don't always have to be based around eating and drinking. Because perhaps your best friend is a globe trotter, and he simply loves nothing more than travelling the world to seek out new adventures. And let's face it, forking out for a holiday is a little steep. So instead, you could buy him a scratchable map of the world to hang in his office or even in his bedroom.
The large poster, which you can get from a variety of retailers, will feature every country on Earth. This means he'll be able to scratch off each and every continent he's ever travelled to. How cool is that? Trust us, he'll take real pleasure in this present because not only is it a piece of art to pin to his wall, but a sentimental one. Plus, it'll encourage him to start planning his next adventure abroad, so he can scratch off further countries from his list!
An engraved gold signet ring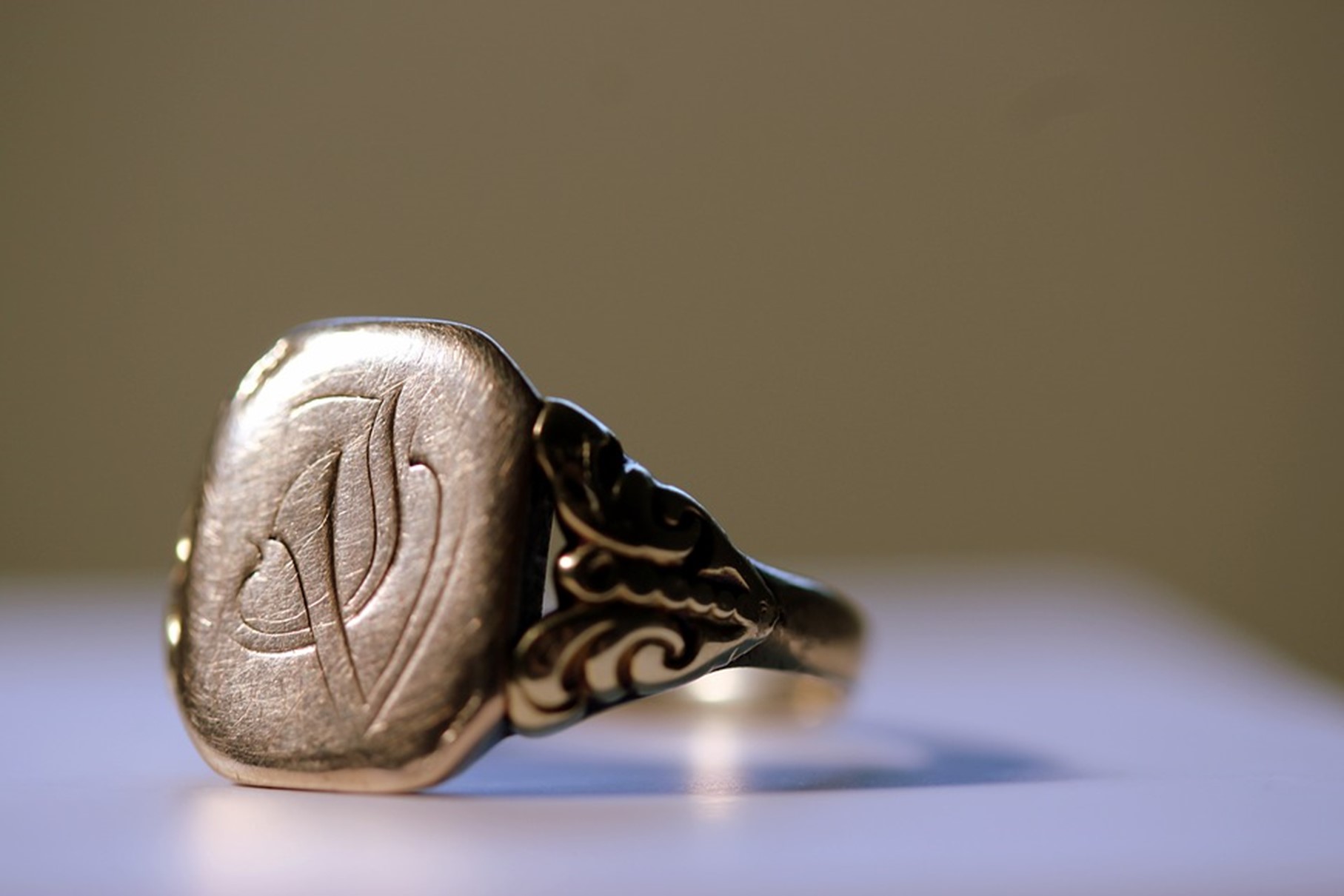 Every man appreciates a good accessory, and buying a personalised gold signet ring for their big day is a fantastic way to show you care. You might be buying it for your brother for his 30th birthday, in which case you could head to your local jewellers to get "Happy 30th Birthday" engraved inside this style of ring. Or, if you're getting it for your partner, add his date of birth or both of your initials in the interior of the signet. And this type of jewellery will suit everyone from your male friends to your grandad – so it's a real all-rounder.
Personalisation is everything on a birthday; it's the sentimental gifts he'll remember for years on end. Because of course, a watch is a great idea, but it doesn't fall under the category of unique birthday gifts for him. After all, it's a pretty standard present.
A delicious Cartwright & Butler Beer and Nibbles Gift Box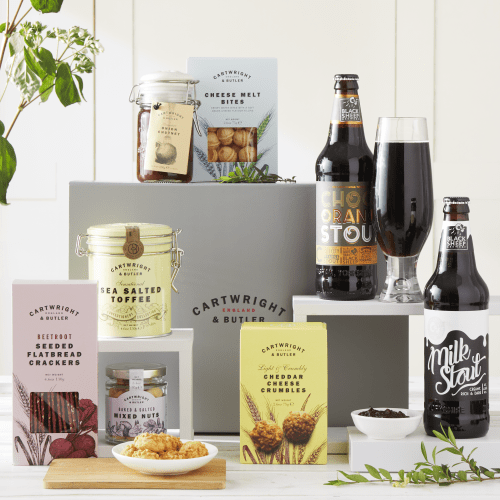 Birthday gifts ideas for men should concentrate on what they love the most, but with a unique twist to make your present extra special. And our Beer and Nibbles Gift Box from our beer hampers range fits the bill perfectly.
He can tuck into a blissful box of Gouda Cheese Melt Bites and Cheddar Cheese Crumbles as he guzzles down a bottle of Black Sheep Milk Stout and Chocolate & Orange Stout. The moreish Baked & Salted Mixed Nuts are another great addition to this bundle, as he can nibble away on these as he drinks up!
For when he's yearning for a smaller snack, the Seeded Beetroot Flatbread Crackers included in our hamper will do the trick. And he can top it with the delicious Caramelised Onion Chutney inside. When he fancies something a little sweeter, the Sea Salted Toffee in Tin provided in this decadent hamper will satisfy his cravings. He can either enjoy each of these goodies on his big day or afterwards to continue the celebration into the week!
To make this present super special, you can even add a gift cover at an additional cost, which features the phrase "Birthday Wishes" on a sleek, outer-cardboard sleeve. Or if this present is for your partner, choose the "With Love" option.
And our offering of exceptional birthday presents for men don't stop there. In fact, you could spoil him silly with our Build Your Own Hamper option. This allows you to carefully hand-select each and every delightful food or drink item you know he'll adore. Simply choose the type of box you want it to arrive in and send it straight to his (or your) door.
Order unusual birthday gifts for him
After reading through this helpful list of original birthday gift ideas for him, you'll be all set. So, whoever's birthday is next on your list, it's time to start shopping. And remember, you can explore a whole selection of unique birthday gifts for him from the Cartwright & Butler range, to send him a decadent bundle of delights he'll never forget.
Also, don't forget to read through our selection of blogs, for further inspiration on gifting, such as finding the perfect birthday gifts for her and so much more.