Cartwright & Butler partners with Too Good To Go to fight food waste  

Cartwright & Butler Join Forces with Anti-Food Waste App
We are so pleased to announce that we have joined forces with pioneering social impact company and anti-food waste app Too Good To Go as part of our ongoing sustainability journey to #BeGoodDoGood.  
C&B against food waste 
Cartwright & Butler, a family business have been creating the most exceptional teatime treats for more than 115 years.   
Sadly, more than a third of food is currently wasted in the UK. To help fight this, we have embarked on an initiative to reduce our  surplus stock and prevent it from going to waste. Too Good To Go connects businesses that have surplus food with consumers, so this food can be enjoyed instead of going to waste.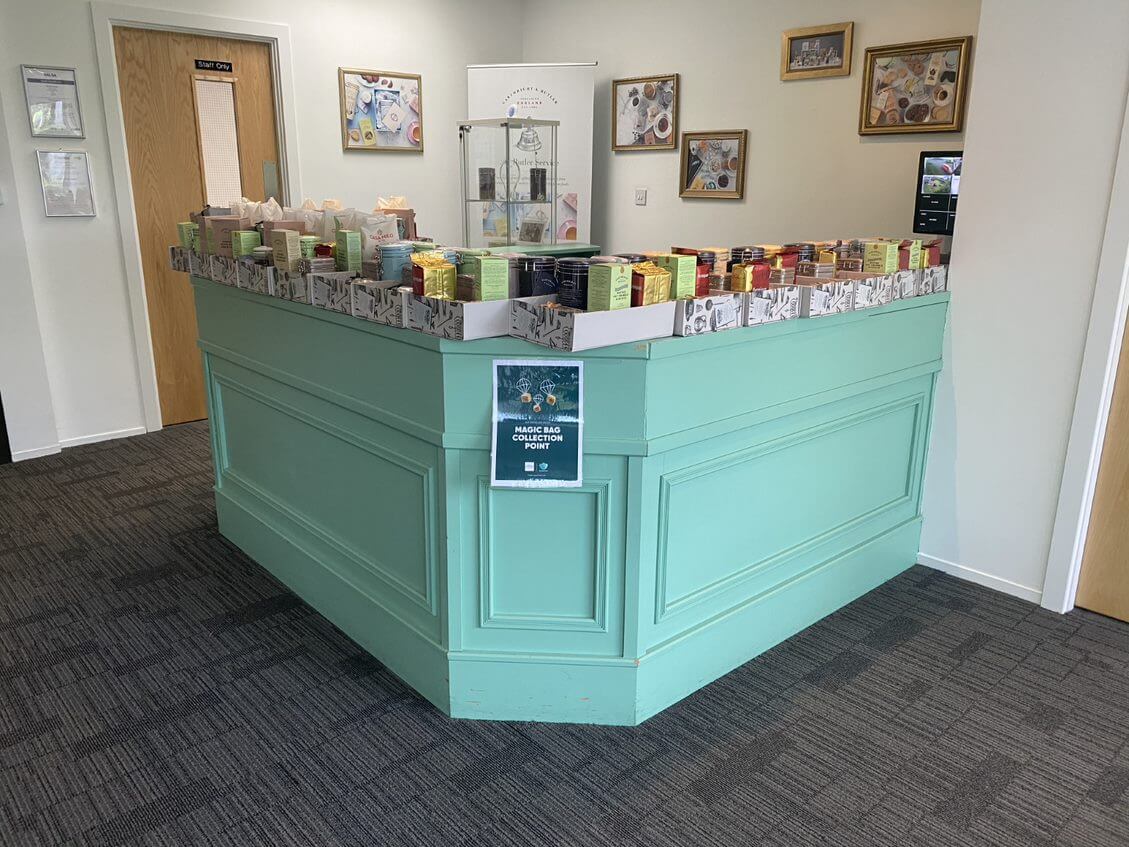 Too Good To Go has a simple mission: to make sure all food gets eaten, not wasted.  
In 2016, a group of entrepreneurs witnessed restaurant staff throwing away fresh food. The food's only problem? It hadn't sold in time, and no one was around to take it off the restaurant's hands. The group pioneered a seamless solution: an app that lists businesses' unsold food so local diners can find, buy and enjoy it. 
Now, thousands of Magic Bags are rescued from businesses such as supermarkets, restaurants, and bakeries every day. The success of the app powers Too Good To Go's wider efforts to drive a food waste movement, working with schools, industries, and governments to build a planet-friendly food system. 
How do I get involved? 
Simply download the free Too Good To Go app from your app store (it's available on both Apple, App Store and Google Play) and search for Cartwright & Butler
You can then purchase a 'Magic Bag' containing a variety of sweet and savoury treats – which is guaranteed to be worth a minimum of three times what the customer pays based on its original retail value 
In partnership with Too Good To Go, we calculate that each Magic Bag can save 6.25kg of CO2e - the same as would be produced by charging 442 smartphones 
Danielle Dutton, Marketing Manager from Cartwright & Butler commented: "We are committed to being a responsible brand through a set of strong moral practices; we pledge to Be Good and Do Good.  This means striving to make a positive impact on our customers, our suppliers, the environment, and the wider community. 
"As a business, we are continually looking for innovative new ways to act responsibly, ethically, and sustainably, whether this is in our new product development, our operations, or our relationships with suppliers and customers.  It is all part of our commitment to being and doing good. 
"Which is why we have chosen to partner with Too Good To Go as part of our sustainability journey. Like them, we believe making sustainable options should be easy and fun, and they should be accessible to everyone. Through our partnership we hope to power the force for change by saving an estimated 7.5 tonnes of food from going into the UK waste stream each year. 
"It is already proving to be a success and we have received lots of positive feedback from users of the app who have purchased our Magic Bags. As a business we are always looking at ways to reduce our food waste and this initiative helps to achieve that, whilst giving something back to our customers, saving them money and helping the environment.''    
Sophie Trueman, Too Good To Go's UK and Ireland Managing Director adds: "We're thrilled that Cartwright & Butler is joining our community of food businesses committed to fighting food waste. Saving food really is a win-win: our app users can save delicious, high-quality food in an affordable way while at the same time do something amazing to protect our environment and combat climate change. Cartwright & Butler Magic Bags are already proving incredibly popular and so I can't wait to see the continued impact we're going to have together."