How To Find The Perfect Staff Gift
Whatever the size of your company, it's likely that it will be nothing without the skills, expertise, dedication and hard work of your employees.
Recognising and rewarding staff is known to be of value when it comes to building great employee relationships, but how to find the right gift?
Over the years, we've spoken with many clients, experts and recipients in the world of staff gifts and we've learnt plenty along the way. Here are our top tips for choosing the right gift. 
1.  What's the occasion?
Choosing the right gift starts with understanding what you're celebrating. A festive gift is likely to feel very different from one which celebrates a company milestone; a gift to all staff to thank them for a successful year is unlikely to be the same as one thanking an individual for a particular project. Starting with the occasion in mind will help to get the creative juices flowing.
2.  Ensure it's valued.
The best gifts are ones which the recipient will value. Ask yourself the question "if I were given this gift, would I value it?" Better still, engage one or two members of the team in organising the gift to ensure that different ideas and opinions are considered. It may seem counterintuitive, but research from McKinsey & Company has suggested that non-financial rewards can have a greater effect on employee engagement.
3.  Practical doesn't have to mean boring.
Ensuring a gift is valued often means it's practical too. But that doesn't have to mean boring. Giving a luxury food gift is an obvious way of ensuring your gift will be used, but there are plenty of alternatives you could pursue. A quick poll of our own team told us that attractive notebooks, fancy water bottles, designer mugs and handy gadgets have all been received and appreciated.
4.  Make it personal.
Whatever your gift, a personal message is important. If you have just a few staff, a handwritten message will be easy to do. If you have hundreds or even thousands of staff, this is likely to prove more challenging, but not impossible. Many gift companies will be able to include a 'one size fits all' message with your gift, but you could leave space in cards or on gift tags for individual line managers to add their own, handwritten note.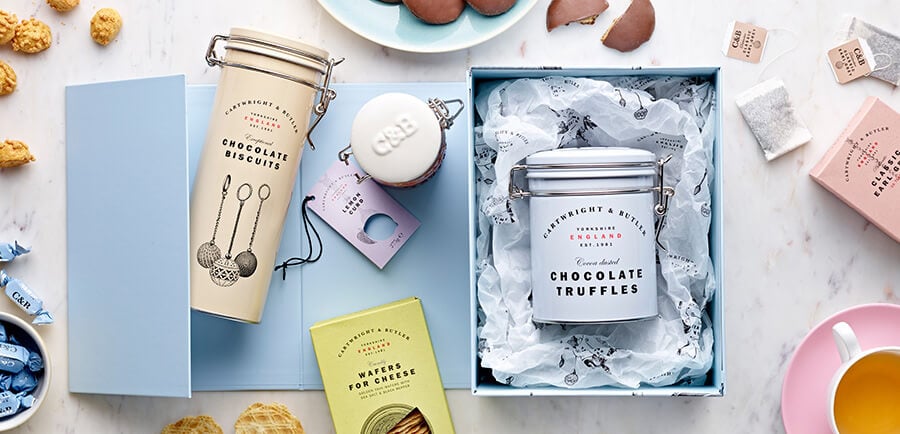 5.  Be relevant.
It shows that you've thought about your gift more if you can relate it in some way to your company or message. You don't have to be too clever - it could be as simple as relating your end of year message to the gift, for example, "Thank you for all your hard work – it's been a 'sweet' year" on a tin of fudge.
6.  For all not the few.
Staff gifts are often seen as a cost, but they are so much more. They are an investment in developing strong, positive and long-lasting relationships within your company. If you're going to give a staff gift, remember to include everyone. This might include those on parental or adoption leave, temporary staff, those who work remotely, or outside of usual office hours, people on sick leave and even just those on holiday. You may even want to consider agency staff if they are key to your success.
7.  Only Santa has a sleigh!
The logistics involved in your staff gift may well be eyewatering and planning is key. Involve those people in your business who are most likely to be able to offer solutions such as your post room staff, office managers or the HR team. Working with a gift company that can offer delivery to individual addresses could be of value too.
8.  Plan ahead.
Businesses like ours are skilled and experienced in curating the perfect staff and corporate gift. We think we're pretty good, but we know we're not miracle workers! If it's Christmas Eve and you haven't got your staff Christmas gift sorted yet, there's going to be little we can do to help. Remember that it can take several weeks of research to find the right solution for you, and personalisation adds to lead times. So, if you want to give a personalised staff gift at Christmas, we suggest you start your planning in the autumn.