Queen's Platinum Jubilee - The world's longest reigning monarchs
Queen Elizabeth II's Platinum Jubilee
Unless you've been hiding under a rock for the past year, you probably had an idea that 2022 marks the 70th year of Queen Elizabeth II's reign. This makes it the year of her Platinum Jubilee!  But did you also know Her Majesty The Queen will become the first ever British Monarch to celebrate a Platinum Jubilee, on Sunday 6 February, after 70 years of service? 
We did wonder which other monarchs over the years have managed a similarly impressive reign, so we buffed up on our history, did a little reading, and here's what we found;
The World's Longest Reigning Monarchs
To date, only three rulers have exceeded this impressive time on the throne.  (And one or more of those will be surpassed very shortly).  To find our longest serving monarch we have to look back a few years, a few hundred years in fact, to our neighbouring France in the 17th Century.
King Louis XIV - 72 years, 110 days





The top spot goes to King Louis XIV

who managed a record breaking total of 72 years and 110 days, ruling from 1643 to 1715.  Or if you like to break things down, that was an eye watering total of 26,407 days in service to his country.

Also known as

Louis the Great

(

Louis le Grand

) or the

Sun King

he presided over many achievements but perhaps the most well known is the creation of the Palance of Versailles as we know it today. 
Bhumibol Adulyadej - 70 years, 126 days





Our number 2 slot is actually a lot closer to today than the previous in terms of date, but far away on the other side of the world, in Thailand. 

Bhumibol Adulyadej

(Rama IX) ruled his country for 70 years and 126 days in total.  Going by the title

King Bhumibol the Great

he held his position until his death in 2016.  Interestingly to note, during his reign, he was served by a total of 30 prime ministers.
Johann II





The 3rd longest reigning monarch is Johann II, Prince of Liechtenstein, known as Johann the Good, he presided over Liechtenstein for 70 years and 91 days from 1858 to 1929.  Interestingly Johann rose to the position shortly after his 18th birthday. 

Although considered a prominent patron of the arts and sciences during his long reign, he never married or had any children.
HM The Queen Elizabeth II





On 6th February this

year

Her Majesty The

Queen

became the first British Monarch to celebrate a Platinum

Jubilee

, marking

70 years

of service to the people …  As of the date of writing, had a total of 70 years and 86 days service.  However by the time we celebrate the Jubilee on the 2nd June 2022 she will have surpassed Johann II and reached the position of #3 longest reigning monarchs (and so very close to #2 as well).    
Jubilee Celebrations
Now that we've mentioned the extra bank holiday in June 2022 for Queen's Platinum Jubilee ...Indeed, as part of the celebration of the Queen's 70th anniversary, what do you have planned?  A street party, a BBQ, or a more civilised Afternoon tea.  However you plan to take part in Her Majesty The Queen's Platinum Jubilee celebrations, do it in style.  
Queen's Jubilee Platinum tin
We are delighted to announce a limited edition platinum tin to celebrate the Queen's Platinum Jubilee.  Enjoy a cup of tea and luxury biscuits in true regal style with our Limited Edition Platinum Jubilee Collection Tin. 
Or if you prefer a little bubbles, how about our Jubilee Celebration Gift Box - a delightful collection of biscuits, cake and prosecco wrapped up in our limited edition Platinum tin.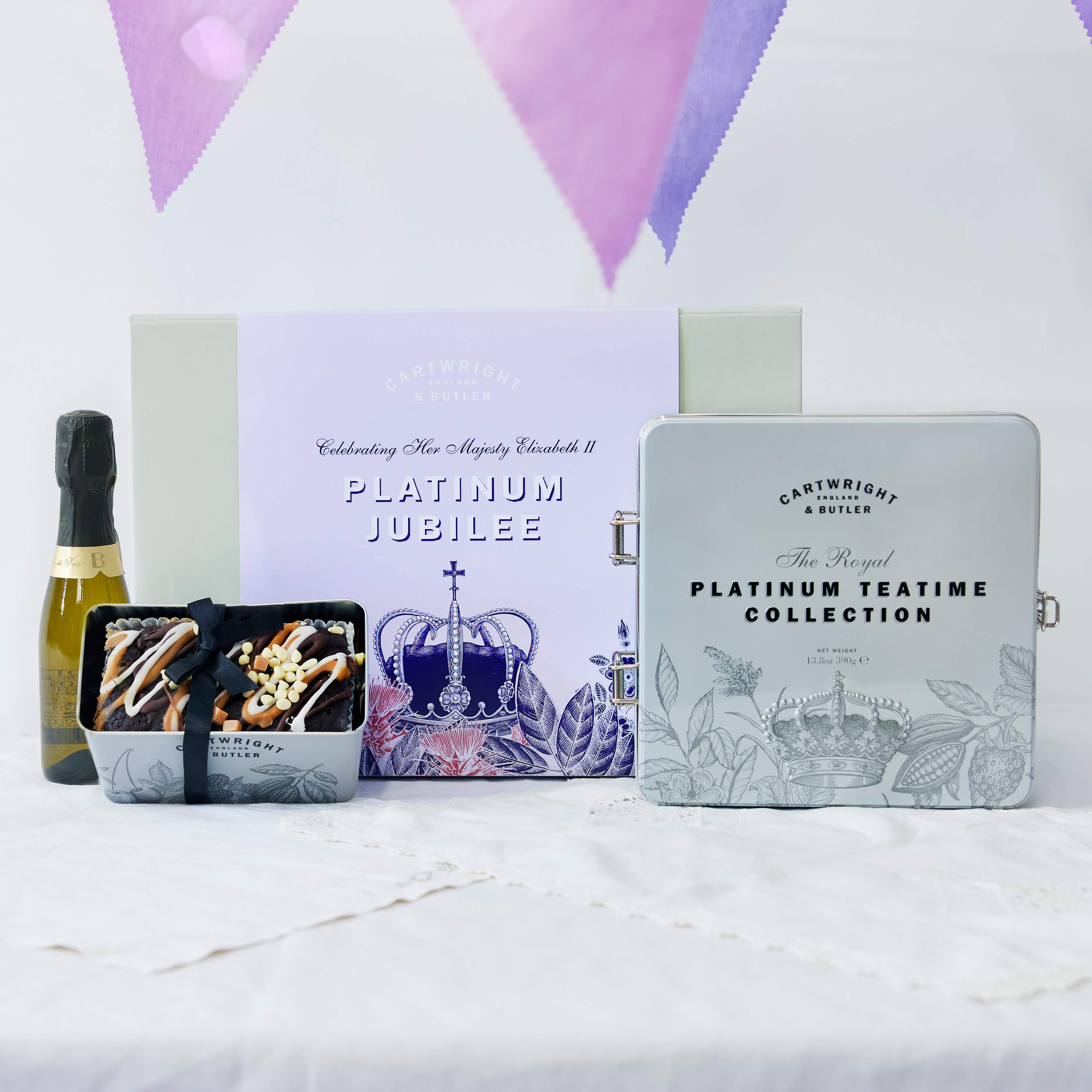 Or perhaps you're considering Tea with the Queen, a delightfully crafted limited edition hamper packed full of tea, coffee and tea time treats to enjoy like a Royal.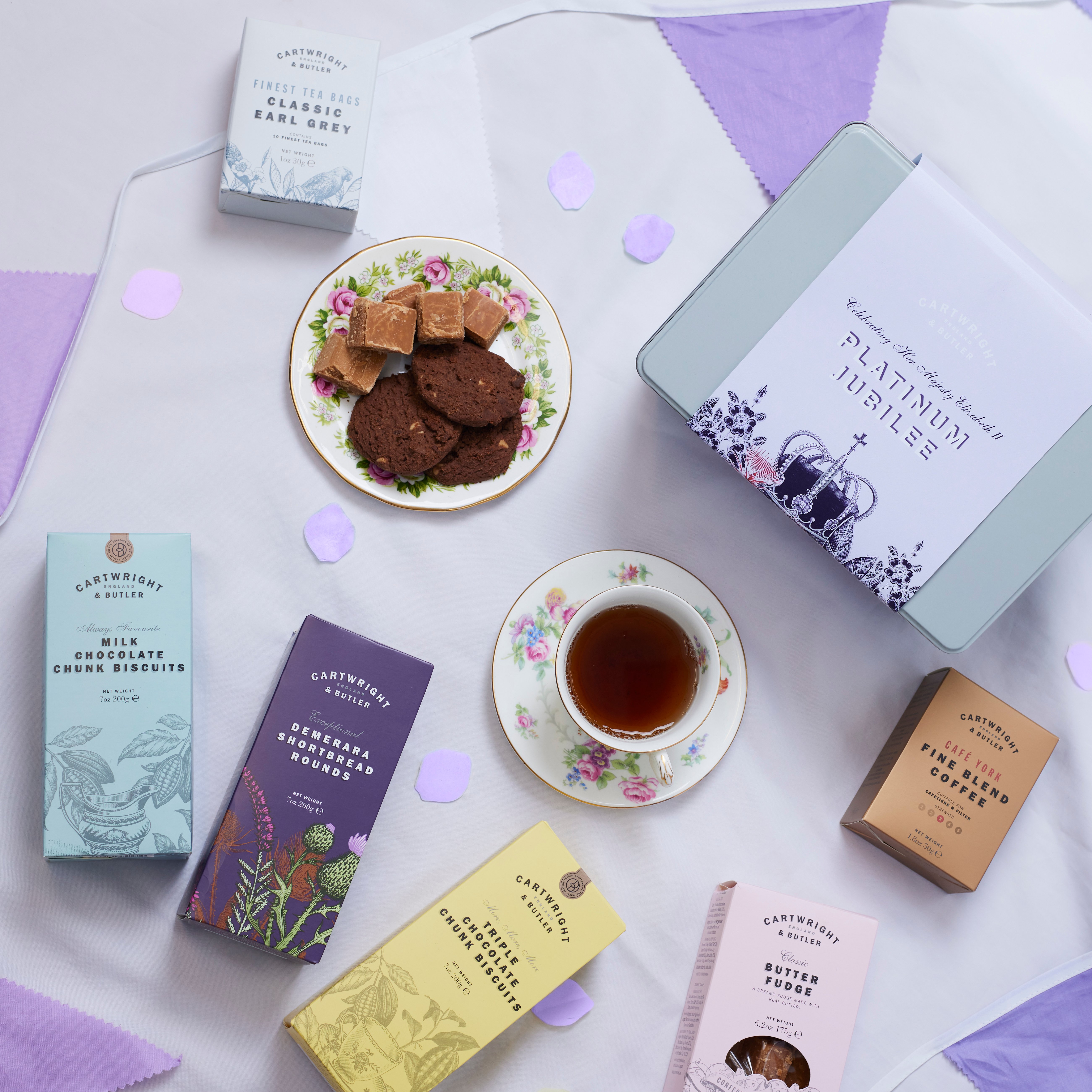 Or if you'd like to browse, we've a whole collection of Jubilee inspired goodies, just waiting to be enjoyed. View the full Jubilee range here.