What are Brits Buying This Mother's Day?
What are Brits buying this Mother's Day?
With Mother's day swiftly approaching here in the UK, the search for thoughtful gifts for some of the most special women in our lives begins. But what are Brits really buying this year? And do mums really want the gifts we've set out to purchase?
Luxury gift brand, Cartwright & Butler, who sell a variety of impressive Mother's day hampers, has crunched the numbers to reveal the most searched-for Mother's day gifts in 2023, as well as the most Googled Mother's day menu choices.
'Mother's day gifts' alone is currently being searched 27,100 every month in the UK and this number is up +22% YoY. With the cost of living currently on our minds, it is also unsurprising to see that searches for 'cheap mothers day gifts' have actually increased by +125% YoY - So Karolina Glowacka, product developer and expert at Cartwright & Butler has also provided some tips on making mum feel special on a budget this year.
What are the most searched-for mother's day gifts in 2023?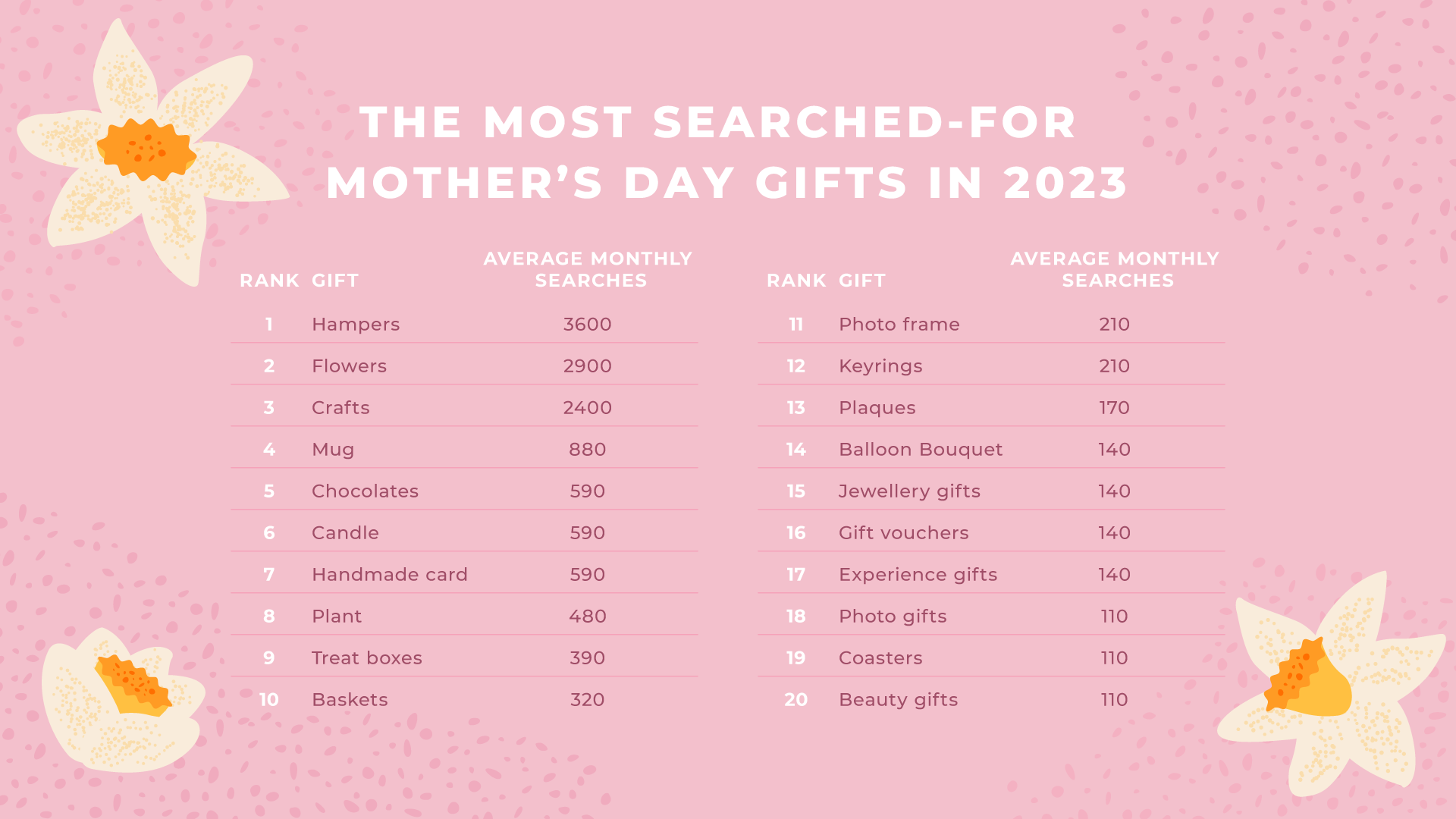 Hampers - 3,600, +24% YoY

Flowers - 2,900,  +21% YoY

Crafts - 2,400, +50% YoY

Mug - 880

Chocolates - 590, +23% YoY

Candle - 590, +23% YoY

Handmade card - 590

Plant - 480, +85%

Treat boxes - 390

Baskets - 320, +191%

Photo frame - 210, +91%

Keyrings - 210, -34%

Plaques - 170

Balloon Bouquet - 140

Jewellery gifts - 140

Gift vouchers - 140, +27%

Experience gifts - 140

Photo gifts - 110

Coasters - 110, +57%

Beauty gifts - 110, +120%
The classic mother's day hamper trumps the leaderboard for mother's day gifts this year, with 3,600 monthly searches and a +24% increase in search volume YoY - and it's easy to see why Brits favour this eclectic, thoughtful gift, which can be personalised to really show mum you care. The second most popular gift idea for mum is the classic, never-failing bunch of flowers - with 2,900 monthly searches (up +21% YoY). In third position is the pocket-friendly idea of Mother's day crafts, with 2,400 monthly searches (up a whopping +80% YoY).
Budget-friendly ways to treat mum this Mother's day
In need of some budget-friendly ideas for making mum feel extra special this year? Karolina Glowacka, product developer and expert at Cartwright & Butler has also provided some ideas below:
Get crafty
Nothing says 'I love you' like getting your hands mucky and creating something handmade and personalised for mum. Whether that be a simple card, a personalised keyring or charm or a piece of art. The possibilities really are endless, just have a think about what mum would like the most (and what is best suited to your personal craft skill levels). TikTok has some great, easily digestible craft ideas for you to follow, so just head over to your local store for any of the essentials you think you might need. 
Remember - whatever you make doesn't have to be perfect, it will be special because of the time and effort you put into creating it!
Experience
If mum loves an experience, consider setting one up for her at home. You could create something simple like a scavenger hunt out of notes on why you love mum so much, or set-up something to get her thinking - like an at-home escape room in her favourite theme.
The best part of gifting mum and experience is that it's something you are able to enjoy together - and there really is no better gift than that!
Baking,
Of course, one easy way to treat mum is to get into the kitchen and get creative with cooking. Whether mum prefers a sweet treat or a savoury meal, make sure to cook up something out of the ordinary that she'll really enjoy.
We also took a look into the most-searched-for Mother's day foods, in case you're in need of any extra inspiration:
Cupcakes - 1,600

Cake - 1,000

Chocolate - 590

Biscuits - 210

Sweets - 170

Roast - 70

Cheesecake - 50

Chocolate bar - 30

Sugar cookies - 30

Crackers - 30
Methodology
To reveal the most-searched-for mother's day gifts in 2023, we used Google search data around the search term 'mothers day gifts' to create a list which displays the gift choices in order of appearance. Data is accurate from 22/02/2023 and shows average monthly search volumes for 2023 only.