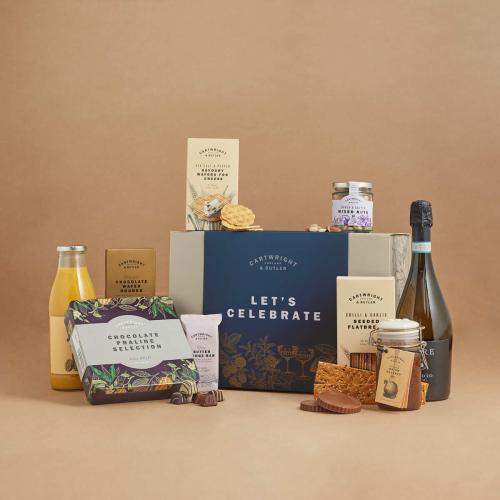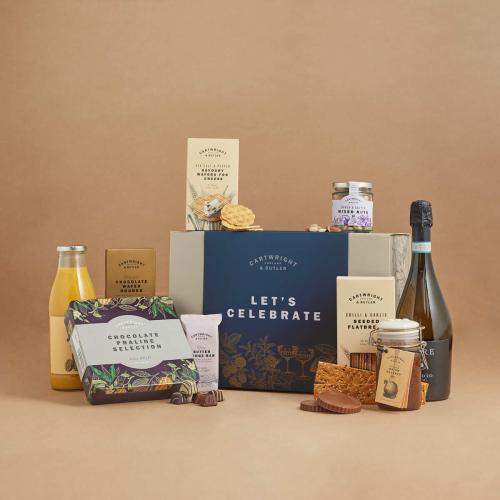 ---
Product Details
Product Code:

3164

Dimensions:

39.00 x 28.00 x 16.50 cm
Ingredients:
- Pure Prosecco 75cl Sparkling Wine Extra Dry (Italy) -Alcohol Strength 11% ABV.
- C&B Luxury Chocolate Praline Selection in tin -
Sugar, Cocoa Butter, Milk Powder, Cocoa Mass, Vegetable Fat (Sunflower, Palm), Whey Powder (Milk), Almond, Hazelnut, Lactose (Milk) Cocoa Powder, Sesame, Emulsifier (Soya Lecithin), Flavouring (Vanillin, Vanilla, Hazelnut, Caramel), Colouring (E100).
Store in a cool, dry place away from strong odours and sunlight.
- C&B Caramelised Onion Chutney -
Onions (37%), Sugar, Malt Vinegar (From Barley), Apples, Dates, Mustard Flour, Salt, Chilli Powder, Water
For Allergens, see ingredients in bold. May contain eggs, nuts, sulphur dioxide and milk.
- C&B Orange Juice 100% 750ml - 100% Orange Juice.
- C&B Chilli & Garlic seeded flatbread crackers - Wheat Flour(42.8%), Water, Whole Grain Rye Flour, Sesame Seeds, Sweet Chilli (Natural Spices (Chilli, Jalapeno, Red Bell Pepper, Tomato, Garlic, Ginger), Sugar) (3.6%), Yeast, Rapeseed Oil, Linseeds, Garlic Granules (1.3%), Sugar, Sea Salt
- C&B Wafers for Cheese with Sea Salt & Black Pepper -
Wheat Flour, Vegetable Fat [Responsibly Sourced Palm Fat, Water, Emulsifier: E471 (Mono And Diglycerides From Fatty Acids), Acidity Regulator: Citric Acid], Maltodextrin (From Corn), Salt (2.3%), Milk Powder, Raising Agent: Sodium Bicarbonate, Ammonium Bicarbonate; Egg Powder, Pepper (0.6%), Soya Flour.
May contain traces of nuts, peanuts, sesame seeds and mustard.
- C&B Chocolate Wafer Rounds in gold carton -
Milk Chocolate 63% [Sugar, Cocoa Butter, Whole Milk Powder, Cocoa Mass, Whey Powder (Milk), Anhydrous Milk Fat, Emulsifier: Lecithin, E476, Flavouring], Palm Fat*, Sugar, Wheat Flour, Potato Starch, Skimmed Milk Powder, Peanut Paste (0.9%), Rapeseed Oil, Low Fat Cocoa Powder (0.3%), Egg Yolk Powder, Emulsifier: Lecithin,Salt, Flavouring, Raising Agents: Ammonium Carbonates, Sodium Carbonates, Maltodextrin.
Milk Chocolate Contains: Cocoa Solids 32% Minimum.
*From An RSPO Certified Sustainable Source.
For Allergens, see ingredients in bold. May contain traces of soya, nuts and sesame seeds.
- C&B Butter Fudge Bar - Sugar, Sweetened Condensed Milk, Glucose Syrup, Salted Butter (Milk) (10%), Golden Syrup, Humectant: Glycerine.
- C&B Baked Salted Classic Mixed nuts in jar-
Peanuts (59%), Cashew Nuts (20%), Almonds (15%), Hazelnuts (5%), Sunflower Oil, Salt.
Storage: Cool & dry, Under 23°C, Away from heat or direct sunlight.
For allergens, see ingredients in bold. May contain traces of sesame and various nuts.
| Nutritional information | Typical figures per 100 grams |
| --- | --- |
Product Code:

3164

Dimensions:

39.00 x 28.00 x 16.50 cm
---
Celebrate in style with the Cartwright & Butler Party Treat Box.

Whether it's your annual work celebration, catching up with old friends, or the big one; New Years Eve, the Party Treat Box contains a variety of treats for a celebration in the comfort of your home. The stylish grey gift box contains a selection of sweet treats including PURE Prosecco, Orange Juice, The Belgian Chocolate Selection and Chocolate Wafer Crispies. On the savoury side, the gift set includes Caramelised Onion Chutney, Gouda Cheese Melts, Wafers for Cheese With Salt & Black Pepper, and Cheddar Cheese Crumbles.
- Pure Prosecco 75cl Sparkling Wine Extra Dry (Italy)
- C&B Luxury Chocolate Praline Selection in tin
- C&B Caramelised Onion Chutney
- C&B Orange Juice 100% 750ml
- C&B Chilli & Garlic seeded flatbread crackers
- C&B Wafers for Cheese with Sea Salt & Black Pepper
- C&B Chocolate Wafer Rounds in gold carton
- C&B Butter Fudge Bar
- C&B Baked Salted Classic Mixed nuts in jar
---
This product is found in: