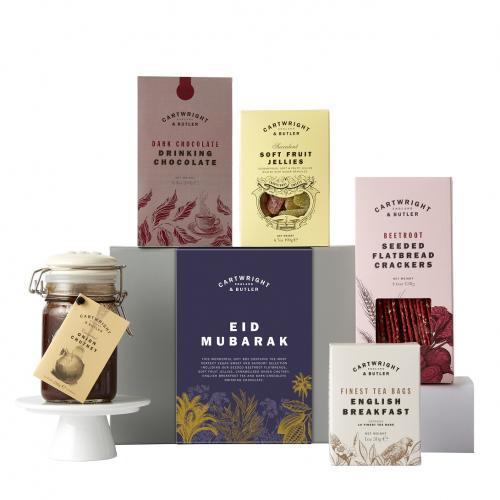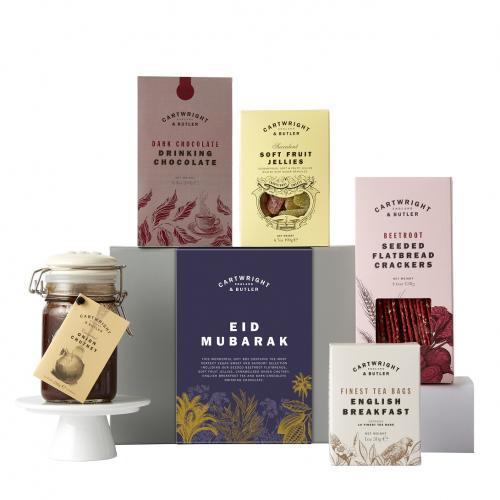 New
The Vegan Selection Box- EID MUBARAK
---
Product Details
Product Code:

3577-331

Dimensions:

24.00 x 15.00 x 20.00 cm
Allergens

Gluten
Ingredients:
C&B Tea in Carton English Breakfast- 100% Black Tea
C&B Caramelised Onion Chutney- Onions (37%), Sugar, Malt Vinegar (from Barley), Apples, Dates, Mustard Flour, Salt, Chilli Powder, Water
C&B Seeded Beetroot Flat Bread- Wheat Flour, Water, Whole Grain Rye Flour, Sesame Seeds (5.5%), Beetroots (4.9%), Linseed (4.9%), Yeast, Rye Bran, Rapeseed Oil, Sea Salt, Dried Tomato Powder, Sugar.
C&B Fruit Jellies in carton- Sugar, Glucose Syrup, Invert Sugar Syrup, Humectant: Sorbitol, Gelling Agent: Pectin, Apple Juice From Concentrate, Citric Acid, Natural Flavours: Orange, Pineapple, Lemon, Apple, Strawberry, Blackberry; Turmeric, Spirulina Concentrate, Paprika Extract, Acidity Regulator: Trisodium Citrate.
C&B Drinking Chocolate in Carton – Dark- Dark Chocolate (Cocoa Mass, Sugar, Cocoa Butter, Emulsifier (Soya Lecithin (E322), Natural Vanilla Flavouring), Sugar, Salt
Dark chocolate contains cocoa solids 70% minimum.
| Nutritional information | Typical figures per 100 grams |
| --- | --- |
Product Code:

3577-331

Dimensions:

24.00 x 15.00 x 20.00 cm

Gluten
---
This wonderful Gift box contains the most perfect Vegan sweet and savoury selection. Begin by loading a seeded Beetroot Flatbread with a generous scooping of our Caramelised Onion Chutney, or perhaps a sip of refreshing English Breakfast Tea? If you are a sweet tooth you will love our Soft Fruit Jellies, to be shared or devoured on its own. Finish off with a soothing cup of rich Dark Chocolate Drinking Chocolate. This selection is presented in a wonderful grey box with ribbon and can be personalised for any occasion.
Includes:
- C&B Dark Chocolate Drinking Chocolate
- C&B Soft Fruit Jellies in Carton
- C&B Seeded Beetroot Flatbreads
- C&B English Breakfast Tea Bags
- C&B Caramelised Onion Chutney
---
This product is found in: