The UK's Best Picnic Spots | Cartwright & Butler
Nothing says summer like eating al fresco. Sticky jam sandwiches, tart homemade lemonade, and delicious finger food enjoyed on sunshine-soaked blankets spread out in the park is the very epitome of British summer afternoons.
But there's nothing more annoying than realising there's no toilets nearby (or worse yet, dirty ones), and what do you do if you've forgotten something and there's no shop to visit on your way? We looked at the best rated parks in the UK and cross-examined the ones with nearby toilets and supermarkets to find out which parks are the best to visit for your summer picnic. Here's what we found.
The UK's Top 20 Picnic Spots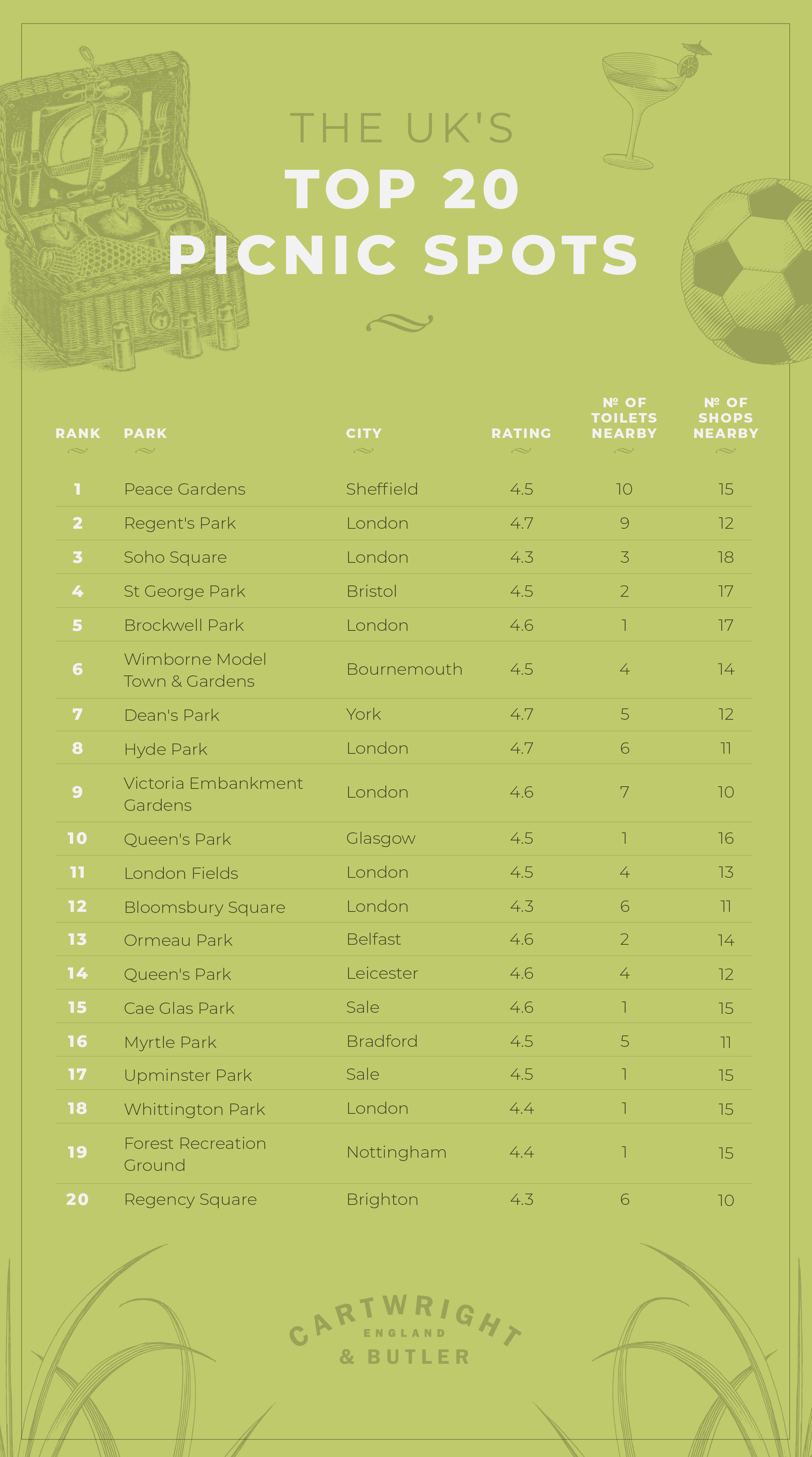 We looked at over 2,000 parks with a minimum of a 4-star rating around the UK and found the ones with the most toilets and supermarkets combined located within a 10-minute walk of the park. We then collated the list of the best locations in which to have your picnic this summer. 
The Peace Gardens in Sheffield is the best park in the UK according to our findings. This public space goes back to the 18th century and is rich in history. With 25 facilities, including 10 toilets and 15 shops, within a 10-minute walk to grab your essentials, your summer picnic is bound to go off without a hitch. 
Boasting large grassy areas, 9 toilets, 12 shops, and even a zoo, The Regent's Park in London is our second best park to visit. Take a stroll through these historic gardens before setting up for a royal picnic in the park. 
Originally called King Square after Charles II, Soho Square in London is a quaint little space in the middle of the hubbub of Soho. Its statue of Charles II has stood since the square's 1661 founding and the square regularly plays host to open-air concerts. You can find 21 facilities in the area with 3 public toilets within a 10-minute walk - it's an excellent place to go after grabbing lunch in one of the 18 surrounding shops. 
Outside of England, there are some excellent parks in which to picnic. Queen's Park in Glasgow offers 148 acres of picnicking possibilities with 16 shops and just one toilet nearby. In Wales, Grange Gardens is the place to be. It has a rating of 4.3 stars and offers 15 facilities (3 toilets and 12 shops) nearby. And, if you find yourself in Belfast, the municipal park of Ormeau Park is the perfect place to picnic with a 4.6-star rating, 2 toilets, and 16 shops nearby.
London's Top 10 Picnic Spots

At first glance, London might not be the first place you'd think of to go for a picnic but the city actually has many green spaces and parks in which to enjoy eating outdoors. We've already mentioned The Regent's Park and Soho Square which are both at the top of our London picnicking spots, let's take a closer look at some other spots in London you can go to enjoy eating al fresco. 
In third place, Brockwell Park in Brixton makes an excellent picnicking spot. Easily accessible via the Victoria line, this park boasts a 4.6-star rating on Google and has a total of 18 facilities within a 10-minute walk - that's plenty of shops to pick up your picnic essentials although there is only 1 public toilet. 
Situated between Paddington and Kensington, Hyde Park is one of London's most famous parks and is the largest of the Royal parks in the city. Hyde Park merges with Kensington Gardens on the west side and together, they offer over 600 acres of park, walkways, and boating lakes to enjoy. This is the perfect place to enjoy a picnic and escape the hustle and bustle of central London and is easily accessible via the Piccadilly line. There are 17 nearby facilities - 6 toilets, and 11 shops - all within a 10-minute stroll to help make your stay enjoyable.  
According to our findings, the underground lines with the most parks and gardens locations are the Bakerloo, Central, Northern, and Piccadilly lines. These are some of the most accessible underground lines in the city so, no matter where you are, you have easy access to some lovely green space - perfect for picnics!
Methodology
We scraped over 4,000 national parks on Google Maps, in the UK's Top 100 most populated towns and cities. Out of these 4,000 locations, only the parks with a minimum of a 4-star rating and over 250 reviews were included - leaving us with 2,000 parks in total. 
Next, we used Google Maps to find out how many supermarkets and convenience stores were within a 10-min walking distance of each park, followed by how many toilets were within a 10-min walking distance of each park. If there was no toilet within walking distance, the park was eliminated from the rankings. 
Rankings are based on which parks have the most facilities within walking distance, followed by park rating, and average toilet rating.
For throwing the perfect picnic, the location is only half of it. You'll need delicious food, some delightful drinks, and a hamper to carry it all in. Whether your picnic is with friends and family, for a special occasion, or just a treat for yourself, make it extra special with Cartwright & Butler's selection of Luxury Hampers and Picnic Hampers - featuring everything you need to throw the perfect picnic. And if the summer heat isn't for you, or you are a big fan of fall, learn How to Have the Perfect Autumn Picnic with our helpful guide.