Inventive recipes for your leftover turkey
When Christmas comes around, if you're not vegetarian or vegan, the main thing you'll be buying in for the long-awaited Christmas dinner is a turkey.
There's nothing greater than carving a turkey on the 25th for all to enjoy, but sometimes we fear there is almost too much of it. Why? Well because unless you have a humongous family, there's likely to be a whole load of turkey leftover once Christmas day is over.
And there's nothing worse than food waste. That's why we've put our creative heads together and thought of some brilliant leftover turkey recipes for you to make, so every inch of the turkey will be savoured this festive season.
So, if you're looking for tremendous, yet easy leftover turkey recipes for this Christmas (and afterwards), read on!
Ham and turkey pie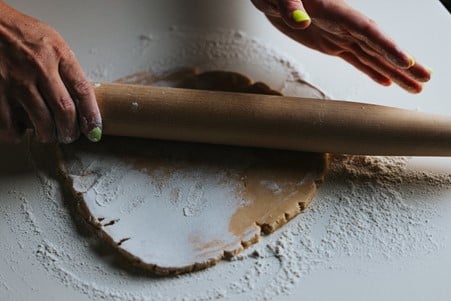 If you're wondering what to do with leftover turkey, don't worry. You can make it into a heart-warming pie, and we have just the recipe for you!
The marvellous mix of tastes from this savoury delight means you won't be sick to death of turkey, as sometimes you can be after eating plain turkey for days on end! This really is an ideal recipe to make post-Christmas, as it's still nice and filling (and gorgeous to taste).
To try this flavour-filled pie, you'll need the following ingredients:
A ready-made roll of shortcrust pastry

600g (roughly) of cooked turkey breast meat, sliced

600g (roughly) of cooked ham, thickly carved into slices

2 leeks, halved and sliced

75g of plain flour

200ml of chicken (or turkey) stock

250 ml of double cream

75g of butter

3 tablespoons of wholegrain mustard

A dash of cider vinegar

1 tablespoon of tarragon, chopped

1 egg, whisked for glazing.
To make this yummy pie, just do the following:
The first step in this recipe is making the sauce. Simply heat the butter in a saucepan with the leeks and the thyme.

Let these ingredients simmer for 10-15 minutes on a medium heat until they are soft in texture but not brash in colour.

Add the flour and stir this in with the current ingredients until you end up with a sandy paste-like texture.

Now, add the cider vinegar and let it bubble for 30 seconds.

Next, pour in the chicken/turkey stock and bring it back to boil.

Add the mustard, chopped turkey and tarragon and stir each ingredient through before turning off your hob, then leaving it to one side to cool.

It's now time to roll out the pastry with a rolling pin, using a pinch of flour to cover your work surface/chopping board to prevent it from sticking.

Grab your rounded tin and add half of the pastry to line the pie dish, letting any excess pastry hang over the sides.

Lay some of the turkey on the bottom of the pastry, add the sauce and repeat the layers like a lasagne, adding the ham in stages and spreading equally across the pastry.

Now, roll out the remainder of the pastry and ensure there is enough to cover the whole of the pie dish.

Press the trimming of the pie with a fork to create the wonderful pie crust and trim any excess pastry with a pair of scissors.

Use a knife to make a small hole in the top of the pie, to ensure the heat can escape as it cooks. Then, brush the pastry with the beaten egg.

Lastly, preheat your oven to 180C (fan)/200C and place your pie on a baking sheet on the middle shelf.

Allow the pie to bake for 45-50 minutes, remove it from the oven and wait for it to cool before slicing it and serving to your guests.
You can also make the pastry from scratch, but when it's Christmas time, you want to spend as much time with your long-distance family members as you can! So, we'd recommend buying a ready roll sheet in to ensure your pie is both delicious and hassle-free.
Appetizing leftover turkey pasta bake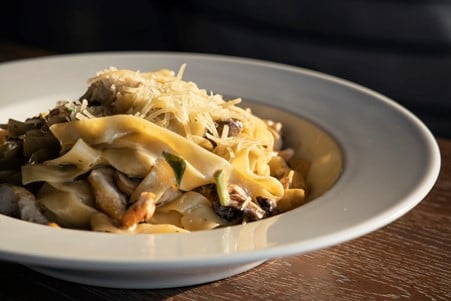 Another mouth-wateringly tasty leftover turkey recipe has to be this gooey pasta bake, bursting with flavour and taking next to no time at all to make. You can whip up this meal for lunch or dinner at home, or to take it into work to spruce up those post-Christmas shifts.
To make this dish, you'll need to buy the following ingredients:
500g of cooked turkey, diced into chunks

50g of spinach

25g of mature cheddar cheese, grated

30g of breadcrumbs

300g of fusilli

300ml of crème fraîche

50g of Parmigiano Reggiano, grated

7g of thyme

A handful of fennel seeds, crushed

1 clove of garlic, peeled and chopped

300g of leeks, trimmed and sliced into chunks

1 tablespoon of rapeseed oil.
To make this simplistic yet lovely recipe, do the following:
Take out a pan, place it on the hob and add the rapeseed oil.

Once the oil is heated, add the leeks to the pan and cook for five to 10 minutes until they are soft and change to a golden colour.

Add the garlic, half of the thyme and the fennel seeds a minute before your 10-minute timer is up for the leeks.

Empty the leftover turkey, along with the spinach, half of both of the cheeses (mature and Parmigiano Reggiano), as well as the crème fraîche and stir through.

Gently simmer these ingredients until cooked and then remove the pan from the heat.

In the meantime, cook the pasta and use the pack's instructions for correct boiling times.

Drain the pasta but keep 150ml of the cooking water and place to one side before stirring it into the turkey mixture.

Now, pour all of the contents into a large dish (around 1.5 litres).

Grab a separate bowl and add the remaining thyme leaves and cheese.

Then, sprinkle these ingredients, along with the breadcrumbs to the top of the pasta and place this in the oven to bake for 15 minutes. Enjoy!
Tasty turkey quesadillas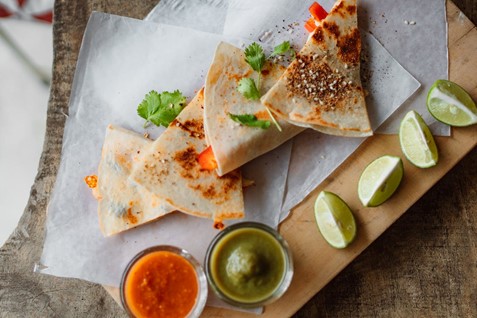 How about a new take on leftover turkey? This scrumptious quesadilla dish will tantalise your tastebuds, that's for sure. Healthy turkey breast recipes like this one are great for filling you up while ensuring you don't feel over-stuffed - and a little bit lighter all-round.
These golden triangles of joy are great for dinner, as a snack for the kids at lunchtime or as a starter for your main meal. You'll be making them every year from here on out once you've made them this year!
You'll need these ingredients to get started:
170g of cooked turkey, shredded

4 large tortillas

115g of mushrooms, sliced

170g of cheddar cheese

Half a red bell pepper, chopped

2 tablespoons of chilli powder

4 tablespoons of all-purpose flour

1 tablespoon of olive oil

120g of chicken stock/leftover turkey stock.
Once you've stocked up on these items, you'll need to follow these instructions:
Add the oil to a pre-heated pan and once it's warm, add the chilli powder and flour.

Stir the mixture for around one to two minutes and gradually add (and blend) the chicken/turkey stock.

Next, pop in the mushrooms, bell pepper and shredded turkey.

Gradually stir the ingredients together for around six to eight minutes, until the vegetables are completely tender.

Now, remove the pan from the hob and stir in the cheese gradually.

Use a separate pan – a skillet and put it on a medium heat, before adding the oil.

It's time to spread half of the vegetable mixture onto a tortilla while leaving a one-inch border around for folding purposes.

Wrap a second tortilla around the one filled with vegetables and add to the skillet, turning occasionally until they are golden on both sides.

Repeat this process to create endless leftover turkey quesadillas, slice each into wedges and serve. Simple and easy – excellent.
Leftover turkey hash with fried eggs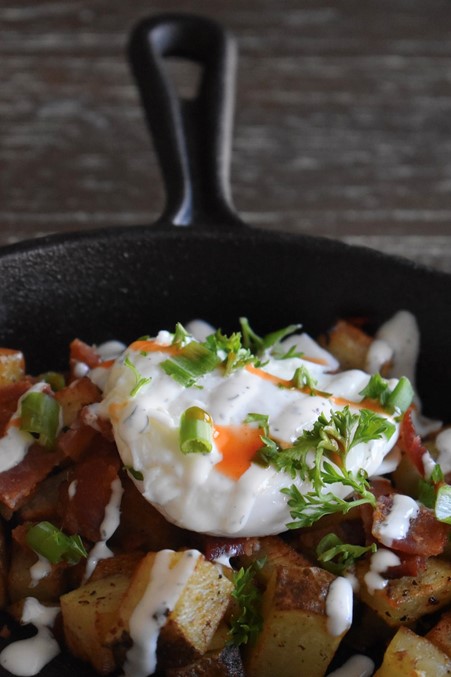 Perhaps you're after some easy leftover turkey recipes that double as a brilliant brunch dish? If that's the case, this turkey hash with fried eggs will knock you off your feet. It's quick to make, easy to digest and brings true flavour to your tastebuds.
To make this dish, you'll need these ingredients:
130g of leftover turkey

1 onion, chopped

1 red bell pepper, chopped

8 large eggs

A handful of fresh parsley

3 tablespoons of olive oil

Salt and black pepper to taste

96g of red potatoes, diced into chunks.
To make this recipe, follow the below instructions:
Over a medium heat, add the oil to a large skillet.

Once the oil is warm, combine the red bell pepper, onions, salt and pepper. Then, stir together for around 15 minutes until golden brown.

Ensure the vegetables are tender and then add the turkey pieces, along with the parsley and stir together for around three minutes.

In the meantime, add another pan to the hob, add the olive oil and crack each of the eggs into a pan for two to four minutes until each one is cooked.

Serve the turkey hash and place the eggs on top. Walla, you've turned your leftover turkey into a dreamy brunch dish!
Turkey red curry soup
Hoping for a wonderfully warming dish using Christmas Day's main ingredient? Well, this is one of our leftover turkey recipes that will please your senses, keep you warm and leave you wanting more.
Serve it up as a starter for a soiree with your chums or have it for lunch or dinner. Either way, you (and those you're cooking it for) will be elated with the end product.
You'll need these ingredients to cook this succulent soup:
385g of turkey, cooked

½ of butternut squash, chopped into small chunks

2 tablespoons of Thai red curry paste

128g of unsweetened coconut milk

Salt and pepper to taste

Fresh lime, squeezed – 7 tablespoons

1 tablespoon of fish sauce

A pinch of mixed herbs

1 tablespoon of olive oil.
To make this red turkey soup, you need to:
Get a large saucepan, heat the oil and add the red Thai curry paste and chopped squash.

Cook these ingredients over a high heat, occasionally stirring for three minutes until the mixture is lightly caramelised.

Pour the coconut milk into the pan, along with the fish sauce and a cup of water, then bring it to a boil.

Cover the pan for 15 minutes to let the butternut squash cook and simmer until tender.

Add the leftover turkey and stir into the existing mixture, alongside the lime juice, mixed herbs, salt and pepper.

Serve up and savour!
You could even slice up some sourdough bread, butter it and dunk it into the soup for an extra-special dish! The choice is all yours…
Try these recipes for yourself
It's time for you to try out one (or more) of these leftover turkey recipes. And remember to pass on your favourites to your loved ones, so they can cook up a storm without even having to leave the house for the extra ingredients.
If you're looking to make more Christmas-inspired recipes, head over to our blog. You can uncover our tips and ideas for decorating a Christmas cake or learn how to make the best non-alcoholic Christmas drinks. The choice is all yours, so get as creative as you'd like in the kitchen this festive season.
And don't forget to take a look at our decadent Christmas hampers, to purchase prime presents for your favourites. You could even order one for yourself, to make sure you're stocked up with yummy treats for when your guests arrive…